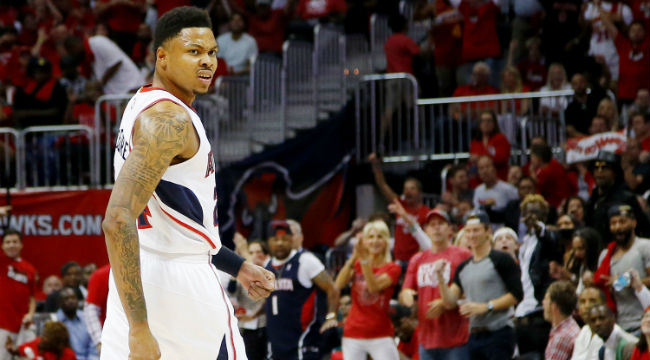 When his NBA career started, Kent Bazemore was just a dude on Golden State's bench who averaged two points per game and was more well-known for his overly-enthusiastic celebrations on the bench than his game.
But over the last few years, Bazemore has carved out a role in Atlanta as an athletic wing who can hit threes, defend, and rebound. He is so good at those things that the Hawks decided that he was worth a big deal. According to Brian Windhorst and Shams Charania, Bazemore will return to Atlanta on a four-year deal worth $70 million.
According to Charania, the final year of Bazemore's deal will include a player option.
It sounds like Bazemore decided to give the Hawks a little bit of a hometown discount to head back to Atlanta. David Aldridge of NBA.com reported that Bazemore turned down deals for the same amount of time and a little bit more money from Houston and the Los Angeles Lakers.
This isn't the first time that Bazemore and the Lakers have failed to agree to terms in free agency. After the 2013-14 season in which Bazemore suited up for LA 23 times, the Lakers had the chance to extend him a qualifying offer. As Arash Markazi pointed out, that didn't happen, and Bazemore ended up signing with the Hawks.
And of course, as with any big contract, there were plenty of excited people. None more so than Bazemore, of course, whose birthday is today. But one of his old teammates in Golden State was especially excited that Bazemore got paid.
The 499 is a reference to when ESPN said that Bazemore was the 499th-best player in the NBA prior to the 2012 season. This was out of 500 players, and the only person below Bazemore was Eddy Curry.
Fast forward four years, and there were rumblings that Bazemore could be in for a hefty payday this offseason. This was something that he hoped would inspire other undrafted basketball players to keep persevering even if they didn't hear their names called on the night of the NBA Draft.
Bazemore played in 75 regular season games for the Hawks in 2015-16, averaging 11.6 points and 5.1 rebounds in 27.8 minutes per game. Not bad for a dude who averaged two points in 4.4 minutes a night during his rookie year, don't you think?