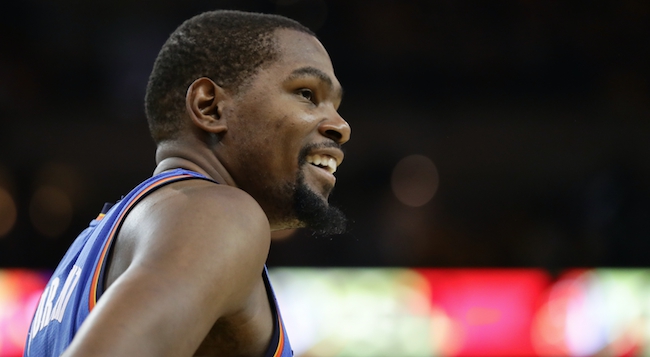 Kevin Durant is the most-discussed man in sports right now. His free agency is a magnet sucking power, intrigue, money, and media attention into an emotional multimedia whirlwind that's dominating the NBA news cycle. According to some sources close to the superstar, though, you can expect him to put an end to all the swirling possibilities soon, and restore the status quo by re-signing with the Oklahoma City Thunder.
"His decision is 90 percent made. It would take an amazing sales pitch to change it," said one of Durant's longtime friends, as reported by The Undefeated's Marc Spears.

Not only is Durant attached to the winning formula and cultural groundwork he's helped to lay with the Thunder — who are, by many arguments, his best path toward a title in 2016-17 and beyond — but as the incumbent bidders, OKC is also able to offer him more years and money. Durant may make the latter point moot by signing a one-year deal that allows him to go back on the market next summer when the league sees even more money coming in, but it shouldn't come as a surprise if he takes a long-term approach to staying put, either. He missed most of 2014-15 with a foot injury, and as such he understands how quickly fortune can turn on you in the NBA, and the corresponding value of career security.
Either way, we'll know much more about Durant's future over the coming days.