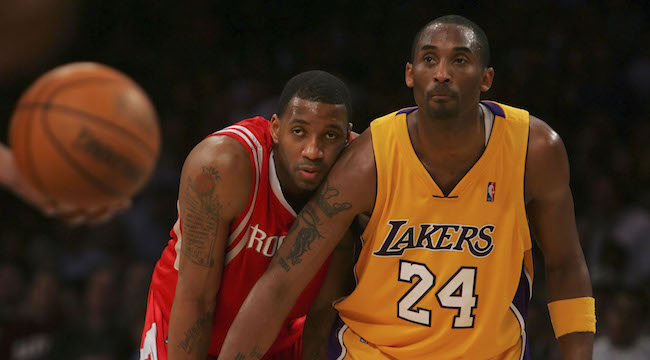 The Lakers' dynasty of the early 2000s took home three straight NBA titles and went to Finals four times in five years before eventually splintering. The dynamic duo of Shaquille O'Neal and Kobe Bryant made for one of the most dominant tandems in NBA history, but it was also a volatile relationship that eventually disintegrated, leading Shaq to push his way out to Miami.
In recent years, Shaq and Kobe have mended their relationship to become friendly again, with Shaq showing up at Kobe's final game and Kobe returning the favor at Shaq's statue unveiling outside of Staples Center. They are an iconic pair in NBA history, but there was a time when Jerry West had ideas of adding a third young star to the mix.
A year after trading for Kobe Bryant in the draft, West was pushing for the Lakers to make another move to bring in a dynamic wing player. As Del Harris, the Lakers' coach at the time recalls, West was obsessed with Tracy McGrady following a draft workout and wanted to add him to their young core featuring Shaq and Kobe.

Harris relayed that story to Marc Stein of the New York Times recently, and how it was Jerry Buss that ultimately shot down the idea of trading up for McGrady forcing West to move on from that dream.
As the Lakers' longtime roster architect, West was famously smitten by the predraft workout performance that Bryant, then 17, unleashed against the longtime Lakers defensive standout Michael Cooper, who was an assistant coach by that point. As Harris tells it, Tracy McGrady had an even more impressive audition for the Lakers one year later, prompting West to make a brief but serious push to try to acquire McGrady's draft rights and team him with O'Neal and Bryant.

"I don't think anybody can look at an 18-year-old and say he's a Hall of Famer," Harris said. "You couldn't even do that with Jordan. And Kobe was a young 18 in his first season. He was still in a pretty normal teenage body, compared to when LeBron James came in and had a man's body.

"McGrady came in the next year with a more mature body and worked out so well that Jerry kind of tooled around with the idea that maybe we should just go ahead and make a deal for whatever it took to get this guy — even though it'd be a step back in the short term — to have two guys like this on the same team."

It was the Lakers' owner Jerry Buss, hungry to end a championship drought that would ultimately last 11 seasons before Shaq, Kobe and their new coach Phil Jackson won their first of three successive titles together in 2000, who shot down the idea of a Bryant/McGrady partnership.

It's a fascinating, "What if?" scenario if nothing else, to imagine what those Lakers teams would have looked like with McGrady on them and how that could've changed the narrative around his career (and Kobe and Shaq's). How McGrady, a high-usage scorer, would have fit in on a team with Kobe and Shaq and within the system they were all eventually put in by Phil Jackson is impossible to figure.
Had they gone on to win multiple titles with that group, McGrady's legacy is vastly different. However, there also could have been the potential for those three to fail to mesh and one of them, almost assuredly Kobe or McGrady, to be traded away. If nothing else, those three would've been tremendously exciting to watch for however long it lasted, but it seems to have worked out pretty well for all involved that Buss turned down the idea.