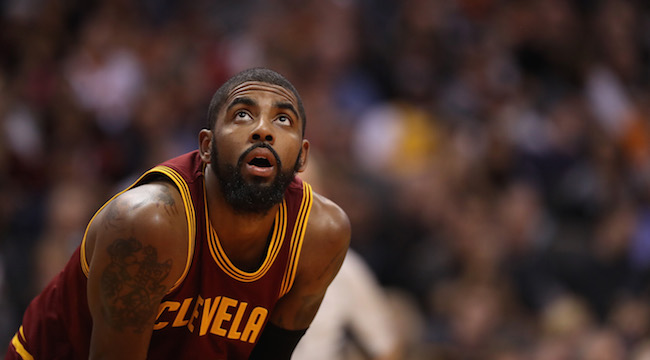 Kyrie Irving is an amazing basketball player, with crazy handles and a knack for making big threes, but he also happens to have some strong opinions about what most would consider common knowledge being wrong.
Irving went on the Road Trippin' podcast hosted by his Cavs teammates Richard Jefferson and Channing Frye along with Allie Clifton of Fox Sports Ohio and revealed that he has some aggressive conspiracy theories he subscribes to, most notably that the Earth is flat and he doesn't believe that the Earth rotates around the sun. Irving insisted emphatically that "the Earth is flat," and then offered his reasoning.
Irving's quotes, as transcribed by Yahoo! Sports' Ben Rohrbach, are pretty mind-blowing.
"For what I've known for many years and what I've been taught is that the Earth is round, but if you really think about it from a landscape of the way we travel, the way we move and the fact that — can you really think of us rotating around the sun, and all planets align, rotating in specific dates, being perpendicular with what's going on with these 'planets' and stuff like this."
Not only did he explain that the Earth is flat, but he insists that "the truth is right there" because things don't ever come back from space (they often do).
"Everything that they send [to space] doesn't come back. It doesn't come back. There is no concrete information, except for the information that they're giving us. They're particularly putting you in the direction of what to believe and what not to believe, and the truth is right there. You've just got to go searching for it. I've been searching for it for a while."
It's a pretty incredible revelation from Irving, and as far as I know he's the only NBA star that subscribes to the flat Earth theory. The flat Earth thing has made a comeback recently, and, while I think it's ridiculous, I love that there's an NBA All-Star that strongly believes that we're being lied to about the Earth being round.