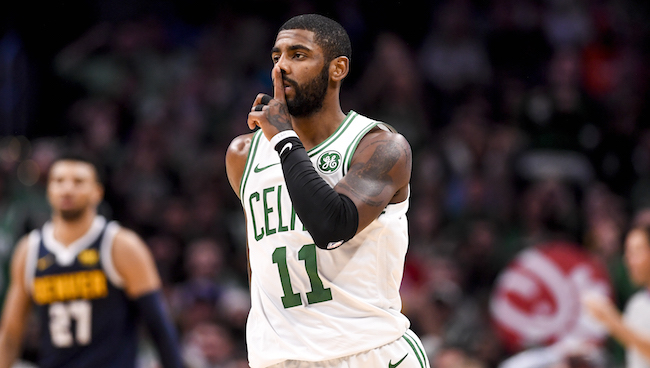 Jamal Murray set a new career-high on Monday night with 48 points as the Nuggets took down the Celtics in Denver by a final of 115-107. Murray was 19-of-30 from the field and hit 5-of-11 three-point attempts in the game, lighting up the normally stout Boston defense.
Those shooting numbers could've looked slightly better had Murray not made a last possession effort to get to 50 points, as he hoisted a 28-footer just before the buzzer to try and cross that magical milestone number.

That shot upset some of the Celtics, because unwritten rules are still a thing in sports and a harmless late shot from Murray crosses some kind of line. Kyrie Irving was the most upset at Murray's decision to try and pad his stats, as he grabbed the ball and launched it way up into the crowd after the buzzer.
Irving explained after the game he felt that while Murray had a great game it was a "bullsh*t move" from him to take that shot and, as such, the ball deserved to be launched into the crowd.

Irving can almost assuredly expect a fine for that, as the NBA doesn't exactly take kindly to anything being thrown into the crowd that could injure a fan (a basketball's not going to cause serious injury, but if you're not paying attention and one hits you in the head 30 rows up, it would hurt).
As for Murray, he went about it in a reasonable manner. He took a late shot at the buzzer from deep. He didn't try to drive in and lay the ball up or dunk it to hit 50, he just took a final shot while dribbling the clock out to see if maybe he could hit that milestone number.