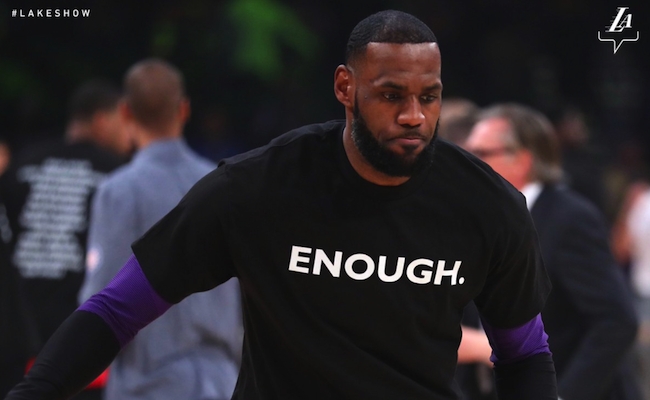 The Lakers and Hawks joined the Clippers and Bucks in paying tribute to the 12 victims of the recent shooting at a bar in Thousand Oaks, California when they donned the same "#Enough" t-shirts for pre-game warmups Sunday that Milwaukee and L.A. wore on Saturday afternoon.
The shirts have the names of the victims on the back and send a strong message that something needs to be done about the prevalence of gun violence in the United States as the mass shootings are becoming far too regular an occurrence. Every member of both teams wore the shirts for layup lines and warmups. And the Staples Center crew read the name of each victim over the PA before a moment of silence prior to the national anthem.

It's the latest example of NBA players using their platform to send a message, something Lakers superstar LeBron James has found himself at the forefront of in recent years. James has been outspoken about issues of gun violence, racial inequality, and, just generally, Donald Trump's presidency over the past few years as he's embraced his role in sparking social discourse on issues important to him.
It's not the first time James has used t-shirts in warmups to send a message, as he and members of the Cleveland Cavaliers wore "I Can't Breathe" shirts in Brooklyn in 2014 after Eric Garner was killed by a police officer's choke.