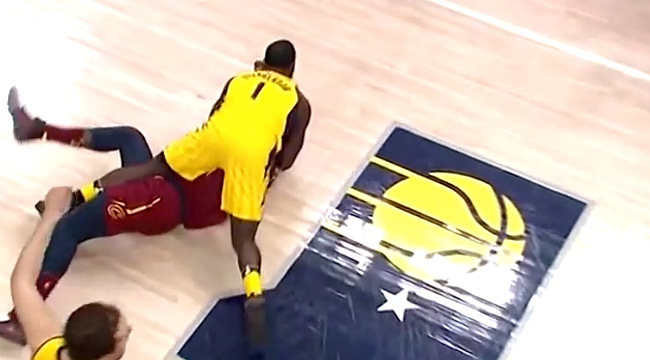 You'll never believe this, but Lance Stephenson made it a point to get under the skin of the Cleveland Cavaliers on Sunday night. His most prominent moment of nuisance-ness came midway through the fourth quarter when he finally managed to annoy LeBron James so much that the Cavaliers star picked up a technical foul, even if Stephenson did embellish the shove he received from James.
As has been the case in the last few games of this series, things were tight and tense down the stretch. Those are the moments when Stephenson sees his biggest openings to pester opponents, so in the game's waning moments, Stephenson tried his best to make a play at the behest of Jeff Green.
The Cavaliers tried to inbound the ball with about 12 seconds remaining while up by three. Green got the ball, Stephenson was on defense, and then, this happened.

No one seemed to really know what was happening at the time — poor Chris Webber was trying to explain the various calls here to no avail, because you could have argued it was a personal foul, a flagrant foul, or a technical foul on either Stephenson or Green. You could also argue a jump ball was the outcome that needed to happen, it was just such a weird moment that left everyone in the dark until the referees came to a resolution.
Ultimately the officials called a foul on Stephenson after a review, Green went to the stripe and made one of two free throws. The game ended with the Cavs picking up a 104-100 win to even the series at two games a piece.