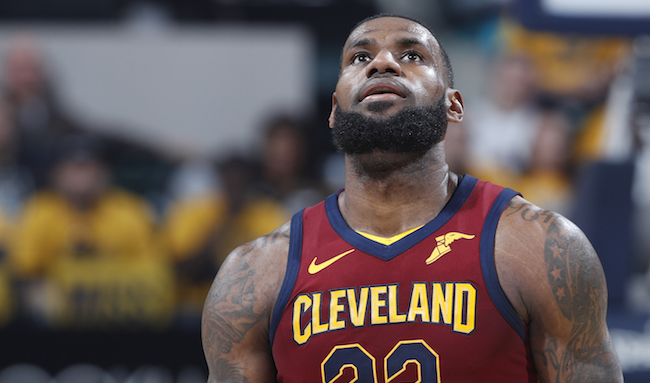 Midway through the fourth quarter it looked for all the world like the Cleveland Cavaliers were about to drop another game to Indiana after holding a double-digit lead. The Pacers stormed back from a 60-50 halftime deficit to take a three-point lead with six minutes to play (thanks in part to some Lance Stephenson shenanigans).
However, unlike in Game 1 and Game 3, it was the Pacers whose offense fell apart late. Indiana fell into the trap of playing isolation hero-ball down the stretch to no avail, while the Cavs got just enough from people not named LeBron James to escape with a win.
James had 32 points, 13 rebounds, and seven assists in what we've come to expect from him in a postseason game, but it was the performance of Kyle Korver with 18 points down the stretch that was the difference in this one. Korver connected on a pair of huge three-pointers and a couple free throws to help pick up the win.

LeBron also got some help in the first half from J.R. Smith's 70-foot buzzer-beater to end the first quarter and a monster performance from Jordan Clarkson, who cooled off in the second half but did enough to float the boat in the first while the rest of the squad got going.
The Pacers had a balanced performance with seven players in double figures, led by Domantas Sabonis' 19 off the bench. The young big man was the spark for Indiana's late third quarter and early fourth quarter comeback.

Curiously, Sabonis was not on the court down the stretch while Indiana's offense went stagnant despite being the hot hand. Even so, the Pacers had a chance late thanks to the Cavs' inability to put them away and a timely three-pointer from Victor Oladipo, but it ended on some Stephenson shenanigans as he forced a tie up with Jeff Green. The sequence ultimately saw Lance get called for a foul to send Green to the line to ice it.
The Cavs now go back home with the series tied 2-2 and Indiana will have to think they let a golden opportunity fall through their fingertips. The margin for error in beating LeBron is slim, and even though they've managed to pick up a win there already, going back to Cleveland for Game 5 and, possibly, Game 7 theoretically makes it difficult for the Pacers to pull off the upset.