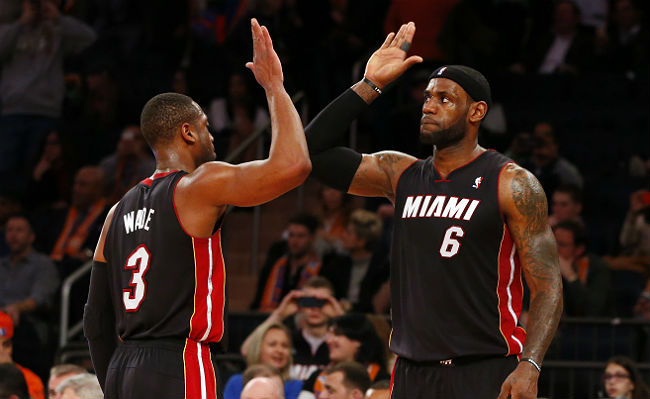 Dwyane Wade played his final home game in Miami on Tuesday night, but due to something of a scheduling snafu, he was on the road in Brooklyn for the last game of his career on the final night of the regular season on Wednesday.
Plenty of his friends were on hand, however, to help send him off, as the entire Banana Boat Crew — LeBron James, Chris Paul, and Carmelo Anthony — descended on Barclays Center to see their buddy put the finishing touches on his Hall of Fame career.
During a sideline interview early in the first half, LeBron James was asked about his fondest memories of playing alongside Wade in Miami, and his answer may come as something of a surprise.
https://twitter.com/gifdsports/status/1116139534654353409
"I would say the fondest part is when we lost in 2011," LeBron said. "Because without '11, there's no '13, there's no '12. Because that's what made us, that's what made our team. It's been an unbelievable journey for my guy, and I'm happy to be here for that last little road before that train comes to a stop."
Indeed, the Big 3 Heat had to be battle-tested and go through heartbreak before they could find their rhythm and rattle off two straight championships in the seasons that followed.
It's that type of devastating disappointment that either forges a stronger bond or tears people apart entirely. It was the former for the longtime friends and a refreshing response from LeBron as he honors Wade and an NBA journey that intertwined their careers on multiple occasions.