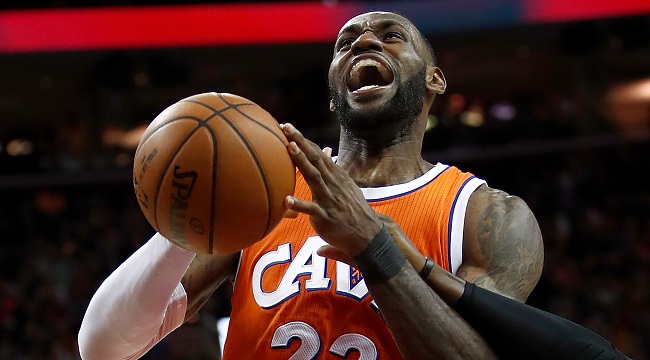 There is a growing sentiment within the NBA world that LeBron James could approach, or even surpass, Michael Jordan as the greatest player in the history of the sport. Just a year or two ago, the gap seemed quite wide between Jordan and, well, every other player within the current generation, but James has accomplished remarkable things and shows no signs of slowing down at the age of 32.
To that end, Hall of Fame player and former Cleveland Cavaliers general manager Wayne Embry saw something special in LeBron from a very early age and that is another reminder of just how impressive James has been to live up to the hype. In an interview with Joe Vardon of Cleveland.com, Embry indicates that James was always "destined for greatness" and that he saw it coming.
"I just said then he was destined for greatness. I didn't know where it was going to go, but he's destined for greatness. Here he is challenging Kareem for being the all-time greatest scorer, but, you know, you could just see it coming back then."

Embry, who starred for the Cincinnati Royals, Boston Celtics, and Milwaukee Bucks from 1958 through 1969, even went as far as to say that James is now "in that same sentence" with the greatness players of all-time.
"For someone to come along, master a complete game, all phases of the game, they come few and far between. Oscar, I've been on record saying he's the greatest ever, that I've seen, but I could put LeBron in that same sentence now."

"I put LeBron in that same sentence, and not because I played with Oscar. Oscar played in a different era. He had no weaknesses whatsoever on the basketball court. I see LeBron in that same category. We'll see how it unfolds, how it works out, because he's certainly right there."
It should be noted that Embry played alongside Oscar Robertson during his career and that would explain his leaning toward the legendary guard over the likes of Jordan, Abdul-Jabbar, Russell and others. Still, this a wildly credible source taking a look back, seeing the massive ability of a player like James and projecting forward to the point where he legitimately believes we could be watching the best to ever do it.
The debate will never end and that is yet another nudge toward the fact that Michael Jordan was absolutely incredible. With that said, LeBron James is the best player that many young NBA fans have ever seen on the floor, and his legend grows by the day.