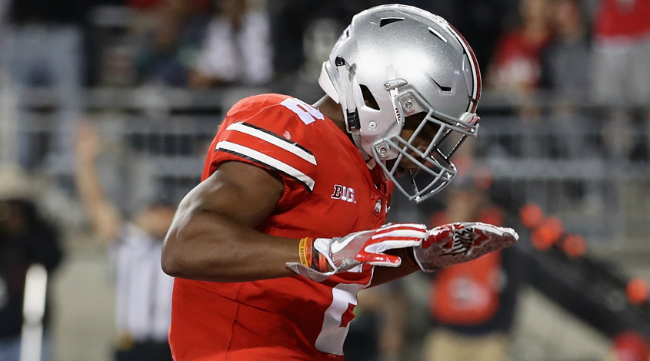 LeBron James tried to give his beloved Ohio State Buckeyes a little support for their top-5 matchup with Oklahoma on Saturday night. The Buckeyes rocked a special pair of LeBron Soldier XI cleats during the game, which is taking place in Columbus. Apparently appreciative of the gesture, one Buckeye decided he wanted to pay homage to The King.
J.K. Dobbins is one of the best true freshmen in the nation, a dynamic running back who looks like he's going to be a headache for Big Ten defensive coordinators for the foreseeable future. Dobbins scored the Buckeyes' first touchdown of the night on this six-yard scamper in the third quarter, and after, he showed LeBron some love by doing his famous silencer celebration.
This is hardly the first time we've seen a LeBron celebration at an Ohio State football game. During last season's Ohio State vs. Michigan game in Columbus, we saw the Cavaliers star himself chill out on the sideline with a collection of teammates. This is also probably not the last time we're going to see this out of Dobbins — despite playing in just over a game and a half thus far, he's already established himself as a dangerous running back. He's going to see the end zone a lot during his career in the scarlet and gray, meaning he'll have plenty of chances to bust out the silencer.