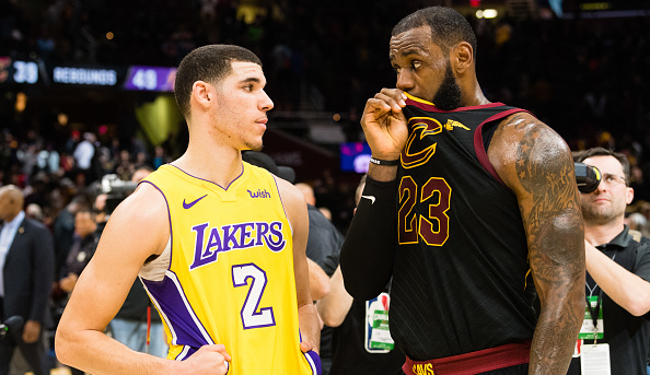 While LeBron James and Lonzo Ball only recently became teammates, this isn't the first time the two have crossed paths. Most notably, James and Ball faced off against one another last season, and after the game, the then-Cavaliers star pulled the rookie guard aside and gave him some advice about … something.
James pulled his jersey over his mouth while he spoke to Ball, and while on-court microphones eventually caught what he said (much to the former MVP's chagrin), neither player had ever revealed what was said that night.
But in an appearance on the "Mason and Ireland" podcast this week, James was asked about his chat with the then-rookie, and he let it be known that there's only one person who defines Lonzo Ball.
Via ESPNLA:
"The gist of it was at the end of the day, no one can define who you are but yourself," James said, per LonzoWire. "When you're young, you can get caught up and listening to what people say, what people thinking that you should be, what people saying what your game should be. But at the end of the day, no one can define who are you besides yourself. If you put in the work, you commit the game, then the game will give back to you and that's all it's about."
Context is important here because, of course, this conversation happened while Lonzo's father, LaVar, looked like he was going to be a major headache for the Lakers, so much so that the team actually had a meeting with him with the hopes that he would play a role in making sure the atmosphere around his son would be more positive. There was tons of hype around the younger Ball, but along with questions about his father's relationship with the Lakers, there were also questions about his game amid early season struggles.
The good news for Ball, though, was he had a big supporter in the best basketball player in the world, who now just happens to be his teammate.