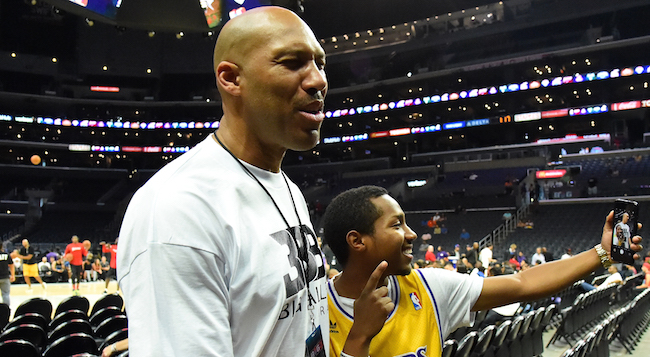 LaVar Ball has officially upset the Los Angeles Lakers' bosses, which has led to everyone sitting down to talk things through. According to a report by Ramona Shelburne of ESPN, Magic Johnson and Rob Pelinka called a meeting involving the Lakers' front office and the father of starting point guard Lonzo Ball sometime within the last few weeks.
As you can guess, Shelburne reported the meeting had to do with Ball's behavior, namely with his eagerness to criticize Luke Walton and the Laker coaching staff. Recently, Ball has said the staff is "soft," does not know how to coach his son, called a time out that cost the Lakers a win, and criticized their decision to let him rest at the start of fourth quarters.
Shelburne wrote that the intent of the meeting was for Ball to be involved in creating "a more positive atmosphere around his son," and that "the main message to Ball was that they've tried to keep their relationship positive, while still allowing him to speak his mind, and they'd prefer he did the same."

Ball stressed that he just wants what is best for his son, and that he believes the best thing for Lonzo is the best thing for the Lakers, because that means they're winning.
""It was the best thing, man," Ball said. "Everybody's going to try to make it an ego thing, like I'm trying to tell them what to do or they're trying to tell me to tone it down. It's not about that. It's about coming together and to get a solution to this problem."
Ball said that he does not talk to Walton and that it's "fine" that the organization would rather he talks to them than run to the media with criticisms, but did make it clear that he is going to "plant a seed" when he sees something that he believes the team can do better.

"They may not want to hear that, but it's going to be successful if you listen to what I'm saying on that fact that I know what it takes for my son to run like this," Ball said.
It remains to be seen whether this leads to any change, but it's clear that the Lakers' front office sees Ball's behavior as some kind of a problem and wants to try and keep it from leading to something perilous.