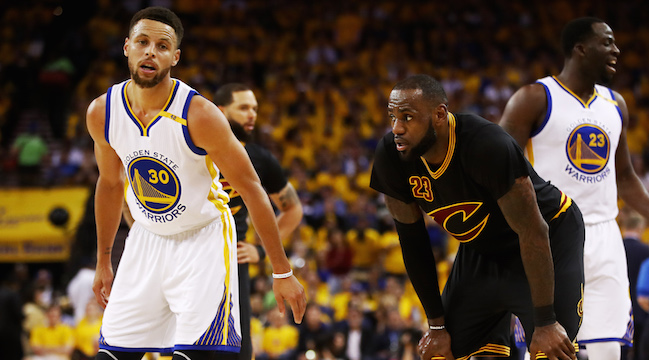 There's less than one week left in the NBA All-Star fan voting process for the 2018 All-Star Game in Los Angeles, and the latest round of voting results shows some significant changes at the top.
This season, the top vote getters in each conference will get to be the captains and draft their teams as the league shifts away from the traditional conference vs. conference matchup in an effort to better balance the talent pool and also make the game more intriguing. After the first round of voting was released, Giannis Antetokounmpo and Kevin Durant were in those captain positions, but a week later that has changed.
The latest round of voting results have been released and, unsurprisingly, LeBron James and Steph Curry now occupy the top spots in each conference, with James leaping well in front of Antetokounmpo and Curry holding a marginal edge on his teammate.

It's interesting to see the discrepancy between the Warriors' stars and everyone else in the West, and how tight the race is in the West's backcourt. James Harden and Russell Westbrook are hanging around in the second and third backcourt spots, but not far behind Russ are Klay Thompson and Manu Ginobili. Lonzo Ball also makes an appearance in the seventh spot in the West backcourt, which comes as little surprise.
In the East, it's LeBron, Giannis and Kyrie Irving all well over 1.3 million votes and then a major gap to the rest. Joel Embiid and Kristaps Porzingis are the next two highest vote getters, while DeMar DeRozan has a healthy lead for the second backcourt slot over a tight battle for the third spot between Ben Simmons, Victor Oladipo, Dwyane Wade and John Wall.
There's still a week to see these results shuffle around more, but it looks like a near mortal lock that LeBron will indeed be a captain and it's a matter of which Warriors star will be opposite him (Curry's ankle injury could affect that as he'll likely sit out much of this next week).