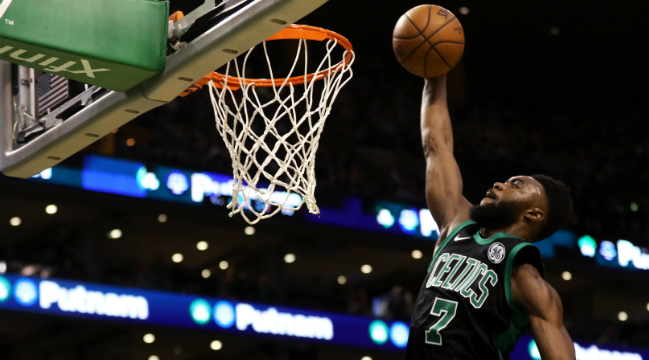 When Lil B comments on basketball, it is usually because he wants to make sure things go completely awry for someone he does not enjoy. Consider the fact that he put the Based God's curse on Kevin Durant and James Harden, and up until he took the curse off of Durant, neither dude had ever won a title.
But over the offseason, Lil B decided to go in a different direction and praise a basketball team. He decided to bestow the Based God's blessings upon the Boston Celtics, namely, he let the praise rain down for second-year Celtics wing Jaylen Brown.
Obviously the Celtics have been really good this year. The team boasts the best record in the NBA at 21-4, had a 16-game winning streak at one point this season, and even if it doesn't win the Eastern Conference this year, Boston looks like the kind of squad that will be a championship contender for years to come.

On Monday, Lil B wanted to remind everyone that he called this happening. He tweeted about his prediction that the Celtics would have his blessing and took the victory lap that he deserved to take.
As the saying goes, once is an accident, twice is a coincidence, three times proves that Lil B possesses some kind of ability to control the course of the NBA. Between everything that has happened with Durant, Harden, and the 2017 Celtics, we have more proof than ever that Lil B is a powerful, omnipresent force in the basketball world.