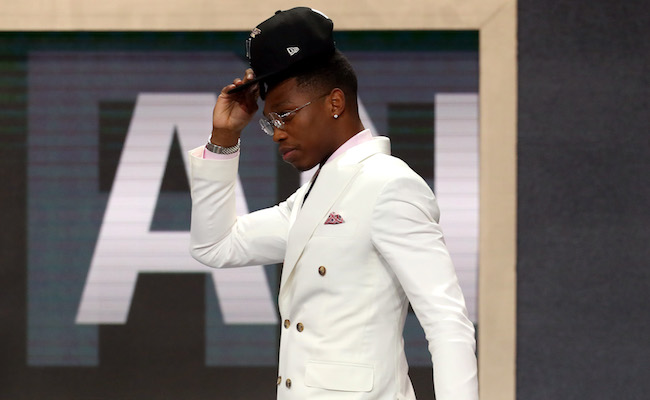 Lonnie Walker's professional basketball career is just getting started but the San Antonio Spurs rookie is already making an impact in his hometown of Reading (Pa.) before his first regular season even arrives. Mike Drago of the Reading Eagle brings word of an intriguing initiative from Walker and adidas, which signed him to an endorsement deal prior to the 2018 NBA Draft.
Walker, who played at Reading High School, reportedly partnered with adidas executive Eric Wise, who also emerged from the school, to donate 300 pairs of shoes to Reading's Blacktop Basketball League. The donation is valued at more than $30,000 and, according to the report, there is the possibility that the former Miami Hurricanes standout will appear at the event's championship games in late July.
While this is a gesture that is phenomenal under any context, there is clearly a strong relationship in play between Walker and his hometown. During the recruiting process for the highly touted guard, Michelle Kaufman of the Miami Herald reported that the Hurricanes, led by head coach Jim Larranaga, promised Walker that they would schedule a road game in Reading and later delivered on their word in facing off against La Salle at Santander Arena.
"Lonnie has been nothing but genuine in being a role model and carrying himself the right way," Blacktop board member Wynton Butler told the Reading Eagle. "That's what he's done from the beginning. He's everything we knew he would be, in terms of how he carries himself. He's been nothing but a perfect role model."
At the very young age of 19, Walker averaged double-figures during the Las Vegas Summer League and drew rave reviews for his talent and upside. Off the court, it appears he is poised to live up to the hype as well.