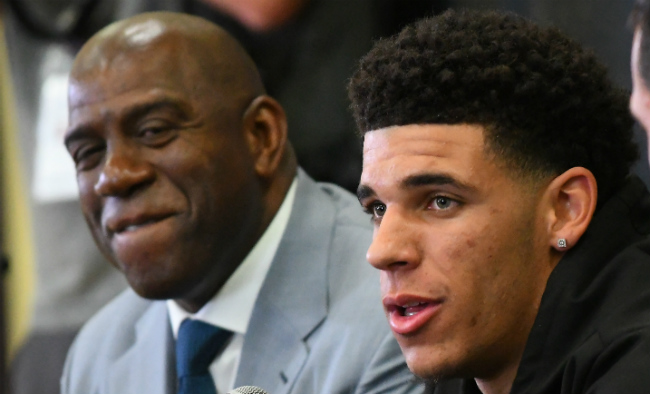 Magic Johnson really is the perfect person to help Lonzo Ball navigate life in the NBA. Like Ball, Johnson was a highly-regarded college player who brought an incredible amount of hype to the Los Angeles Lakers before he ever stepped on the floor. Plus Ball is a playmaker in the same vein as Johnson, so Magic can help Lonzo learn how to play point guard in the NBA, too.
As it turns out, Johnson is really excited to take on this role with his young point guard. The way Johnson is doing this, though, is fairly unique. Instead of trying to ease the pressure on Ball, Johnson thinks it's important to try and make him feel as much pressure as he can. It goes against some conventional thinking, sure, but Johnson's logic is that Ball will want to have the weight of the world on his shoulders if he truly wants to be great.
Ball is certainly no stranger to the spotlight — his family has been at the center of the basketball world for a few months now — but being in the media and actually taking the floor for an NBA game are two extremely different things. It's safe to assume that Johnson wouldn't want to put pressure on Ball if he didn't think the Summer League MVP was up for the challenge, and we'll see in a few months whether Ball is able to rise to the occasion or be overwhelmed by the Hall of Famer's raised expectations.