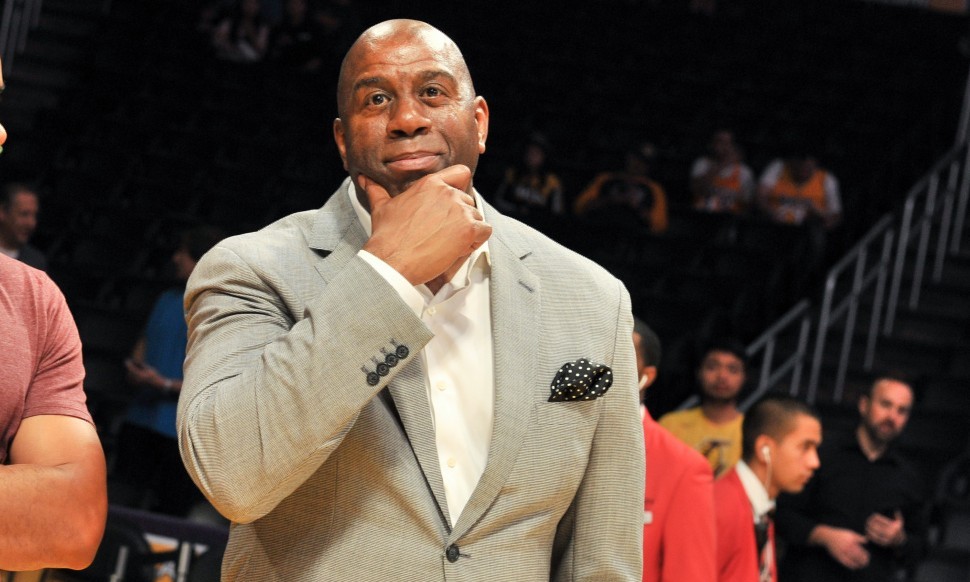 When Magic Johnson announced he was stepping down from his post as the Lakers president of basketball operations, one the reasons he cited for leaving was wanting to tweet more without getting in trouble for tampering.
Quitting a job that paid you millions of dollars because you wanted to tweet is, truly, an iconic thing to do and true to his word, Magic has been very much online since leaving. As we learned during his First Take appearance, there was more to it than just wanting to be able to tamper and tweet that drove him out of the Lakers organization, but it still played a role and that is truly an incredible thing.
The best part of this is that Magic's tweets are legendary for being extremely bland and often reading like a very basic recap of whatever thing he just watched, which makes them perfect for anyone that has happened to miss anything that's happened in the NBA Playoffs. Magic may no longer be with the Lakers, but he still loves watching some NBA basketball, and his Twitter timeline over the past month serves as a very effective recap for what's happened through the first three rounds of the playoffs.
So, for anyone that may be tuning in late or missed the action in one of the conferences up until this point, let Magic get you caught up on all the goings on in the Association.

The first day of the playoffs saw some fairly shocking results in the East, while the defending champs rolled. Magic loved every minute of it.
Magic wasn't very active in the first round, instead spending his time at, no joke, like 10 speaking engagements (get that bread!), a Dodgers game for Jackie Robinson Day, watching boxing, and other things. However, he was very excited for the second round, particularly in the East.
Magic was very excited by the star power on display in the second round in both conferences.
He was dialed in for Game 2 of Sixers-Raptors, giving some love to Jimmy Butler and the Sixers bench.

He was back for Game 4 of that series, this time making sure everyone knew that Kawhi Leonard was having a great series.
Magic then had some praise for Jamal Murray and Nikola Jokic as the Nuggets took care of business against the Blazers.
By this time, Magic was fully locked in on the playoffs and was back at it again two days later to heap praise on Giannis Antetokounmpo, this time avoiding a tampering fine in the process.
He also enjoyed James Harden's performance in Game 4, and put the Harden-Kevin Durant matchup up there with some all-time greats.

After more speaking engagements, Magic was brought back to Twitter by Stephen Curry's 33-point explosion in Game 6 against Houston to push them to the Western Conference Finals.
He also was impressed by C.J. McCollum's effort in Game 7 against the Nuggets to push Portland to the conference finals.
The next night he had many thoughts about Game 7 of the Sixers-Raptor series, including Kawhi's incredible game-winner.

Johnson was fired up after Game 2 of the WCF, excited to see the Warriors looking like the old Warriors led by Curry and Draymond Green.
He was back for Game 3 after a night off to enjoy a Janet Jackson concert, and once again had lots of love for Curry and his fellow Spartan.
Then, after his appearance on First Take lit the internet on fire on Monday, he was back on Tuesday with his Skinny Pop popcorn to offer a lot of thoughts on Game 4 of the ECF.