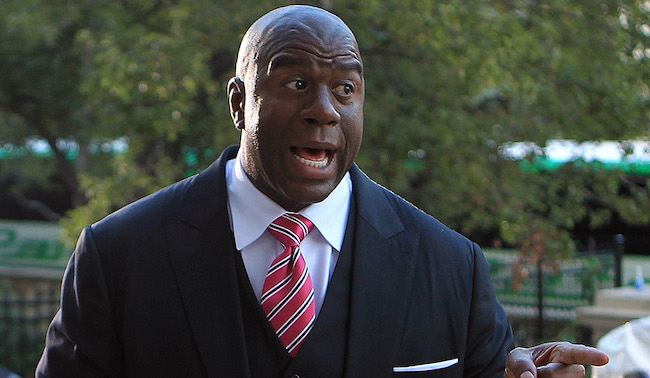 Magic Johnson is entering his secondoffseason as the president of basketball operations for the Lakers and the expectation of he and GM Rob Pelinka is that they will land at least one of the big fish in the free agency sea.
The Lakers have been very clear with their intentions this summer, as they will court Paul George and LeBron James, along with other top free agents, with their massive allotment of cap space. Johnson took over last year after a mini-coup by Jeanie Buss to take over operations from her brother, and he and Pelinka quickly positioned the Lakers to have close to two max contract slots available this summer.
Despite all of the apparent pressure on the Lakers to make a splash this summer, Johnson insisted on Tuesday morning that he wasn't worried about it in the most Magic Johnson way possible as he spoke with reporters at the introductory press conference for their rookies.

Magic later doubled-down on the necessity of landing a star over the next two summers, noting he'd be a "failure" not to make it happen.

It is oozing with self-confidence bordering on cockiness, but that's Magic. To this point, he has no reason to believe he won't be as successful in this job as he was as a player and until proven otherwise he's going to continue thinking this way. July may prove him right or provide a strong dose of reality in the other direction for Johnson, but as long as the Lakers don't panic and fill up all that cap space with bad long term deals, they can still be in a good position moving forward.
For most Lakers fans, they would view this offseason as a failure if none of the top stars are in Lakers uniforms come next fall, but as long as they keep their cap sheet flexible for next summer and 2020, they can still be players on the free agency market and continue developing this young core. If anything, Kawhi Leonard's apparent insistence on being a Laker may be what's giving Magic this confidence that, no matter what goes down this summer, he can have an elite star on the squad by 2019. If the Spurs are able to pull off their own magic and get Leonard to re-sign, that might change Johnson's tune, but until then he has plenty of reason to be comfortable about the Lakers future whether they land LeBron or George or not.