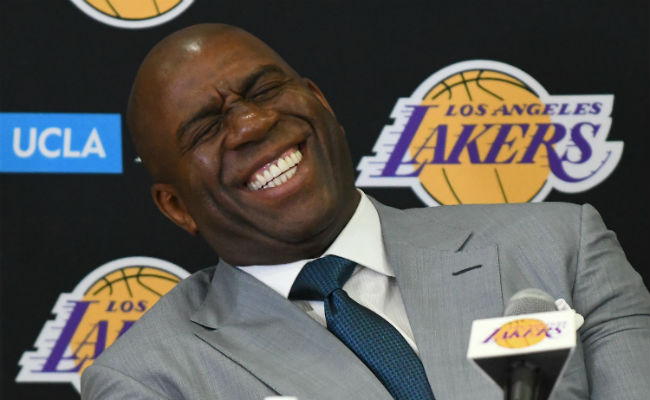 The Los Angeles Clippers are now the favorites to win the NBA title if you're a bettor, and after acquiring Paul George in a blockbuster trade and signing Kawhi Leonard, well, you'd have to like your odds after one of the wildest 24 hour periods an NBA offseason has had.
Left behind in the arms race in the west might be the Los Angeles Lakers, however, who also had high hopes of signing Leonard and adding him to a team that already had LeBron James and had traded for Anthony Davis before the NBA Draft. That didn't happen, however, and the Clippers snagging two huge franchise-altering players has Lakers fans feeling a bit left behind.
That the team now seems content to essentially run back the gaggle of veteran free agents it had last season — plus DeMarcus Cousins and, of course, AD — only makes things feel more tenuous. But if you ask Magic Johnson, he's just excited to watch what he expects to be some entertaining LA teams play basketball this fall.
On Saturday, Johnson broke is relative silence about the situation and declared Los Angeles "king" of the basketball world.
https://twitter.com/MagicJohnson/status/1147592680177897478
Johnson, who was sought out for advice by Leonard and his camp during the free agency process, was not allowed to officially lobby for him to join the Lakers. But he did talk to them and clearly has a favorite Los Angeles professional basketball team given his playing career and his time with the Lakers front office. Which is what makes this tweet all the more strange if you really think about it.
The tweet was classic Magic Johnson on Twitter: extremely factual, full of excitement while not offering much beyond a correct statement. But the tweet is significant: it's the first public "comment" on how free agency shook out, and it doesn't have any signs of disappointment that Leonard ultimately picked the other LA team.
Whether Johnson is actually disappointed is unclear, though you could take a pretty educated guess if you'd like. But it's important to note that Johnson was unable to get Kawhi to Los Angeles whether he could officially try or not. Like the rest of us, he's just left tweeting about it.