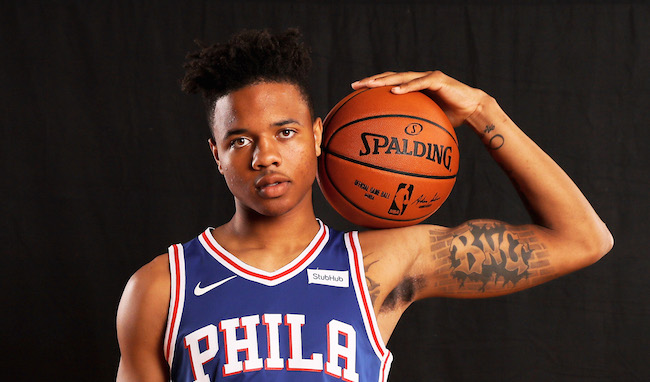 When the Philadelphia 76ers drafted Markelle Fultz with the No. 1 overall pick in the 2017 NBA Draft, they selected someone whose biggest asset was his ability to score. As a freshman at Washington, Fultz averaged 23.2 points on 47.6 percent shooting from the field and 41.3 percent shooting from three. For a Philadelphia backcourt that was light on scoring and the ability to stretch the floor, Fultz filled a massive need in addition to being the perceived best player in the draft.
Fast forward a few months and look at this ugly form from the charity stripe.
That's … really ugly. Fultz is shooting free throws like he's Shaq — not in that he missed, in that putting the ball up there and launching it was how Shaq shot free throws. He's holding the ball on his fingertips instead of letting it sit comfortably in his hand. He is not shooting a free throw as much as he's pushing the ball towards heaven and hoping that when it hits the earth, it passes through the rim first.

Because you are undoubtedly asking yourself the question, no, this is not what Fultz's free throws looked like in college. In fact, they looked kind of fine.
Sure, there are a lot of moving parts, but the issue here seemed to be more that his body wasn't settled and he wasn't shooting in one fluid motion. That caused Fultz shot 64.9 percent on free throws in college, and because free throw shooting is generally considered the best indictor of how you're going to shoot in the NBA, that was problematic.
So Fultz decided to tinker with his shooting motion with the hopes of getting his free throw clip to something better. Instead, he went from a shot that had a few wrinkles that needed to be ironed out to shooting free throws by putting the ball above the point where Dwight Howard starts his free throws from. In fact, Sixers coach Brett Brown told reporters that he's not comfortable with how this tinkering has impacted Fultz's jumper, which would open a completely different can of worms.
There are reasons for optimism, namely that Fultz is a teenager who has yet to play in the NBA game and has plenty of time to figure everything out. Plus it's always possible that he's going to be fine — the preseason is for experimenting with stuff, and Fultz wants to experiment with his shooting stroke so he can become more consistent with the free throw line, which is perfectly reasonable. His stroke is currently in "thing to monitor" mode right now, and while it may not ever become an honest to god issue, it's worth keeping an eye on for the foreseeable future.