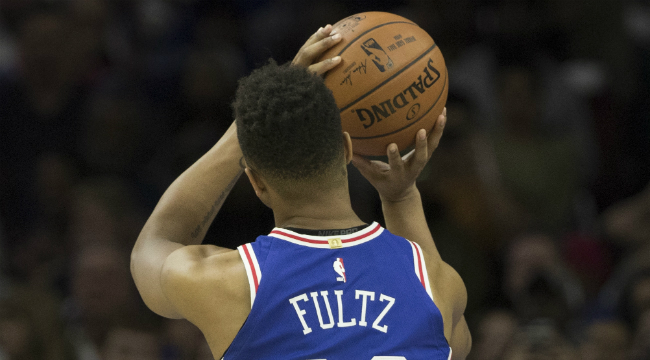 The Philadelphia 76ers were supposed to be one of the most intriguing teams in the NBA this season. The Process was behind them, to a degree, and it was finally time to see what all of these young players could do on the court together against real NBA competition. Unfortunately for both the 76ers and NBA fans everywhere, its been a rocky start for reasons that have very little to do with basketball.
Rookie point guard Markelle Fultz is dealing with something. It's impossible to know exactly what that something is, because everybody close to him is telling the media a different story. What we do know is that Markelle Fultz changed his shooting stroke this summer, it looks horrible, and he's dealing with a shoulder injury.
Common sense will tell you that if Fultz's shoulder is hurting him to the point where he can't lift his arm over his head, like his agent suggests, then he shouldn't be playing. It took the 76ers four regular season games to figure this out, but that does appear to be the direction they are finally going in.

Amid all the chaos, the Philadelphia 76ers announced on Wednesday that Fultz is going miss the next three games (Rockets, Mavericks, Rockets) with what they are calling right shoulder soreness. We still have plenty of questions, though, as nobody close to Fultz seems to be on the same page.
76ers president Bryan Colangelo spoke to the media today, revealing what the 76ers think is going on with their rookie point guard.
Transcript via Sam Amick, USA Today:
"We spent some time with him throughout the summer, but sometime during the month of August, I think, he might have worked on his shot a little bit – could even be the cause of the irritation and inflammation in the shoulder," Colangelo said. "New mechanics, new shooting mechanics, sometimes puts your shoulder in a different position. Whatever the case, whichever happened first, he's dealing with soreness – and nothing more."
Colangelo seems awfully non-committal here. He's suggesting that Fultz' shoulder soreness is because he changed his shot this summer, while also leaving the door open for other scenarios when he says "whichever happened first." It's a classic chicken or the egg situation. Did Fultz change his shot because his shoulder was sore when he was shooting the old way, or did his shoulder get sore because he changed his shot and his body wasn't ready for a dramatic adjustment like that?

While Colangelo didn't seem interested in giving specifics, Fultz's trainer had no problem revealing what is actually going on. According to him, via USA Today.
"The shot was never changed (before the shoulder pain)," Williams said by phone. "He's a great shooting point guard. There haven't been many point guards who shot the ball as well as him coming out of college, off the dribble and off the catch. I never changed the shot. Why would I?"
To clarify, Fultz's trainer is saying, without question, that Fultz changed his jumper because he was experience shoulder pain, which is what the point guard claimed weeks ago in the preseason. It's an odd reaction to shoulder pain, isn't it? Since when is treatment for a shoulder issue changing a motion you've been making for over a decade? It sounds like a trip to the doctor would have been able to determine what was going on here with relative ease, but instead, Fultz and his camp decided to change his jumper just weeks before the season and the Sixers let him play through it despite the obvious red flags.
Despite the revelation of these new details, the Markelle Fultz jump shot saga isn't making any more sense now than it did a few weeks ago. However, both Sixers coach Brett Brown and GM Bryan Colangelo voiced their support for Fultz and said they're convinced he'll get this figured out and be great moving forward.
The entire situation is still very strange, but hopefully Fultz can get right and return to the form that made him the top overall pick while he was at Washington.