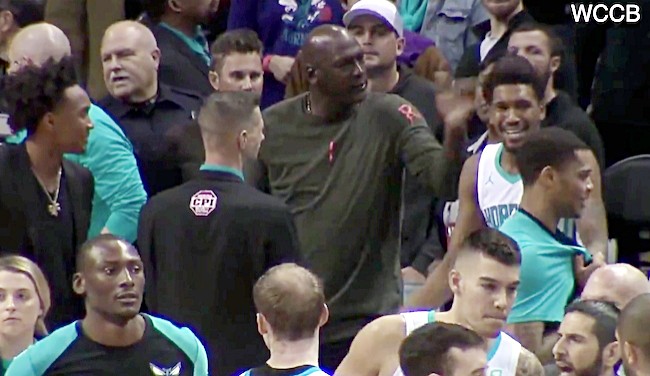 The Charlotte Hornets moved above .500 on Wednesday night with a 108-107 win at home over the Pistons, moving ahead of Detroit in the standings by a half game to take over sixth in the East.
Every win is important for Charlotte as they try to find their way into the postseason this year, but that's especially the case when going up against the other contenders in the East. The Hornets took a 108-106 lead with 0.3 seconds to play on a Jeremy Lamb jumper on the right wing that sent the Charlotte bench, including owner Michael Jordan, into celebration.
However, second-year guard Malik Monk got a little too excited and ran out on the court to celebrate with Lamb, not realizing there wasn't a timeout and Detroit was inbounding the ball. Monk was hit with a technical, giving the Pistons a free throw and the ball with 0.3 left, giving them a minor bit of life. While the Pistons weren't able to convert, Jordan wasn't pleased with Monk and let him know about it on the bench, gently smacking the youngster on the back of the head for his boneheaded decision.

It's pretty hysterical how Jordan goes into disappointed dad mode, giving Monk not one but two little slaps to the back of the head, because he missed the first time. The two have a conversation about what happened and by the end are laughing, but you can be sure Monk learned his lesson.
There aren't many owners in the league that could get away with this, but with Jordan it's a funny, somewhat endearing moment. We don't often see Jordan interacting with players, so, while Monk surely wishes it were on better terms, it's kind of nice to see him having a little teaching moment with his sophomore guard.