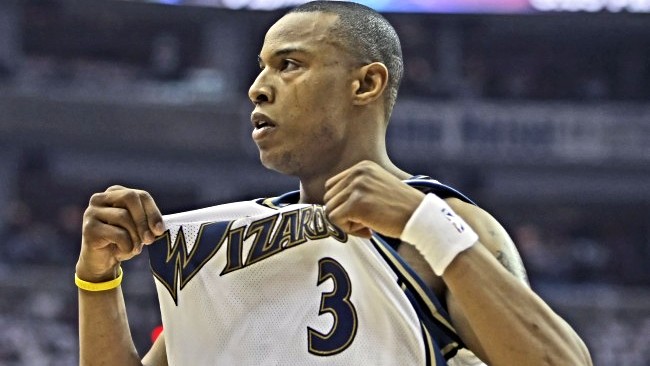 While many new features are coming to NBA 2K18 on Sept. 19, no addition has created more buzz than the introduction of All-Time Teams for all 30 NBA franchises. You can check out the full roster for each and every All-Time Team here, along with our ranking of all 30 rosters. But despite how thorough most of those rosters are, some notable NBA icons were missing. Caron Butler was one of those notable NBA icons.
In a surprising move that sets a hopeful precedent for things to come, NBA 2K18 has officially added Butler to the Washington Wizards' all-time team.
Ronnie tweeted "thanks for signing paperwork, giving us your rights" which all but confirms what everyone was already speculating: The reason why players like Reggie Miller, Charles Barkley, Rasheed Wallace, or, of course, Butler, weren't in NBA 2K18 to begin with was a player rights issue. NBA 2K18 isn't claiming Wallace shouldn't be on the Detroit Pistons' all-time roster, for example, it's likely just a matter of how easy those player rights are to acquire.

Prior to the Caron Butler addition, the Wizards' all-time roster included the following players:
Starters: John Wall (90), Earl Monroe (87), Bernard King (86), Elvin Hayes (95), Wes Unseld (94)

Reserves: Bradley Beal (87), Chris Webber (87), Larry Hughes (86), Rod Strickland (86), Rex Chapman (85), Richard Hamilton (84), Gheorghe Muresan (84), Manute Bol (82), Marcin Gortat (82), Otto Porter (81)
Who does Butler replace on that squad? Your guess is as good as mine, but someone has to get the boot.
The real upshot here is that 2K Sports is listening. Wizards fans wanted Butler in there, and both 2K Sports and Butler worked it out. Everyone expects roster updates throughout the NBA season, but nobody expected to see roster updates for the All-Time Teams. Maybe the addition of Butler could open the door for some of the aforementioned players who aren't in the game right now.
And if all we get is Butler, take solace in the fact that NBA 2K18 is giving you the opportunity to play as the man with the greatest nickname in basketball history. Let's go, Tuff Juice.