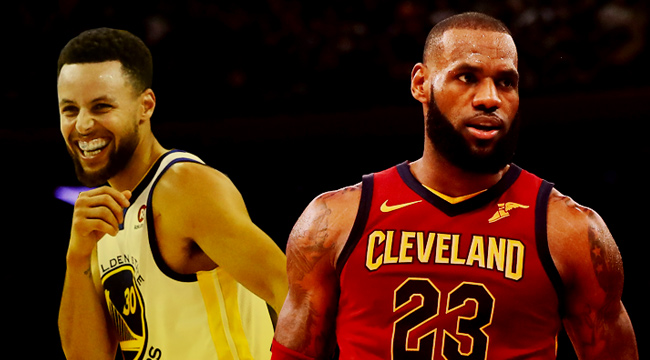 The NBA All-Star Game is a few weeks away, and later this week, we will know which players will make up the teams that will be involved. The starters have been known for some time, while the reserves were officially announced on Tuesday evening. Both captains, LeBron James and Steph Curry, will pick their teams in the coming days, and the two squads will be announced on Thursday.
By now you know that the team selections will not happen live, which is silly. It should be live, and ideally, that changes starting next year.
For now, though, we have to go with the next best thing: Two of us drafting ourselves and revealing the results. I flipped a coin and did not guess properly, meaning I will be Curry and draft second. Robby, meanwhile, will be James and draft first. We'll go through the eight other starters before dipping into the reserves. This isn't what we think LeBron and Steph will do, but instead what they should do in the All-Star draft. Let us dive in.

1. Kevin Durant (Team LeBron)
2. Giannis Antetokounmpo (Team Steph)
3. Anthony Davis (Team LeBron)
4. James Harden (Team Steph)
5. Joel Embiid (Team LeBron)
6. DeMarcus Cousins (Team Steph)
7. Kyrie Irving (Team LeBron)
8. DeMar DeRozan (Team Steph)
9. Russell Westbrook (Team LeBron)
10. Jimmy Butler (Team Steph)
11. Klay Thompson (Team LeBron)
12. Draymond Green (Team Steph)
13. Kristaps Porzingis (Team LeBron)
14. Karl-Anthony Towns (Team Steph)
15. John Wall (Team LeBron)
16. Damian Lillard (Team Steph)
17. Victor Oladipo (Team LeBron)
18. Kevin Love (Team Steph)
19. Bradley Beal (Team LeBron)
20. Kyle Lowry (Team Steph)
21. Al Horford (Team LeBron)
22. LaMarcus Aldridge (Team Steph)
So after that, here's how the teams break down:

TEAM LEBRON
Backcourt: Kyrie Irving, Russell Westbrook, Klay Thompson, John Wall, Victor Oladipo, Bradley Beal
Frontcourt: LeBron James, Kevin Durant, Anthony Davis, Joel Embiid, Kristaps Porzingis, Al Horford
Taking Durant was an easy choice and after that I can see how this will be very difficult for the captains. Davis vs. Harden was tough, but I knew I'd land Kyrie later in the draft of the starters since Curry/Harden together would fill the backcourt spots there and having the first pick of the reserves I was guaranteed Westbrook. Embiid vs. Cousins was likewise difficult, but with Embiid in his first ever All-Star Game, he'll want to have a lot of fun and try hard to impress people (much like Porzingis, Beal and Oladipo, three of my later picks and All-Star rookies).
I love how my team can pretty much all light it up from deep, with Embiid being the worst shooter of the bunch at 28 percent and, funny enough, Westbrook being the second worst at 31 percent. I have guys that push tempo, shoot from deep, dominate in isolation, and just enough facilitators to keep everyone involved and make it all work.

TEAM STEPH
Backcourt: Steph Curry, James Harden, DeMar DeRozan, Jimmy Butler, Damian Lillard, Kyle Lowry
Frontcourt: Giannis Antetokounmpo, DeMarcus Cousins, Draymond Green, Karl-Anthony Towns, Kevin Love, LaMarcus Aldridge
The NBA All-Star Game is all about trying to put together as silly of a team as possible. I wanted guards who can score 1-on-1 and big men who can score 1-on-1. If scoring when you are given the ball in the All-Star Game is not your thing, I want playmakers. Oh, also: I wanted Giannis, who was put on earth to play in an exhibition game where the No. 1 priority is "let's have a lot of fun and do silly stuff," so I'm pretty stoked.
This team is built to put up as many points as possible. Seeing as how it has three big men who are not exactly considered plus defenders (Towns, Love, and Aldridge) and its guards are five guys who are considered subpar defensive players (everyone outside of Butler, basically), that means the other team is going to score.
But at the same time, this team has a whole bunch of bucket getters on it, and the guys who aren't known for their ability to score in a variety of ways are really good at setting up guys to get buckets. This is a team that is designed to win a shootout. Let's get into a shootout. It is the All-Star Game, after all.