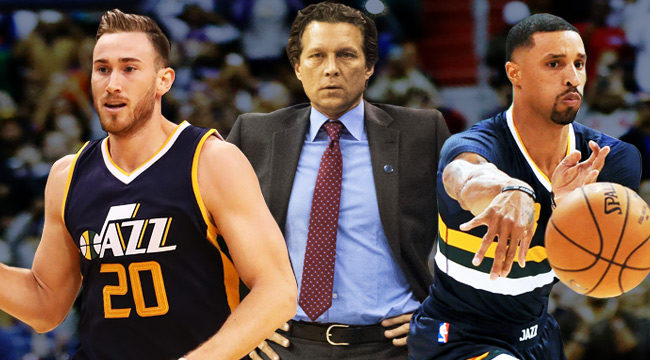 For a while now, the Utah Jazz have been one of the NBA's more intriguing teams, with the caveat that full health would be needed for Quin Snyder's club to (finally) gain traction. The Jazz posted a sub-.500 record in 2015-2016 despite a pythagorean win expectancy of 46-36. That indicated that Utah's overall performance did not live up to what it was supposed to be. Injuries were an issue, closing games with competent offense was an adventure, and Utah made several off-season additions to insure that both of those things didn't happen again.
In what has become typical Jazz fashion, the injury bug hasn't allowed Utah to fully thrive, but given just how deep and talented the 2016-2017 edition is, it just hasn't mattered. The Jazz enter the second half of January with a 27-16 record that is good for a 51-win pace, and if you look beyond the raw numbers, Utah's ceiling looks to be even higher. The team is a blazing 15-4 when George Hill plays this season, indicating that the point guard upgrade the Jazz were in search of has come to fruition. Elsewhere, Utah is 19-9 when Derrick Favors takes the floor and a blistering 11-3 with both Hill and Favors in the lineup.
Many teams in the NBA could make a "if only these guys were healthy" argument on an annual basis, and it is fair to breeze past that in some respect. However, Rudy Gobert has been an utter terror this season in captaining the NBA's best defense, Gordon Hayward looks to be a legitimate All-Star candidate in a contract year and, as mentioned previously, this is one of the league's deepest teams from a roster construction standpoint.
Do they need George Hill in the lineup to be the 50-plus win team that many expected? Absolutely, but the Jazz have proven over a half-season that they can sustain even when the injury bug bites and Utah is one of the league's better stories at this point.
Are the Jazz better than some of their primary competition (Spurs, Clippers, etc.) in the West? Let's find out in the midst of this week's power rankings.
1. Golden State Warriors (35-6, Last week — 1st)
I've been riding with the Warriors in the top spot despite their Christmas collapse against Cleveland. Needless to say, that is looking like the right position given the way Golden State throttled LeBron James and company on Monday night. It is a one-game sample in the same way that the showdown on Christmas was, but the Warriors have the best statistical metrics and (easily) the best win-loss record. This is their spot.

2. Cleveland Cavaliers (29-11, Last week — 2nd)




Woof. There is every reason to let Cleveland slide for Monday's showing, but a previous loss to Portland last week gave me enough pause to consider dropping the Cavs. My better judgment stands in the way, though, and there is a healthy respect for what the champs can do when needed. The team was on a long, grueling West Coast trip, and they might just need to be home to get right.
3. San Antonio Spurs (32-9, Last week — 4th)
San Antonio's lead over non-Warriors competition is solid, and the Spurs are the Spurs. Defensively, this is a better team than many thought and this is a top-five offense behind Kawhi Leonard and LaMarcus Aldridge. Some of the success is undoubtedly system-driven, but for purposes of this list, that doesn't matter in any negative way. This is just a great basketball team … again.
4. Los Angeles Clippers (29-14, Last week — 7th)
The Clippers appeared to dodge a bullet with Chris Paul's injury, but the star point guard will be out for quite some time. When combined with the absence of Blake Griffin, Los Angeles is in an exceptionally rough spot. In short, they probably won't remain in this spot next week but, for now Doc Rivers' squad is playing well. I'm rewarding them for a lengthy period of success.
5. Houston Rockets (32-12, Last week — 3rd)
Houston was scorching hot just one week ago but this week was not as kind. The Rockets inexplicably dropped a game to the lowly Heat on Tuesday and that capped a 1-3 stretch. In the aggregate, there is nothing "wrong" with Houston, but this small sample will provide ammunition for detractors – and a showdown against the Warriors awaits on Friday.
6. Utah Jazz (27-16, Last week — 6th)
The Jazz are very good and it wouldn't be wild at all to think Utah can finish ahead of the Clippers for home-court advantage in the first round.
7. Toronto Raptors (27-13, Last week — 5th)
It feels strange to be docking the Raptors this week but it has (much) more to do with the Jazz and Clippers than it does with this Toronto team. In fact, Kyle Lowry and company have won three straight (including a win over Boston) to further secure their position at No. 2 behind the Cavaliers in the East. There is absolutely nothing wrong with that set-up.
8. Boston Celtics (26-15, Last week — 8th)
Only a road game against the Raptors could trip up the red-hot Celtics, and Boston has knocked off the Hawks, Wizards, Jazz, and Hornets during a recent hot streak. It almost feels as if this is a disappointing team given their sky-high preseason expectations, but in the recent past, Brad Stevens has his crew playing like the 50-win squad that many (including myself) projected. Oh, and Isaiah Thomas has been preposterously good.
9. Atlanta Hawks (24-17, Last week — 11th)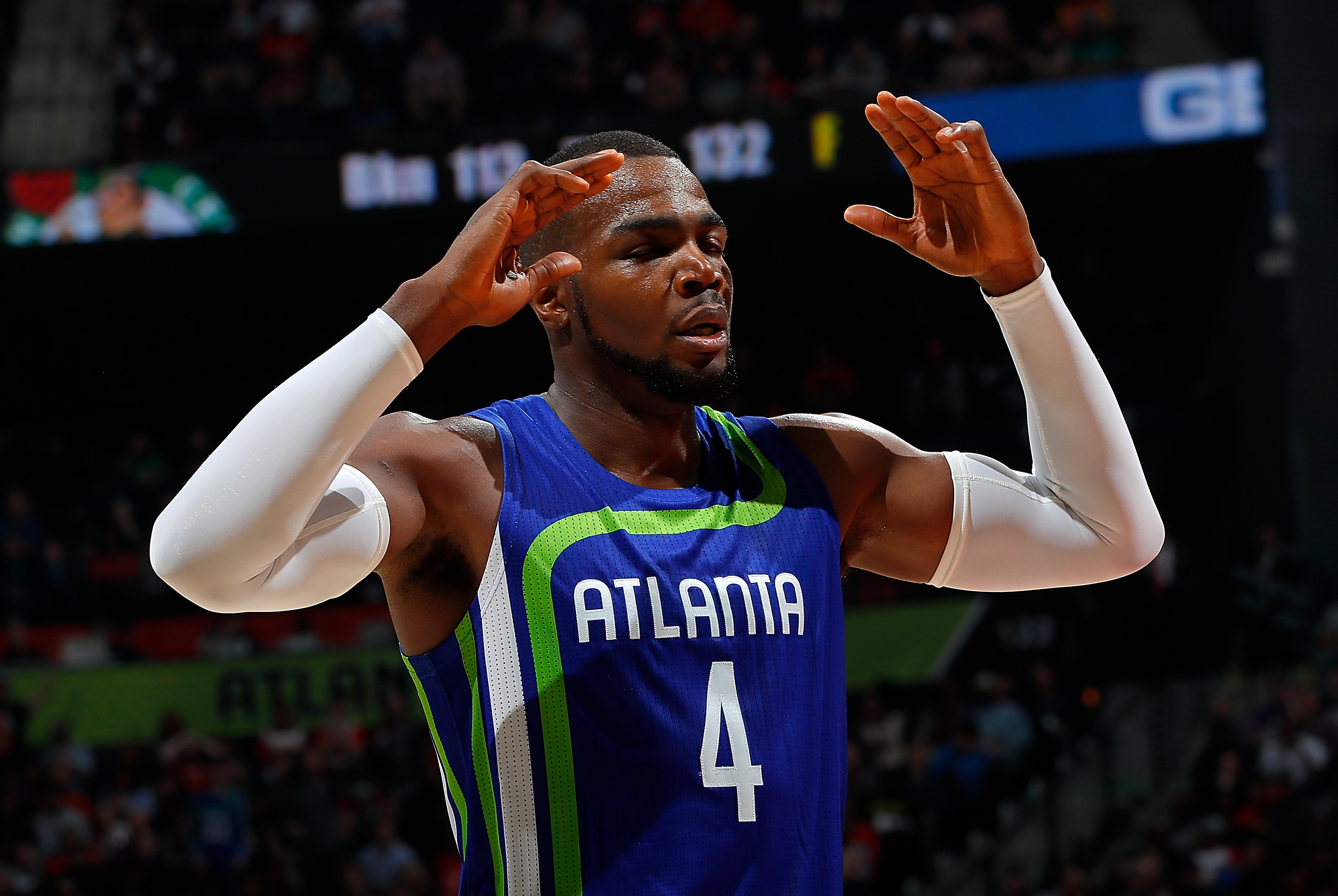 The Hawks have taken full advantage of a soft schedule to begin 2017 and Atlanta has won nine out of ten games. The lone loss came to the Celtics, explaining this slot in the rankings, but Paul Millsap's trade rumors have given way to talk about just how well the Hawks are playing. We'll see if it lasts.
10. Oklahoma City Thunder (25-18, Last week — 9th)
Russell Westbrook and company have dropped two of three and, frankly, Atlanta and Boston are just playing better right now. That statement doesn't qualify as shade toward the Thunder, though, as they have pretty solidly overachieved when compared to their talent level this season. I suppose that is what happens when the best player on the team goes supernova for three months.
11. Memphis Grizzlies (25-18, Last week — 10th)
Memphis loses the tiebreaker (of sorts) to Oklahoma City based on a head-to-head loss last week. On the bright side for the Grizzlies, a road win over Houston more than makes up for that kind of reasonable loss and Memphis just keeps grinding. Their next opponent will be interesting in that the Wizards (we'll get there shortly) play host to the Grizz on Wednesday evening in the nation's capital.

12. Washington Wizards (21-19, Last week — 12th)
Giving the benefit of the doubt to the Wizards looks to be a smart move right about now. Washington has earned five wins in their last six contests and the only loss (Boston) came against a superior club. John Wall has been quite good, as you might expect, but Bradley Beal and Otto Porter have provided a great deal of support and early-season struggles look to be well in the rear view mirror for Scott Brooks' team.
13. Indiana Pacers (21-19, Last week — 13th)
Indy got hammered by the Nuggets in a 28-point loss in London. Because of the weird circumstance, I'm willing to let that one ride and the Pacers have won six of seven overall. The roster still doesn't make a ton of sense from top to bottom, but winning in the low-40's over a full season is probably good enough to garner this ranking in what is a weird middle of the standings.
14. Milwaukee Bucks (20-20, Last week — 14th)
Losing to Philly at home doesn't come with the same stain that it used to, but it still isn't the best look for a playoff contender. Milwaukee lost to Atlanta pretty decisively before that, too, and it looks as if the Bucks may be leveling off a touch. Giannis Antetokounmpo and Jabari Parker are ridiculously good but the roster concerns from November do still exist.
15. Charlotte Hornets (20-21, Last week — 15th)
Oof. Kemba Walker's bunch just completed a five-game road trip in winless fashion and, with that, the Hornets are below .500 for the season. That is somewhat hard to believe given how the campaign started, but I'm not quite ready to (fully) jump ship just yet. Charlotte has some challenges but the middle/bottom of the East is bad enough where this slide hasn't taken anything off the table.
16. Chicago Bulls (21-22, Last week — 17th)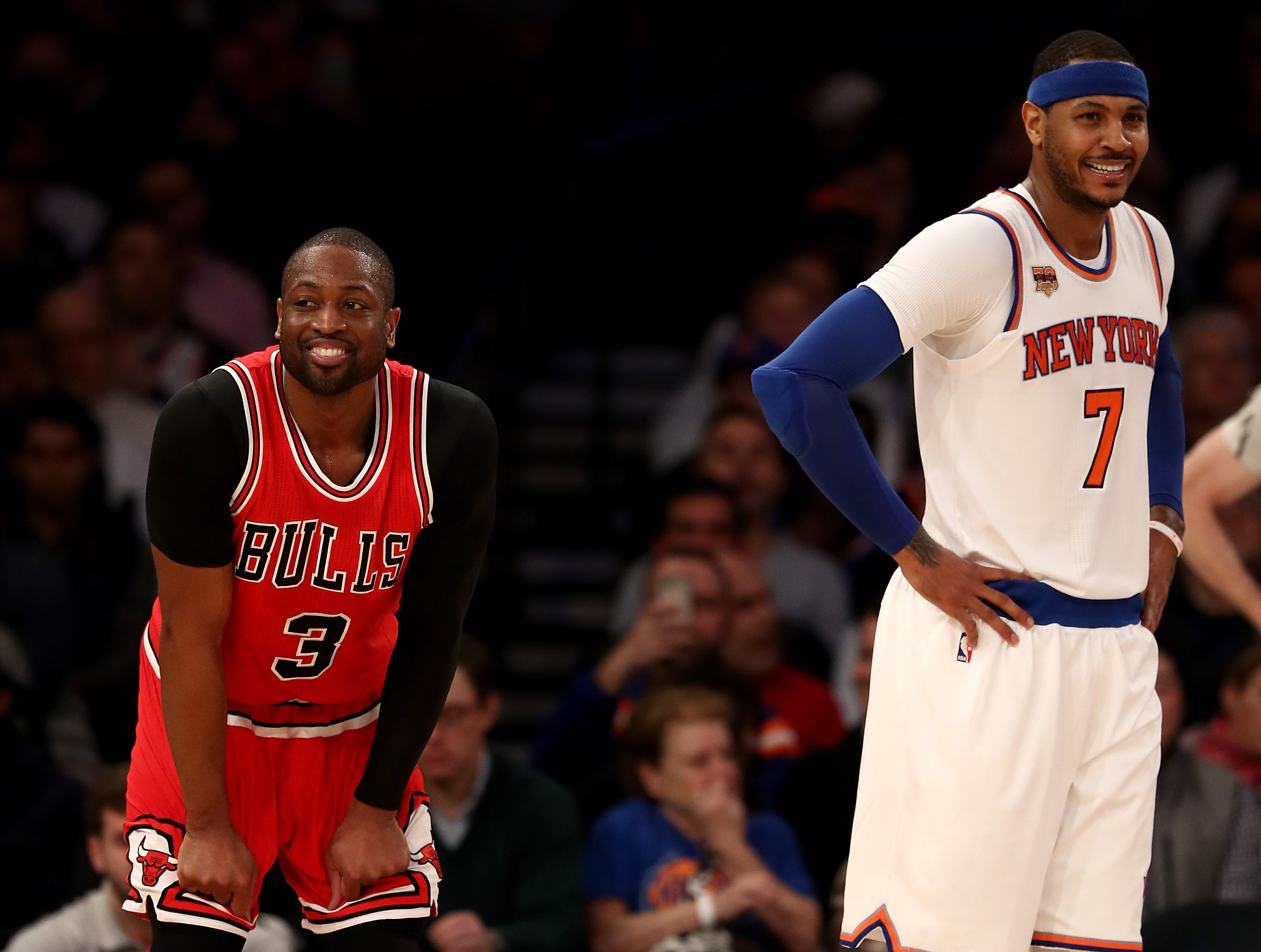 The Bulls were all set to crack the top 15 (hey!) … and then they lost to the Mavs at home. That loss probably isn't as bad as it might seem given the current roster for Dallas versus the team's record, but in the same breath, it is still a black mark. Jimmy Butler is tremendous but Chicago's issues are wide-reaching and they give me plenty of pause.

17. Detroit Pistons (19-24, Last week — 16th)
It hasn't been a fun year for Stan Van Gundy. The Pistons received the benefit of the doubt early on because of Reggie Jackson's injury, but things have actually cratered since he returned. Detroit saved themselves a few spots on this list by holding serve against the Lakers at home, but that's not exactly a praise-worthy event right now.
18. Denver Nuggets (17-23, Last week — 25th)
I always believed! No, really! I did! There is no reason to get carried away with the Nuggets after everything we know, but a three-game winning streak brings some excitement back to Denver. Nikola Jokic is obscenely fun and the team scored 125 points or more in all three wins. Have they found an identity?
19. Portland Trail Blazers (18-25, Last week — 19th)
Dame Lillard and C.J. McCollum guide one of the league's ten best offenses, but the defensive end of the floor just hasn't caught up. To be fair, Portland isn't the worst team in the league defensively anymore, but allowing 109.4 points per 100 possessions isn't going to get it done on a grand scale.
20. New York Knicks (18-24, Last week — 24th)
A messy break-up between Carmelo Anthony and the organization seemed inevitable a few days ago and, even after tensions were relieved a bit, we are left with a mediocre basketball team. The Knicks are capable of threatening good teams when they play well (we saw that against Atlanta on MLK Day), but the baseline product isn't a ton of fun.
21. New Orleans Pelicans (16-26, Last week — 18th)
Even with Anthony Davis banged up at the end, the Pels managed to hang around with a 2-3 record on a lengthy road trip. That's enough to stay in the mix in the weird race for No. 8 in the West.

22. Philadelphia 76ers (13-26, Last week — 26th)
Forgive me, but I'm excited about Philly. Joel Embiid is having a ridiculous rookie season and that isn't up for debate. More important than that, though, is that the Sixers have won more games (six) than they have lost (four) over the last ten and that isn't a sentence that has been written very often in recent years.
23. Dallas Mavericks (14-27, Last week — 28th)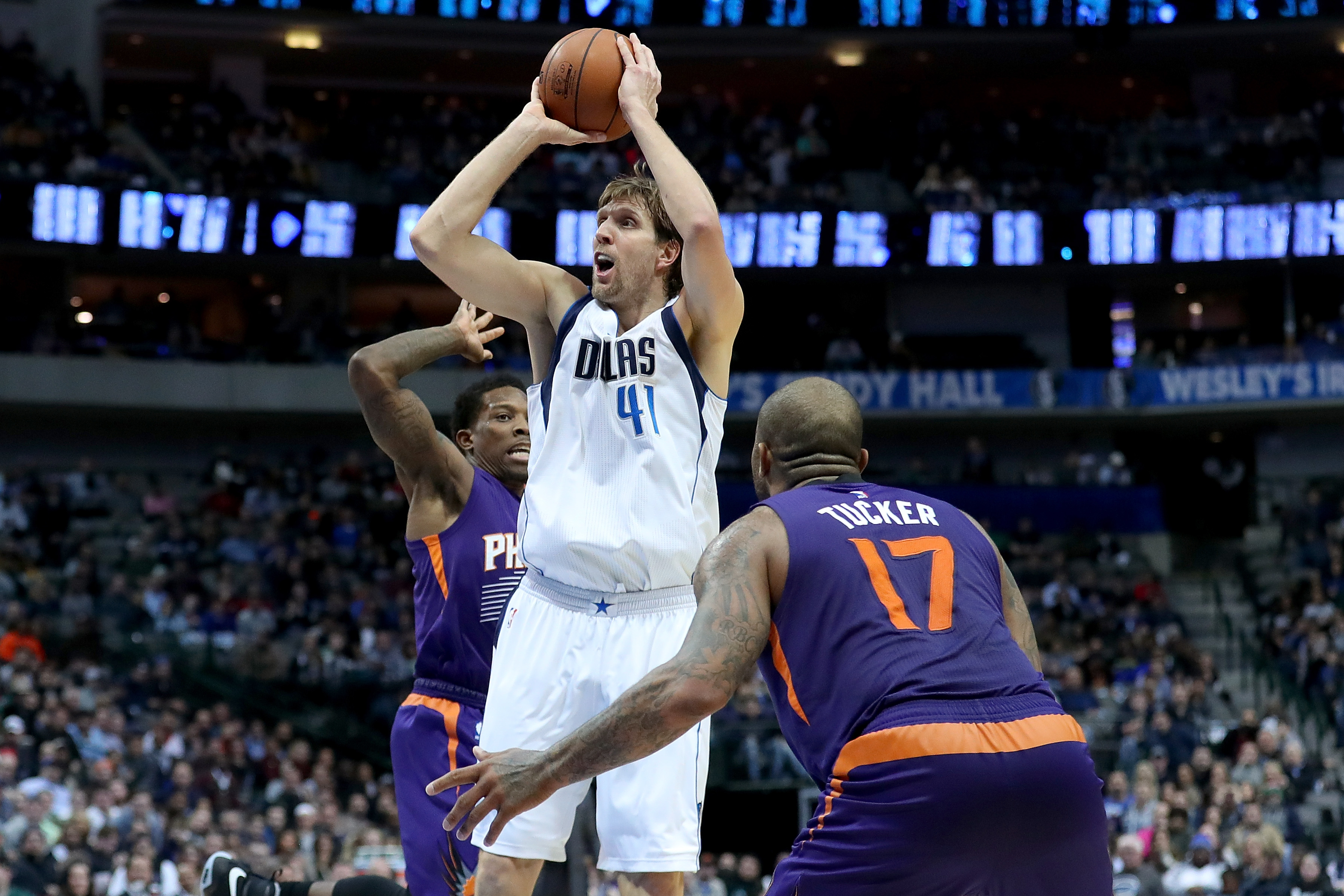 Dallas is 4-3 in January, including an active three-game winning streak. That isn't a huge deal considering the level of competition, but there is a level of respectability that simply didn't exist in November and (most of) December.
24. Minnesota Timberwolves (14-28, Last week — 22nd)
The Wolves have technically dropped two in a row but that doesn't indicate that Minnesota is playing poorly. Prior to losing to the Spurs and the suddenly competitive Mavs on the road, Karl-Anthony Towns and company notched three straight wins over playoff teams. It is probably a little bit too late to start thinking about mid-April basketball but there are positive signs.
25. Sacramento Kings (16-24, Last week — 20th)
This is probably a little bit unfair to the Kings, but five losses in six games will do that. Somehow, Sacramento sits just one game out of the No. 8 seed in the West, but that is far more indicative of the struggles of teams around them than some revolutionary level of performance.
26. Orlando Magic (17-26, Last week — 21st)
Not long ago, the Magic were within striking distance of the East playoff race. Now, they have lost 6 of 7 (and 9 of 11 overall) to fall four games behind the No. 8 seed. To make matters worse, Orlando now sits closer to Philly than to the playoffs and, even with the Sixers playing improved basketball, that isn't the best sign in the world.

27. Miami Heat (12-30, Last week — 29th)
Miami's record doesn't perfectly jive with their net rating (-4.0) and it has to be incredibly frustrating for Erik Spoelstra. Are the Heat bad? Yes, yes they are. With that said, they are competitive and well-coached, and we saw that in a home win over Houston in the team's last outing.
28. Phoenix Suns (13-28, Last week — 27th)
The Suns beat the Spurs at home this week. I have no idea, either.
29. Los Angeles Lakers (15-31, Last week — 23rd)
Remember when there was optimism flowing from one of the NBA's flagship organizations? It's gone now. The Lakers should be quite thankful that the Nets exist, as only Brooklyn is worse in terms of net rating and recent performance. Luke Walton has done a reasonable job, but he hasn't been able to fix the league's worst defense and that isn't a working model for even modest success.
30. Brooklyn Nets (8-33, Last week — 30th)
It is a good thing that everyone loves Kenny Atkinson. Otherwise, the whispers would be starting on the heels of 11 straight losses. That would, of course, be wildly unfair given that Brooklyn does not put a competitive NBA roster on the floor but any question about who the worst team in the league was early in the year no longer exists.