After weeks of speculation, the 2019 NBA Draft will take on Thursday. Aside from the general certainty surrounding the No. 1 overall pick, myriad scenarios are in play. For many, the 2019 class is marked for its lack of overall star potential but, in the same breath, valuable role players are available up and down the draft board and many NBA teams are in the market for prospects that project as quality supporting pieces in the future.
There are teams with multiple selections in the first round, headlined by the Pelicans, Hawks, and Celtics, and trades could emanate as a result. Beyond that, rebuilding squads like the Cavs and Bulls could have reason to move down the board in search of additional capital and, later in the draft, projected contenders will search for value before free agency goes wild beginning on June 30.
Throughout the process, we've checked in with mock drafts (including a recent foray into a one-man projection) and, in this final edition, we'll aim to reasonably forecast what will transpire in Brooklyn when the entire league comes together. Without further ado, here is the final mock, with a familiar face in the top spot.

1. New Orleans Pelicans – Zion Williamson (F, Duke)
The Pelicans are going to be very fun for a long time. Williamson is the biggest reason why and the lack of buzz involving any trade possibility here stands as an example of just how much better he is than the rest of the class. Congrats to New Orleans.
2. Memphis Grizzlies – Ja Morant (G, Murray State)
Memphis finally traded away Mike Conley to the Utah Jazz, sending out the last member of the Grit N Grind era and paving the way for Morant as the team's point guard of the future. He's the No. 2 prospect on my board and, as a passer and play-maker, there is a lot to love about the Murray State guard.
3. New York Knicks – R.J. Barrett (G/F, Duke)
Free agency plans are probably more interesting for the Knicks than draft plans, but the organization does have a valuable pick to work with. Reports indicate that New York turned down a deal that would've netted a pair of top ten picks, presumably because they value R.J. Barrett (or Darius Garland?) at a high level. If they stay put, the pick should be Barrett but, well, it's the Knicks. A curve ball could arrive.
4. New Orleans Pelicans (via LA Lakers) – Jarrett Culver (G/F, Texas Tech)
All eyes are on the Pelicans, with all kinds of chatter that New Orleans could be looking to move down in search of multiple assets. For our purposes, we won't project trades and, if David Griffin stays put, Culver should be the pick. He isn't a perfect fit with what the Pelicans have on the roster, simply because of perimeter shooting questions, but Culver is the best player available and would check boxes with his passing and two-way acumen.
5. Cleveland Cavaliers – De'Andre Hunter (F, Virginia)
Cleveland is really tough to peg right now. The Cavs could move down in pursuit of multiple options, particularly if "their guy" is already gone by this point. In addition, Hunter isn't the sexiest pick in the world and, for a franchise that lacks star power, he wouldn't profile as a perfect fit. Still, we'll slot Hunter here, both as a proxy for a potential trade and because he might be the best player available.

6. Phoenix Suns – Darius Garland (G, Vanderbilt)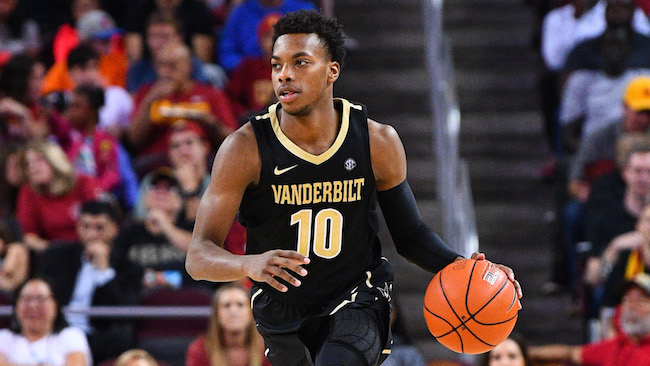 It's possible that Phoenix won't have Garland fall in their lap at No. 6 and, if we're being honest, the fit with Devin Booker isn't perfect. Still, the Suns need a point guard in the worst way and Garland edges out Coby White for this distinction. Phoenix has been linked to some of the wings but, with Culver and Hunter out of play, Garland is the guy.
7. Chicago Bulls – Coby White (G, North Carolina)
White combines "best player available" with a position of glaring need in Chicago. Things could certainly change if the top six falls differently but the former North Carolina guard can play on and off the ball, shoot at a high level and hold up defensively, at least in theory.
8. Atlanta Hawks – Cam Reddish (F, Duke)
Almost no one believes the Hawks are going to stay put and make all three of their first round selections. There is just too much buzz surrounding Atlanta, with trade-up scenarios in play and an active, creative GM in Travis Schlenk at the helm. If this is the first pick that the Hawks make, however, Reddish is by far the most logical projection. Atlanta likes him and he would fit well in what the organization is building around Trae Young and John Collins.
9. Washington Wizards – Nassir Little (F, North Carolina)
With the Wizards having real uncertainty in their front office — they don't have a general manager! — it's an adventure trying to figure out where this pick will be. To make things worse, there seems to be a relatively definitive top eight forming in the ether and the Wizards are picking at No. 9 overall. Little would bring a player with high pedigree and real upside, and it helps that Washington needs a prospect in that mold.
10. Atlanta Hawks (via Dallas) – Goga Bitadze (C, Georgia)
As noted at No. 8, the Hawks may not be making this selection but, if they are, the approach should be "best available non-point guard." For me, that is Bitadze, who wins a close battle with Brandon Clarke and Jaxson Hayes. Bitadze worked out for Atlanta earlier in the process and the Hawks don't have their center of the future in a world that includes Collins at the power forward spot.

11. Minnesota Timberwolves – Brandon Clarke (F, Gonzaga)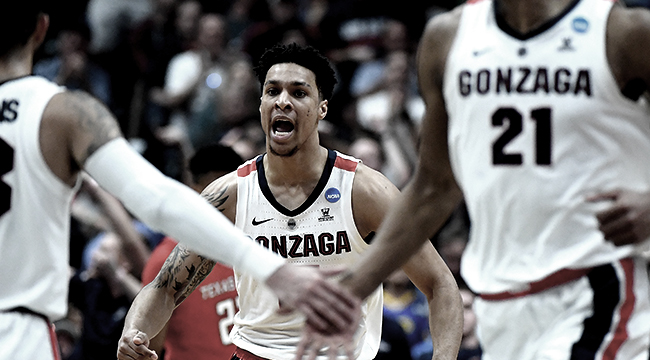 The Wolves may not take Clarke but, simply put, it's the best fit imaginable for all parties. Minnesota needs an athletic, defense-focused power forward to pair with Karl-Anthony Towns. Clarke needs a big, mobile, sweet-shooting center to play next to. Let's just call this pick in now.
12. Charlotte Hornets – Rui Hachimura (F, Gonzaga)
For the record, this is not a pick I would make but it does fit the bill for Charlotte. The Hornets should probably be taking more of a swing here and, quite honestly, Hachimura has some defined weaknesses that are scary. Still, he is long, physical and productive, leading to an on-brand selection for Michael Jordan and company.
13. Miami Heat – Sekou Doumbouya (F, France)
Miami needs to add someone with upside and Doumbouya certainly has it. He's an intriguing and fluid athlete with mesmerizing moments and, as he ages, Doumbouya has produced at a more consistent level. He might be gone by No. 13 but, with a center already on board in Bam Adebayo, Doumbouya would be the best player available choice over Jaxson Hayes.
14. Boston Celtics (via Sacramento) – Jaxson Hayes (C, Texas)
The Celtics are now expected to lose Al Horford in free agency as well, which wasn't anticipated a few days ago, and while Boston did invest in Robert Williams in the 2018 draft, they could use frontcourt help. Hayes is a really nice value at No. 14 and Boston should be in best player available mode with three picks in the first round. At some point, you just have to fire away.
15. Detroit Pistons – Romeo Langford (G/F, Indiana)
It isn't as if the Pistons have a perfect roster elsewhere but the team's glaring need comes on the wing. Langford will need to knock down shots at a higher clip than he proved in college, but he can create on the ball and he brings physicality and defensive projection, especially when deployed in a smaller offensive role.

16. Orlando Magic – Kevin Porter (G/F, USC)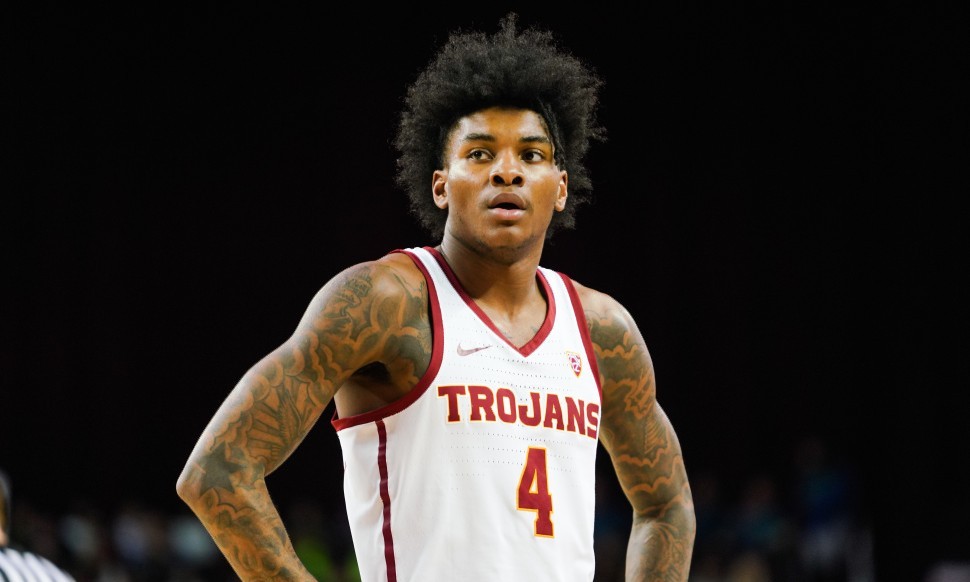 Porter is really difficult to peg right now, because he remains kind of an enigma. Orlando has license to take a swing on a shot creator, however, and he brings significant upside on a team that needs it offensively. Someone like Nickeil Alexander-Walker might be safer but Porter will be fun if he figures it all out.
17. Atlanta Hawks (via Brooklyn) – PJ Washington (F, Kentucky)
The Hawks probably can't take a center here after investing in Bitadze but, aside from that, the board is wide open. That sets the stage for the best player remaining in Washington, who can play multiple positions with a high floor and an underrated ceiling. Moreover, he's a prospect that does a lot of things well.
18. Indiana Pacers – Nickeil Alexander-Walker (G, Virginia Tech)
Alexander-Walker would be fantastic in Indiana, both from a value standpoint at No. 18 and in terms of roster fit. He does a lot of things well, presents great length to be used on both ends, and can create on the ball when necessary. Pair that with Victor Oladipo and Aaron Holiday and it puts less pressure on the team when evaluating free agency.
19. San Antonio Spurs – Luka Samanic (F/C, Croatia)
The Spurs are always tricky to draft for but Samanic makes a ton of sense. He stretches the floor as both a shooter and a passer, operating with impressive basketball IQ and awareness for a young player. There are weaknesses, particularly if you don't believe in his defense, but this is a marriage of player and team that is easy to embrace.
20. Boston Celtics (via LA Clippers) – Tyler Herro (G, Kentucky)
Herro reportedly worked out for the Celtics and showed well in that setting. Boston's backcourt situation is thoroughly unsettled, but Herro's shooting would be a nice mix with Marcus Smart and some of his weaknesses could be hidden. It's also a nice value find for the Celtics and this could be a realistic floor for the Kentucky guard.

21. Oklahoma City Thunder – Cameron Johnson (F, North Carolina)
There is some buzz that the Thunder could use this pick to shed salary and, given their salary cap situation, that would be understandable. If Oklahoma City makes the pick, though, a knock-down shooter would be a wise investment. Johnson might be the best shooter in the entire draft and, while his ceiling isn't very high, he could fill a role immediately on a team that wants to win now.
22. Boston Celtics – Matisse Thybulle (G/F, Washington)
The Celtics may not make three first-round picks but, if they do, Thybulle would be interesting. His big question is shooting but, as a play-making defender, Thybulle was terrifying in college and Brad Stevens could figure out a way to channel that. He's an upside play that also might provide value as a median outcome.
23. Memphis Grizzlies (via Utah) – KZ Okpala (F, Stanford)
At some point, a team is almost certainly going to invest in Okpala late in the first round. He projects as a combo forward with intriguing skills, including floor-spacing and quality length as a defender. It's important to note that his package of traits is more theoretical than actual right now but Okpala is interesting as a long-range project that the Grizzlies can take a shot on now that they have a second first rounder.
24. Philadelphia 76ers – Eric Paschall (F, Villanova)
Paschall is older than a team would want in the first round but, aside from that, he's a great fit in Philly. He doesn't need the ball, can defend multiple positions and would provide the Sixers with a badly-needed stretch option as a combo forward. More than anything, Philly needs shooting and he can provide some of it.
25. Portland Trail Blazers – Grant Williams (F, Tennessee)
This would be a home run for the Blazers. Williams is a player that NBA teams seem to be lower on than some of the public-facing evaluations and, in my opinion, he's a top-20 player in this class. In Portland, his basketball IQ would be on full display, with creation in the short roll and the ability to play off high-level scorers on the perimeter. He can do a lot of things well and, even without huge upside, Williams would really help Portland.

26. Cleveland Cavaliers (via Houston) – Bol Bol (C, Oregon)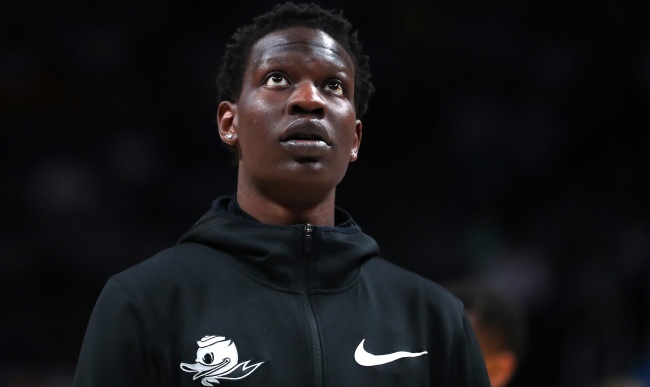 Bol was invited to the NBA Draft green room, which usually a good thing when trying to project a player's floor. If it was up to me, Bol wouldn't be a first-round pick, simply because the downside (mainly on the defensive end) is ugly and the upside is a bit overblown. It isn't hard to see an NBA team being seduced by his rare skill set, though, and Bol's shooting can be suffocating at his size.
27. Brooklyn Nets (via Denver) – Mfiondu Kabengele (C, Florida State)
While I may not agree with this, there is plenty of buzz that the Nets are looking to add a big man with this pick. Kabengele may be off the board by now but, if he falls, there are reasons to think he would complement Jarrett Allen quite well, particularly because of Kabengele's projected floor-spacing.
28. Golden State Warriors – Nic Claxton (C, Georgia)
This would be a tremendous value for the Warriors. In fact, Claxton might be gone by the time Golden State can nab him. In the event that the Warriors lose Kevon Looney, there is a spot open for a big man that can defend with versatility and Claxton has been rising on draft boards as a result. He's very talented and Golden State would be a fantastic marriage for his skill set.
29. San Antonio Spurs (via Toronto) – Chuma Okeke (F, Auburn)
Okeke may not land in the first round, in part due to the ACL injury he suffered during Auburn's NCAA Tournament. From a talent perspective, though, he's one of the 30 best prospects in this draft. In San Antonio, Okeke would be maximized under a creative coaching staff and there wouldn't be a ton of urgency to rush him back to the court before he was ready to go.
30. Milwaukee Bucks – Ty Jerome (G, Virginia)
If the Bucks re-sign Malcolm Brogdon to a lucrative contract, this pick would make less sense. Still, George Hill is also a free agent and having a plethora of skilled, intelligent guards isn't a bad thing. Jerome isn't a first-rounder in terms of athleticism, but he's a three-point marksman, feels the game at a high level and guards proficiently at multiple spots. He's certainly a prospect that would fit under Mike Budenholzer's leadership.