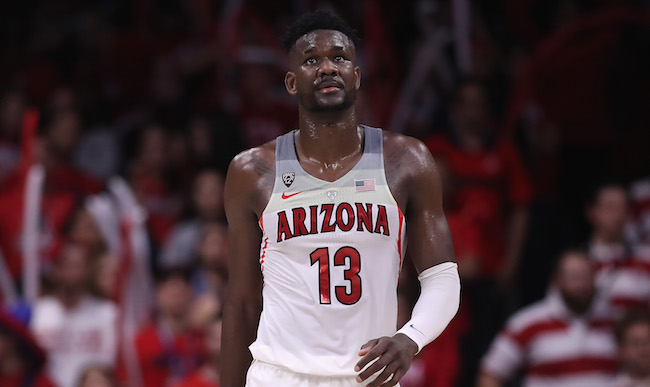 The vast majority of the 2017-2018 college basketball season is over but, while that means there is only so much live action remaining, NBA Draft season is just beginning. When the NCAA Tournament bracket was revealed, many interesting match-ups (and theoretical ones) emerged and, in advance of tip-off, it is time to unveil our latest mock draft.
At this juncture, a top tier seems to be forming and, if anything, an elite tier (headlined by Luka Doncic and Deandre Ayton) may even be separating from the pack. Still, there are opportunities for many of the top prospects in the 2018 class to make a significant impact over the next few weeks and, well, there are always a few players (with Gonzaga's Zach Collins as an example from 2017) that make themselves a ton of money in March.
Let's roll through the 30 first round selections, taking into account the latest NBA standings and projections.

1. Phoenix Suns – Deandre Ayton (C, Arizona)
The Suns should be taking the best player available and, while I have a two-player tier at the top of the draft, the presence of Devin Booker and Josh Jackson is enough to send me away from Luka Doncic. Grabbing Deandre Ayton would be a good idea for a team without a center of the future and he presents the highest upside in the entire class. Oh, it probably also helps that he is currently playing for Arizona and coming off a tremendous Pac-12 Tournament performance.
2. Memphis Grizzlies – Luka Doncic (PG/SG/SF, Slovenia)
This should be a complete and utter no-brainer. Doncic is my No. 1 overall player and, in truth, this works out beautifully for Memphis in that there is no potential controversy with having to take Ayton with Marc Gasol still on the roster. He has the highest floor of the entire group and, contrary to popular belief, Doncic also displays considerably upside.
3. Sacramento Kings – Marvin Bagley III (C/PF, Duke)
I'm not as high on Bagley as some but I do think he brings a fairly high floor considering his immense athleticism and motor. Defensive concerns are real but the Kings need a self-starter and he would immediately be their best frontcourt piece for the future.
4. Atlanta Hawks – Michael Porter Jr. (PF/SF, Missouri)
This is a weird spot for the Hawks. Porter Jr. is far from the safest bet but Atlanta has two additional picks this year (coming soon) and an extra first-rounder in 2019. That provides cover for a high ceiling play and, with Porter Jr., the Hawks could add a tremendous building block if health questions subside. He didn't look great in his Mizzou debut but let's not go crazy. If healthy, he's a lock top-7 guy.
5. Cleveland Cavaliers (via Brooklyn) – Jaren Jackson Jr. (C/PF, Michigan State)
While Jackson Jr. is far from the sexiest pick and the Cavs have a million big men, he's my top player available and that is why he lands in Cleveland. Jackson Jr.'s defensive ceiling is absolutely off the charts and it would be a stunner if he wasn't an awesome defender in short order, which as we know is a major need for the Cavs.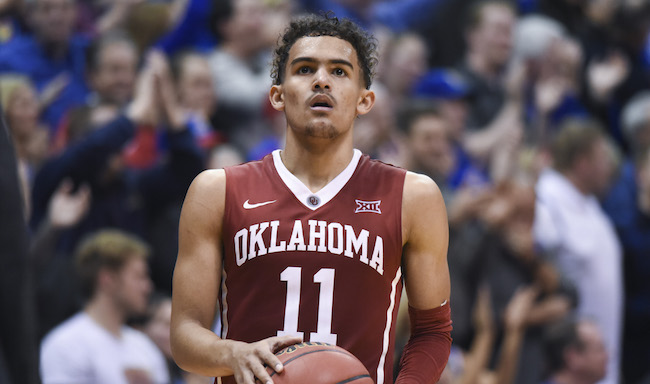 6. Orlando Magic – Trae Young (PG, Oklahoma)
The Magic get their guy. I'm not huge on Young but the Magic absolutely need a creator at the point of attack and Young is the best fit (by far) for this current Orlando roster. There is real downside but, if Young "hits" in a big way, this front office will appear to be brilliant.
7. Dallas Mavericks – Mo Bamba (C, Texas)
Bamba is the final player in my top tier and the Mavs may get a steal here. Injuries (and a mediocre Texas team) have kept Bamba out of the national spotlight but his absurd length draws comparisons to Rudy Gobert in terms of defensive ceiling and he isn't a stiff on the other end either.
8. Chicago Bulls – Miles Bridges (PF/SF, Michigan State)
There is a split developing on Bridges, who has settled for too many jumpers this season while not dominating in the way that many projected in his sophomore college season. At the next level, he isn't a primary guy but, if Bridges can use his two-way ability, this will work and, well, the Bulls usually take college veterans.
9. New York Knicks – Collin Sexton (PG, Alabama)
There are some justified questions about his ceiling right now but Sexton jumped back into the national consciousness with his work in the SEC Tournament. With the (inferred) move of Frank Ntilikina to the shooting guard spot, the Knicks will need an on-ball presence and, if nothing else, Sexton's competitiveness and floor game should bring relative safety.
10. Philadelphia 76ers (via LA Lakers) – Mikal Bridges (SF, Villanova)
Philly already has a 3-and-D force with Robert Covington but, even if J.J. Redick stays around beyond this season, the Sixers could certainly use another floor-spacer that can defend. Bridges will be able to do at least that and, if he continues his recent growth, there is no reason to think that is his absolute ceiling.

11. Charlotte Hornets – Kevin Knox (SF/PF, Kentucky)
Michael Jordan loves players from "blue blood" programs and Knox fits that bill perfectly. I have my concerns about him as a lottery pick but he is very young, very athletic and immensely talented. There is a place for that.
12. Los Angeles Clippers (via Detroit) – Wendell Carter (C, Duke)
This is a "best player available" pick. Carter is a lottery prospect that doesn't always look like a lottery prospect but his floor is very high and, defensively, his fit as a versatile rim protector works for me. No one would be overly excited to add Carter but they should be.
13. Phoenix Suns (via Miami) – Troy Brown (SF/SG, Oregon)
The Suns, at least theoretically, have their wing duo for the future in Devin Booker and Josh Jackson. In this mock, they also add Deandre Ayton to anchor the middle and Phoenix famously invested heavily in the power forward spot recently with both Dragan Bender and Marquese Chriss. That leaves point guard as the "weakness" but with, no real lottery player available, we take a versatile wing that can fill gaps.
14. Los Angeles Clippers – Lonnie Walker (SG, Miami)
It isn't as if shooting guard is an area of need for the Clippers but this pick comes down to Walker and Arkansas big man Daniel Gafford. With Wendell Carter already on board, we have to move with Walker, who can do a bit of everything and brings excessive length and burst to the table.
15. Phoenix Suns (via Milwaukee) – Dzanan Musa (SF, Bosnia-Herzegovina)
As noted previously, the Suns are kind of loaded everywhere (outside of point guard) and there are only so many places to put young players. Enter Musa, who is the second-best international prospect in this class and would bring more shooting to the proceedings in the future.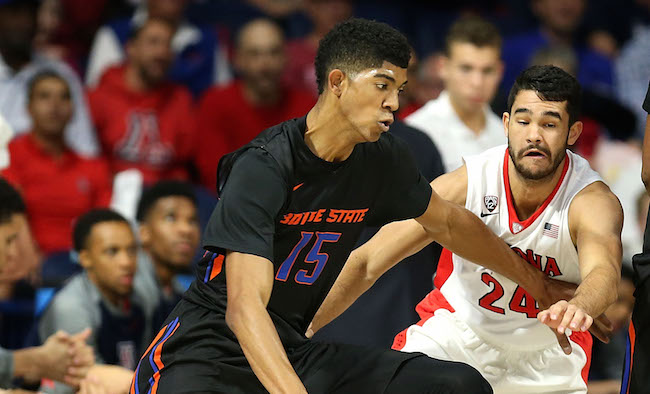 16. Indiana Pacers – Chandler Hutchison (SG/SF, Boise State)
Boise State isn't exactly on the college basketball radar and, for good measure, Hutchison isn't a one-and-done prospect garnering all kinds of attention. That doesn't mean he isn't a lock first-rounder, though, and the Pacers could really use another quality, offense-capable wing option.
17. Denver Nuggets – Daniel Gafford (C, Arkansas)
Denver obviously doesn't need a center of the future but the value is too immense. Gafford is a lottery-level prospect and, if they were to hold on to him in this scenario, he can serve as a change-of-pace backup to Nikola Jokic.
18. Utah Jazz – Shai Gilgeous-Alexander (PG/SG, Kentucky)
This is a combination of a "best player available" pick with a snug fit alongside Donovan Mitchell. That does essentially mean that Utah would be giving up (at least to some degree) on Dante Exum but Gilgeous-Alexander is the sort of perfect jack-of-all-trades piece to pair with Mitchell for the long term.
19. Philadelphia 76ers – Robert Williams (C/PF, Texas A&M)
This probably isn't the best long-term spot for Williams, given that he probably believes himself to be a future starting center. The Sixers could certainly use another useful big man behind Joel Embiid, though, and Williams falling this far would be a strong value for Philadelphia.
20. Chicago Bulls (via New Orleans) – Bruce Brown (SG, Miami)
I have an unhealthy affinity for Bruce Brown. He's also a college veteran from a prominent school, meaning that the Bulls are allowed to take him. The big question is the jumper but, if that comes to fruition, Chicago would be picking up a nice value.

21. Minnesota Timberwolves (via Oklahoma City) – Khyri Thomas (SG, Creighton)
Thomas isn't treated very well by the advanced statistical models that project NBA success. Still, you can't teach a 6'10 wingspan on a guard prospect and his defense-first approach would seemingly be a fit with what Tom Thibodeau wants his team to look like.
22. Atlanta Hawks (via Minnesota) – Mitchell Robinson (C, High School)
With the Hawks not tabbing a big man in the top-five, Robinson makes perfect sense here. He is a high ceiling, low floor prospect in that scouts didn't even have the opportunity to see him work at the college level but, once upon a time, Robinson was considered to be a likely top 10 pick and his talent is the reason why.
23. Portland Trail Blazers – De'Anthony Melton (PG/SG, USC)
Melton won't be starting for Portland as long as Lillard and McCollum are on the scene but the Blazers definitely need backcourt help. Furthermore, Melton's defensive tools allow him to pair well with just about anyone in the draft and, had he played for the Trojans this season, he likely would be off the board by now.
24. Washington Wizards – Keita Bates-Diop (SF/PF, Ohio State)
The Wizards have bigger needs than another combo forward but Bates-Diop has come on strong and it isn't as if Washington is overflowing with quality supporting pieces. Look for the Wizards to tab a big man if there is one available but, for me, Robinson was the last player of a tier and he's off the board here.
25. San Antonio Spurs – Melvin Frazier (SF, Tulane)
Frazer is probably the least famous player in this entire mock draft and that is the price that comes with playing at Tulane. What he is, though, is a quality 3-and-D prospect and the Spurs are going to need wing help if Danny Green slips away.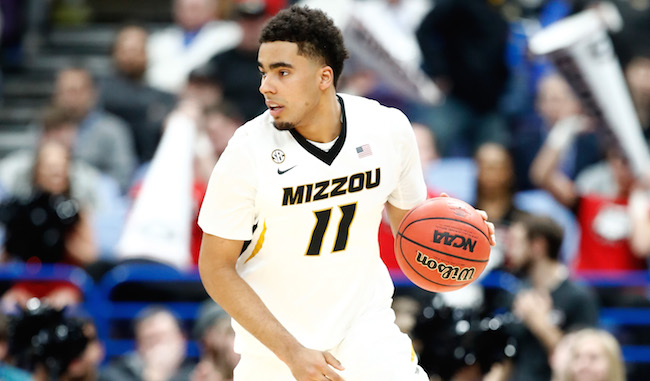 26. Los Angeles Lakers (via Cleveland) – Jontay Porter (C, Missouri)
Porter decided to go bonkers near the end of the season, solidifying his potential perch at the end of the first round. There is a long shadow cast by his brother, Michael, but Jontay is operating on his own as a very interesting developmental prospect.
27. Boston Celtics – Anfernee Simons (SG, High School)
Simons is perhaps the biggest unknown in this class, even when it comes to whether he'll even be available. Much like Hamidou Diallo last year, Simons may be smart to capitalize on that uncertainty because, well, he may be a first round pick on potential alone.
28. Brooklyn Nets (via Toronto) – Jacob Evans (SF, Cincinnati)
Evans is a pure 3-and-D prospect and, as a first round pick, this might be a slight reach. Still, a ton of the options in this range live in the backcourt and, well, the Nets are overflowing with pieces already on the roster.
29. Atlanta Hawks (via Houston) – Shake Milton (SG/PG, SMU)
This projected haul would be tremendous for the Hawks. They add massive upside with the first two picks (Porter Jr. and Robinson) while picking up a safe role player type with Milton at the end of the first round. He makes shots, can guard and just knows how to play. That's the perfect late first round pick for a rebuilding club.
30. Golden State Warriors – Landry Shamet (PG/SG, Wichita State)
Shamet is an awesome shooter, has an immense feel for the game and has quality size. Doesn't that sound like a Warriors player?