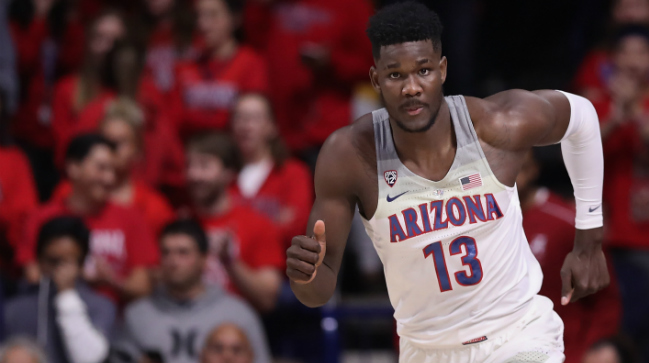 The Arizona Wildcats are, in all likelihood, not going to get a 1-seed during the 2018 NCAA Tournament when the brackets are announced on Sunday afternoon. This ultimately doesn't mean much, because as long as Deandre Ayton is able to take the floor, there is not a team in the country that will enjoy playing the Wildcats.
Ayton arrived in Tucson with as much hype as we've seen out of a center prospect this decade. Standing at 7'1 with an NBA-ready frame, it wasn't especially hard to draw parallels between the nation's No. 4 recruit and Hall of Fame center David Robinson. Getting him to Arizona was something of a major coup — per his 247Sports Crystal Ball, he was expected to go to Kansas or Kentucky — even if in recent weeks, that has come under the microscope.
But the Wildcats, at least for now, seem to be past the controversy that popped up in Ayton's recruitment. This is good, because it lets basketball fans focus on something far more important: Deandre Ayton is a potentially franchise-changing center once he makes it to the NBA.
Trying to find the major holes in Ayton's game are really hard. The basketball-specific stuff that you expect out of a center (rebounding ability, touch around the rim, low post game, ability to stretch the floor, etc.) are all things he has right now. He is a tremendous rebounder — per KenPom, he is 15th nationally in defensive rebounding percentage and 42nd in offensive rebounding percentage — and is great at making the right decision after he reels the ball in, namely when it comes to determining whether he should push the ball or slow things down. And if he has to go up and score from that position, he's nearly unstoppable.

When he is not cleaning up the boards, Ayton is capable of scoring from just about anywhere on the floor. He's not quite a stretch five yet, but in a small sample size, there are reasons to believe he can develop a devastating jumper: Ayton is 12-for-33 (36.4 percent) from three this year, while he is connecting on free throws at a 74.2 percent clip. He also has a reliable jump shot from inside the arc, as he showed a few times during his 32-point performance in the Pac-12 title game against USC.
According to the most recent data collected by The Stepien, Ayton is connecting on 51.89 percent of his long midrange shots, classified as shots between 13-feet out and the three-point line. That puts him in the 92nd percentile for big men in college basketball. Oh, and he's in the 92.7th percentile on field goal percentage right at the rim, connecting on 79.61 percent of his shots from inside.
Ayton kills opponents with his ability to grab offensive rebounds and head back up, but he also mixes the athleticism and size to be a great target on lobs. And if he is able to get on the block and go deep into his bag of low post moves, look out. Here's an example of how composed and skilled Ayton is on the block from when he went up against first-round hopeful Robert Williams of Texas A&M.
In the Pac-12 Tournament, this ability on the block was on display in Arizona's 78-67 win over a good UCLA team. Ayton went for 32 points on 13-for-16 shooting. Watch how good he is at establishing position, then digging into a bag of tricks that a 19 year old shouldn't possess to score easily with either hand.
To truly understand how good Ayton was against the Bruins, just look at the fact that he had the game's best offensive rating (160) and its best defensive rating (85). When he was on the floor, there was just nothing UCLA could do.
This is a common theme that pops up when you watch Ayton play: When he is engaged and part of Arizona's offense, there is nothing that you can do to take down the Wildcats. He boasts a skill set that no one in college basketball can stop, which makes games like Arizona's somewhat-infamous overtime loss to Oregon on Feb. 24 disappointing. Ayton was throttling the Ducks' frontcourt, but whether it was fatigue or an inability to get him the ball, his final field goal came with 10 minutes left in the second half.
Per KenPom, Ayton is used on 26.2 percent of the Wildcats' possessions and attempts 27.5 percent of their shots from the field. Those are good marks — they register for 229th and 231st nationally, respectively — but you can very easily make the case that he should be used more. In the team's Pac-12 Tournament semifinal and final outings, it did: Ayton was used on 30 percent of Arizona's possessions against UCLA and 34 percent of them against USC. They won both games by double-digits and Ayton scored 32 points in both games.

The other perceived big knock on Ayton is that there are times when he's not always engaged defensively. With his size, length (he boasts a 7'5 wingspan), athleticism, strength, and basketball IQ, Ayton is the kind of player who has no reason to not dominate on the defensive end of the floor. But as Jonathan Tjarks of The Ringer wrote earlier this year, there are times when he just … doesn't.
Ayton doesn't play with much energy on defense. He rarely makes two efforts at contesting a shot, and he's not particularly diligent about getting himself involved in a play when it doesn't involve his man. I talked to one NBA scout who thinks the problem is that Ayton has a high school mentality when it comes to defense, and that he is more concerned with winning his individual matchup statistically than filling his role in the Arizona system. You can draw a direct line from Ayton's lack of effort to the Wildcats' defensive struggles this season. They have the no. 213-rated defense in the country, a shockingly low number for a team coached by a defensive-minded coach like Sean Miller.
This was written in December, back when concerns about Ayton's defense looked like they could be a massive concern — Arizona was 6-3 at the time after losing all three games during the 2017 Battle for Atlantis. Ayton had a block rate of 4.3 percent at the time.
Since then, Ayton has increased his block rate to 6.2 percent (which isn't elite, but comes in at 126th nationally) and the Wildcats are 71st in defensive adjusted efficiency. In conference play, Ayton's block rate goes up to seven percent. Again, these aren't elite numbers, but they are an improvement from where Ayton was at earlier in the season.
As he continues to develop on that end of the floor, Ayton's stock will continue to rise. There is nothing he cannot do on the basketball court, and if a team at the top of the draft needs a center, making an investment in Ayton's physical tools, offensive game, and rebounding ability is as smart of a decision as you can make as a franchise.