As usual, the NBA trade deadline provided all kinds of entertainment for both casual and die-hard fans of the league. There was plenty of actual player movement in addition to the (still ongoing) Anthony Davis saga and teams like the Philadelphia 76ers, Toronto Raptors and Milwaukee Bucks strengthened their rosters with an eye toward legitimate title contention. In fact, much has been made of the wildly intriguing race for the top spot in the Eastern Conference, with four teams jockeying for position and the prospect of an all-out brawl for a Finals spot in May.
Even with the buzz about the Sixers, Raptors, Bucks and Boston Celtics operating in justifiable fashion, the reality is that the NBA's top tier is still occupied by exactly one team in the Golden State Warriors. It is undeniable that the post-LeBron East is more intriguing than some would have expected but, quietly, the reigning champions are lighting the league on fire and they are doing so without a clear-cut challenger in their own conference.
In the last 16 games, the Warriors are 15-1 and, while that isn't out of the ordinary given their obscene level of talent, Golden State boasts a +15.0 net rating buoyed by off-the-charts offense. Steve Kerr's team is scoring 123.4 points per 100 possessions during that time period and, well, that seems almost impossible over that large of a sample. In drilling down a bit, the Warriors are also 9-1 during the DeMarcus Cousins era, with the team firing on all cylinders and essentially deploying an unguardable offense the likes of which the NBA has never seen.
It isn't "sexy" to write about the Warriors, simply because there is a feeling of invincibility with regard to the team. Golden State might get a legitimate challenge in the NBA Finals after one of the four aforementioned challengers emerges. Until then, however, it would be wise to avoid getting too carried away in a big-picture sense because, unless something changes on the injury and/or chemistry fronts, it's (still) the Warriors and everybody else.
There isn't much mystery about the top spot in this week's DIME power rankings but the other 29 spots are up for grabs. Let's go.

1. Golden State Warriors (40-15, Last week — 1st)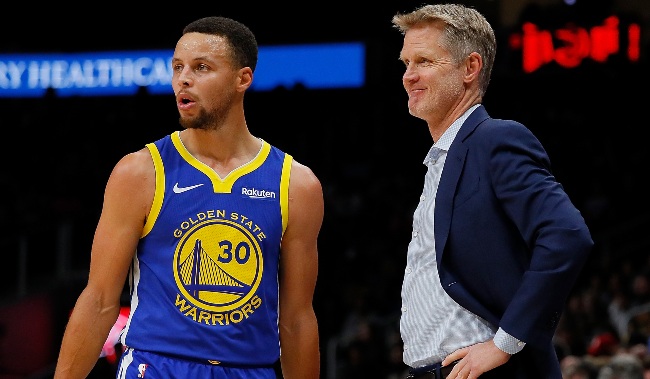 Another ho-hum week of three victories for the Warriors. As noted above, they're in a class of their own.
2. Toronto Raptors (42-16, Last week — 4th)

It's fair to point out that the Raptors aren't currently the top seed in the East but it would be easy to argue that Toronto is playing the best basketball in the East. Kawhi Leonard and company have new parts to integrate with Marc Gasol and Jeremy Lin but the Raptors have won five in a row, including three road victories.
3. Milwaukee Bucks (41-14, Last week — 2nd)

Milwaukee continues to boast the NBA's best record but there has to be some level of punishment for an explicable loss and the Bucks had one this week. Granted, Giannis Antetokounmpo didn't play when Milwaukee lost at home to Orlando (by 20) but that wasn't the best performance you'll ever see in your life.
4. Oklahoma City Thunder (37-19, Last week — 5th)
There is a consensus building that OKC is the biggest challenger to Golden State in the West and, frankly, it's tough to argue otherwise. The Thunder are 11-1 in their last 12 games and, during that stretch, Paul George has been out of his mind to the tune of 36 points per game on 49 percent from three. If he can sustain anything approaching this level of production (in tandem with OKC's defense), this is a terrifying basketball team and that's before you remember that Russell Westbrook is currently riding a 10-game triple-double streak.
5. Philadelphia 76ers (36-20, Last week — 6th)

After a shaky home loss to Toronto at the start of the week, the Sixers rebounded with back-to-back wins. Their final result, a 23-point win over the Lakers, wasn't necessarily indicative of much on the Philadelphia side but a win over Denver is one to note in a big way.
6. Indiana Pacers (38-19, Last week — 10th)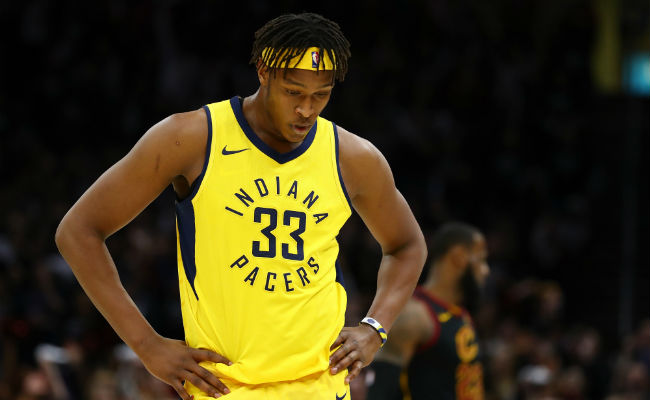 Most people (myself included) effectively buried the Pacers after the injury to Victor Oladipo. Make no mistake, Indiana was always bound for the playoffs but, in terms of top-flight contention, their chances at a prolonged run seemed to crash when their best player hit the shelf. With that out of the way, the Pacers are riding a six-game winning streak and, for the season, Indy is 13-8 without Oladipo in the lineup. That's pretty impressive.
7. Boston Celtics (35-21, Last week — 3rd)
What a profoundly strange season. One week ago, we praised Boston as a contender and, in on-brand fashion, the Celtics lost back-to-back home games to the Lakers and Clippers. For good measure, Marcus Morris had some now infamous public comments about his team and it's suddenly difficult to get behind this team again. Your guess is as good as mine.
8. Denver Nuggets (38-18, Last week — 7th)

The Nuggets have dropped three of four and, of course, that isn't great for one of the better teams in the West. They did end the week on a high note with a win over Miami, though, and there is no great shame in a single-digit loss on the road in Philly before that.
9. Houston Rockets (33-23, Last week — 9th)

James Harden has scored 30 or more points in 30 consecutive games. That is, of course, utterly preposterous and it's tough to overstate his impact on this Rockets season. What else is there to say? Right now, Houston goes as he goes.
10. Utah Jazz (32-24, Last week — 11th)
In a weird scheduling quirk, the Jazz only played twice this week. They took advantage of that to the tune of victories by 20 points or more at home and there isn't much more Utah could have done.
11. Sacramento Kings (30-26, Last week — 12th)

The start of the week wasn't kind to the Kings, with a 26-point home loss (yuck) to the Rockets. Sacramento should be credited with a strong bounce-back, though, as the team beat the Heat and Suns to reach four games over the .500 mark.
12. Portland Trail Blazers (33-23, Last week — 8th)

Portland hit a speed bump this week, losing three of four games. The worst of those defeats came at home to Miami but, in general, it wasn't a full-blown disaster, rather a disappointing stretch.
13. Detroit Pistons (26-29, Last week — 17th)
Dwane Casey's squad benefits from attrition around them to crack the top 15 this week. It would be a hard sell to put Detroit this high in a big-picture sense but we'll reward them for winning four straight games at an opportune time.
14. San Antonio Spurs (32-26, Last week — 13th)

The "rodeo road trip" is here for Spurs and… it's not going well. San Antonio lost the first four games on an eight-game trip, and even if all four came against playoff-caliber teams, it's probably tough to find optimism.
15. LA Clippers (31-27, Last week — 15th)

It is perfectly Clippers to finish a lengthy, six-game road trip with a 3-3 record. On cue, that is exactly what Doc Rivers' team did this week and a win in Boston helps to stabilize their position in this space.
16. Charlotte Hornets (27-29, Last week — 16th)


The Hornets finished 1-3 this week and that obviously isn't ideal for a team pursuing a playoff spot. Charlotte lost the three games it was supposed to lose (at least by Vegas projections) and they won the game they were supposed to win. Sounds like the Hornets, right?
17. Los Angeles Lakers (28-28, Last week — 14th)

It was a profoundly strange week in Laker-land. Los Angeles pulled off a wild win over Boston in front of a national audience on Thursday and that is the result that most people would remember. The Lakers were dreadful in two additional games, however, losing by 42 to the Pacers and 23 to the Sixers.
18. Orlando Magic (25-32, Last week — 21st)
Somehow, the Magic have a realistic chance to make the playoffs. In fact, FiveThirtyEight gives Orlando a 42 percent chance at a postseason berth as of Feb. 12 and that number is on the rise after the team won five of six games. Make no mistake, it would be weird if the Magic were in the playoffs with their current performance level but it's officially in play.
19. Brooklyn Nets (29-29, Last week — 20th)
Brooklyn's lost five of six games and you're probably wondering how they would ascend in the rankings this week. Well, part of that is the competition around them. The other part? The Nets hit 20 threes and nearly beat Toronto on the road on Monday. Context matters and Brooklyn still appears likely to crash the playoff party.
20. Dallas Mavericks (26-30, Last week — 18th)

It's tough to gauge just how good the Mavs will be for the rest of the season, if only because their trade deadline moves were pointedly directed toward the future. With that said, Dallas still has Luka Doncic on the floor and the rookie has been out of his mind to the tune of 20.8 points, 7.1 rebounds and 5.5 assists per game during his rookie season. That certainly helps in establishing a team-wide baseline.
21. Memphis Grizzlies (23-34, Last week — 26th)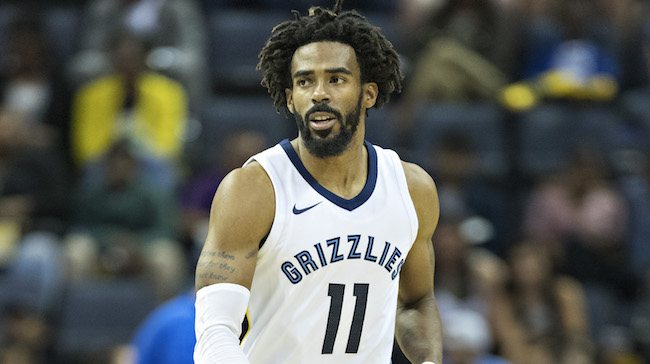 Mike Conley's team is in the middle of its best stretch in a long, long time. Memphis has been dead, at least through the prism of a playoff chase, for a long while, but the Grizzlies have won three of four games including triumphs over Minnesota and New Orleans. There's nothing earth-shattering there but improvement should be noted.
22. Miami Heat (25-30, Last week — 22nd)
If you only watched Sunday's game in Oakland, you'd think the Heat were a lot better than this. Josh Richardson led a three-point barrage that nearly downed the Warriors on the road and it was a lot of fun to watch. Outside of that one-game sample, however, the Heat have struggled mightily, losing six of seven and sharply damaging their playoff chances.
23. Minnesota Timberwolves (26-30, Last week — 19th)

The Wolves saved face with a nice win over the Clippers on Monday and the schedule hasn't been friendly in recent days. We still have to point out that Minnesota has lost six of eight games, though, and that isn't going to impress anyone.
24. New Orleans Pelicans (25-32, Last week — 25th)

Anthony Davis is playing basketball again and that means the Pelicans are better than they were without him. Things are undeniably weird, though, and that kind of limits the potential of this New Orleans team in the short term. We'll hedge our bets either way.
25. Washington Wizards (24-33, Last week — 24th)
It was a status quo week for the Wizards. In general, a .500 baseline is enough in the East and Washington picked up two wins. Those victories came over the Cavs and Bulls, though, which doesn't exactly scream out for positive recognition on a grand scale.
26. Atlanta Hawks (18-38, Last week — 23rd)

Trae Young, John Collins and company made waves with a successful Super Bowl road trip and, at one point, the Hawks were 12-12 over a 24-game span. Since then, they've dropped three in a row at home and none of those games were overly competitive. Young teams do this but it was an ugly stretch.
27. Chicago Bulls (13-44, Last week — 28th)

It wasn't a great week under normal circumstances for the Bulls, as Chicago lost three games at home. In the middle of that, though, the Bulls went to Brooklyn and won in decisive fashion. That's enough to avoid the bottom three.
28. Cleveland Cavaliers (12-45, Last week — 27th)
The Cavs won their last game! Nevermind that it came by three points at home against the Knicks. The Cavs won their last game!
29. Phoenix Suns (11-47, Last week — 29th)

On the bright side, Phoenix's 14-game losing streak isn't even the longest in the NBA right now. That might seem impossible (we'll get there) but the Suns just can't fall below the No. 29 spot right now… even with great effort to do so.
30. New York Knicks (10-46, Last week — 30th)

The Knicks lost to the Cavs on Monday evening. As if that wasn't rough enough (considering Cleveland's overall profile), New York is now riding a franchise-worst 17-game (!) losing streak. There are some putrid squads in the league but this is a lay-up right now.