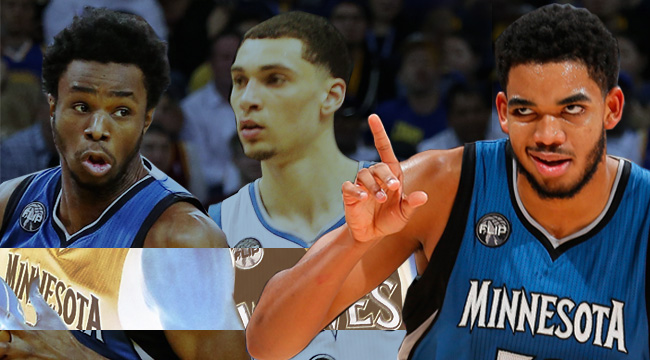 Welcome to Hoop Dreams, a season preview unlike any other you'll read before the 2016-17 season tips off. The premise is simple. We'll be providing 30 of these fictional forays because it simply stinks that only one team can win the title each year. The list of contending teams seems to shrink with each campaign, and we wanted to provide something to those fans who only get to dream of Larry O'Brien during the offseason. Before October, every team can win the NBA title. Don't believe us? Then keep reading. – Ed
---
They'll spend the whole summer trying to convince you that Karl-Anthony Towns is the big man of the future, how he's single-handedly changing the way we think about the way basketball is supposed to be played and the size of those who should be playing. They'll point to his 37.8 percent clip from three-point land, his ability to put the ball on the floor with purpose, and his ability to demand double-teams from further away from the basket than what was socially acceptable for a seven-footer in years past. But to regulate Towns as just the big man of the future is reductive. He's the big man of today, and he'll might not ever be more present than he is right now. Towns wasn't just the NBA's MVP and Finals MVP, but he became these things as a sophomore while redefining what it means to be valuable. Towns disrupted the NBA in the league's most disruptive era with a sidekick who allowed him to thrive instead of hindering greatness.
They'll spend the summer trying to convince you that Andrew Wiggins could have done more, a weird criticism for the number two option on a Finals-winning team. In reality, the best thing that Wiggins did for the Wolves is understanding when it was time to do less. Wiggins opened the season scoring 31 and 38 during the first two games of the year, both on the road. Tony Allen struggled to stay in front of Wiggins, and Marc Gasol was a little slow on rotations in his first non-exhibition game action since his foot injury this past February on Opening Night in Memphis. Against Sacramento, the Timberwolves defense created 12 loose ball turnovers that led to a myriad of acrobatic Wiggins and Zach LaVine dunks. After two games, Wiggins looked like the NBA's most improved player, but the scoring numbers would come crumbling back to earth — due in large part to Wiggins choosing to defer to Towns, not because of a lack of ability. And his willingness to let Towns lead became a contagious ethos that trickled down the rest of the roster.
They'll spend the summer trying to convince you that Ricky Rubio should still be traded to make room for Kris Dunn, and for the most part the argument will make sense, but it was Rubio running the offense that won the 2017 NBA Finals. It was Ricky Rubio whose hands irritated opposing point guards all season. It was Ricky Rubio's vision that created passing angles that would cut your favorite player in thirds. It was Ricky Rubio who, for two months out of the season, patiently came off the bench to allow Tom Thibodeau to experiment with Dunn as the starting point guard. It was Ricky Rubio who graciously accepted his rightful starting role at the end of March to help lead the Timberwolves to a 15-5 stretch over the final 20 games of the season to secure a No. 5 spot in the Western Conference. They'll spend the summer trying to convince you that Ricky Rubio should still be traded to make room for Kris Dunn, but Rubio did things we could only liken to a magician during the Timberwolves title run — will they convince you that Dunn can do the same moving forward?
It was a strange season for sure. Nothing happened during the offseason that suggested that we'd see anything other than a third-consecutive Finals featuring the Warriors and Cavaliers, but that's because we didn't get to see the Timberwolves put in work over the summer. There were hints all throughout the preseason that the Timberwolves would be fun, but the fun conversion rate doesn't necessarily account for future success. The NBA is as socially stratified as any organization, and when a team wins 29 games in a season, there is usually a ceiling the amount of vertical mobility allowed from one year to the next. To comfortably make the postseason, Minnesota would have to be 15-20 games better in a loaded Western Conference. Not impossible, but unlikely by any predictive measures.
Everything we thought we believed we knew about the Timberwolves was blown to pieces as the team exploded out of the gates. Wiggins carried the team on the strength of his scoring during the team's first two games and Towns picked up where Wiggins left off when the team returned back home for a two-game stint against Memphis and Denver. The Wolves were 3-1 during their first four-game stretch and kept things rolling through November, winning 13 of their first 18 games. Shabazz Mohammad settled into his increased role of impact scorer off the bench averaging 18 points per game in December, including another explosion in a win over the Warriors reminiscent of the win the team had last year that ostensibly set the tone for a title run.
A few nagging injuries in January and February brought Minnesota back down to earth as they only played .500 basketball during the stretch, dropping from third in the Western Conference to seventh during the two-month stretch. Crucial losses to Philadelphia, Brooklyn and Sacramento had many wondering if the team would even be able to hold onto a playoff spot. After splitting a pair of games on the road at Utah and San Antonio, the Timberwolves surged down the stretch with the return of Ricky Rubio, only dropping five of their final 20 games and moving into the fifth spot in the Western Conference.
In the first round, the Timberwolves would need six games to dispatch a Blazers team that didn't have players sitting out because of injuries but had three rotation players playing hurt, including CJ McCollum who only played 20 minutes per game during the series. Towns averaged 28 and 12 during the six games while Wiggins averaged 21 and seven, including a 31-point Game 2 in Portland to help the Timberwolves steal home court. In the second round, the Timberwolves would need seven games to beat the Warriors, who finished a nice regular season with 69 wins. After building a 3-1 lead, the Timberwolves would lose the next two because Kevin Durant finally came out of a postseason-long shooting slump. With the Warriors firing on all cylinders, it appeared they would take Game 7 at home. Instead, a heavy dose of Towns early (21 points at the half) and Zach LaVine playing the game of his life (26 points on 12 shots) gave the Wolves a four-point win with Wiggins icing the game with a pair of free throws with 3.3 seconds left on the clock.
In the Western Conference Finals, both Wiggins and Muhammad would feast on the lack of wing depth that the Clippers presented. In five games, the Timberwolves eliminated the No. 2 seed without much help from Towns, who was limited to 18 points and 8.5 rebounds per game due to the stellar defensive play of DeAndre Jordan. Kris Dunn would evoke questions about Rubio's future when he received starters minutes without starting because of his ability to stay in front of the crafty Chris Paul. Wiggins would win the WCF MVP award after averaging 26 points and seven rebounds. Gorgui Dieng averaged 14 rebounds with Blake Griffin playing much of the game from the pinch post and while Towns and Jordan keeping boards from each other.
This summer they'll try to convince you a lot of things. That LeBron James could have done more, that Tristan Thompson is paid too much to get dominated in the fashion that Towns unleashed against him, that Irving couldn't handle Rubio, that Kevin Love should be traded. And this summer they'll all be wrong. The narrative will focus on what the Cavaliers did wrong instead of everything Towns did right: which was quite literally everything. 27.5 points, 11 rebounds and four assists over six completely dominant games. Towns strived for perfection (and exceeded it), and Wiggins allowed him to do so. Wiggins found himself isolated in favorable one-on-one mismatches, but looked for Towns before his own shot. Wiggins didn't average many assists, but he moved the ball better than anyone in the Finals. His willingness to relinquish shots, especially after winning the conference finals MVP, is the sole reason that they'll try to convince you of anything this summer.
Towns single-handedly made the idea of the big man imperative to the ever changing ethos of how to make basketball in this modern era and more essential to the teams who already had an emerging-to-great big. Towns' season was a paradigm shifting year that ran counter to a paradigm shifting era. Size in today's NBA doesn't matter as much as how it's utilized, and Towns was utilized to perfection. Sometimes being progressive is finding new ways to utilize antiquated ideologies. The Timberwolves didn't necessarily play big, but they played big persons who contributed in ways that we didn't believe could still be useful in the way basketball is played today. Towns' skill set cut across eras and generational philosophies while remaining authentic to who he's supposed to be.
This summer they'll try to convince you that the Timberwolves can't possibly do it all again, but they'll have to convince you that Towns will no longer exist as a kinetic freak, an all-encompassing machine designed solely to make perfect basketball in an utterly imperfect game. Every floor he steps on belongs to him, and as long as this is the case, the Timberwolves will have an opportunity to prove that whatever it is that they're trying to convince you of is wrong.