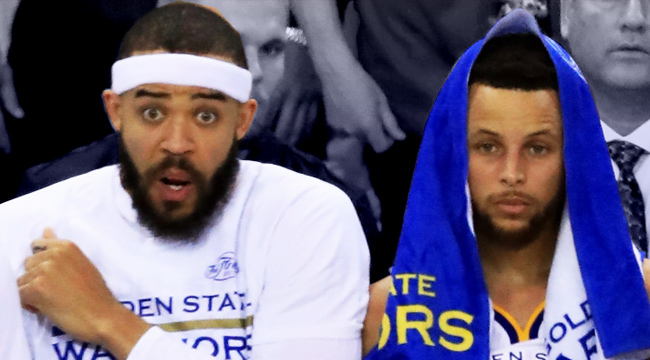 Steph Curry sat out the Warriors' 110-100 win over the Magic on Monday night with a thigh contusion. A week ago, Kevin Durant sat out Golden State's 125-101 win over the Timberwolves with a thigh contusion of his own.
In both cases, the Warriors handled business without one of their stars, but that's a lesser story to what they may have illustrated as the new way of the world in the NBA. This offseason, the NBA adopted a new rule that allows the league to fine teams that rest otherwise healthy stars during games, with a focus on teams that sit multiple stars and stars missing nationally televised matchups. Additionally, an emphasis is placed on away games.
The goal is simple: Keep stars that national television partners and opposing teams use to market marquee matchups to fans from sitting out due to rest. The issue came to a fever pitch last season when, in back-to-back weeks, the Warriors, Spurs, and Cavaliers sat numerous stars for primetime ABC broadcasts, leading to predictable rants from Jeff Van Gundy. The gospel of resting stars was written by Spurs coach Gregg Popovich, and has been coopted by top teams for years, knowing it's of the utmost importance to be healthy and fresh for the postseason.
Cavs coach Tyronn Lue has publicly said his team will abide by the NBA's new rule, and it would be surprising to see any coaches truly challenge the league on this issue. However, that's not to say there aren't ways to circumvent the new rule and carve out some rest time for star players, doing so without the dreaded "DNP-Rest" showing up in the box score.

The Warriors may be setting an early precedent on how this will work with Durant and Curry's thigh contusions. I want to be clear and state that I'm not suggesting these are fake injuries, and I have no doubts that Durant and Curry do indeed have soreness and bruising to their thighs. That said, most every player in the league likely has similar ailments that aren't showing up on the injury report.
The new NBA rest rule requires healthy players to play, but what they might be doing is changing how teams define who is actually healthy. By the end of the season, the idea that any player is 100 percent is absurd. The physical nature of the league and the rigors of an 82-game season make that impossible — it's why resting players became a popular tactic. Don't be surprised when those ailments that may have otherwise gone unmentioned on an injury report and simply been taken care of in the training room with extra treatment and some rest start popping up more.
Contusions, soreness, strains, and other legitimate issues that perhaps were once not worthy of being reported may become a more regular fixture on official team injury reports. It's not dishonest, but simply a more official justification of why these players were being rested in the first place.

Take LeBron James, for example. The Cavaliers star came into the season battling a sprained ankle, and has, as recently as last Thursday, tweaked his ankle in a game. However, he does not appear presently on the Cavs injury report, even though he's assuredly receiving some kind of treatment for that ankle. Later this season, however, something like that might pop up on an injury report as a totally legitimate injury that holds him out of a game, but in other situations he might fight through.
NBA teams aren't going to fake injuries to players to hold them out of games and avoid penalties from the league. Aside from the questionable ethics of doing so, they just don't have to. Players are always banged up with sore and bruised muscles, tweaked ankles or shoulders, and all manner of other ailments that they play through on a regular basis. With the new rest rule in place, we can probably expect to learn a bit more about what NBA stars put up with on a nightly basis when those things show up.
That's not to say the rule won't work. The league's biggest concern is teams resting multiple stars on any given night, and this will still likely curb that. It's hard not to anticipate seeing more nagging injuries showing up on injury reports more prevalently than was the case in the past, but even then, at least the optics of someone sitting out with a thigh contusion or some kind of soreness is better than seeing a "DNP-Rest" next to their name.