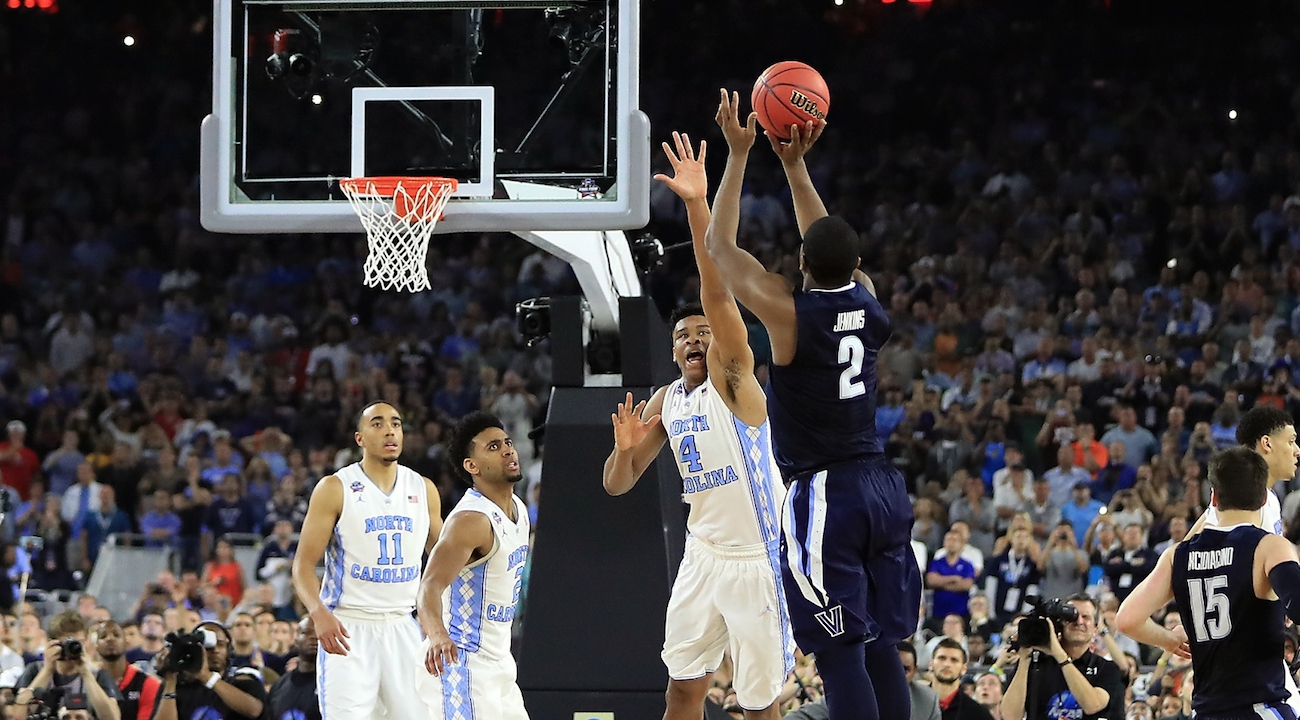 Monday night's NCAA Championship Game gave us two of the best shots in college hoops history.
There was, of course, the buzzer-beating, game-winning Kris Jenkins three that gave Villanova a 77-74 victory and made them national champs for the first time since 1985. But right before that was the Marcus Paige 3 that tied the game at 74 with a mere 4.7 seconds remaining in regulation.
Plenty are talking about the historical context of two of basketball's greatest shots ever. Let's supplement that with some X's and O's.
The Marcus Paige Shot
It's actually a relatively simple screen play, and if you watched North Carolina's National Semifinal Game against Syracuse, you would've seen the Orange constantly running plays like this one against the eventual NCAA runner-up.
Joel Berry II rushes down the court with only 13.5 seconds left and the Tar Heels down three. The goal: Get an open jumper for Paige.
North Carolina had previously gone for quick 2-pointers until this point, but with such little time remaining on the clock, coach Roy Williams didn't have much of a choice other than to go for the tie. The reason the play broke down is because UNC gave itself only one real option, and Berry was totally transparent about that with the way he stared Paige down immediately upon crossing halfcourt.
College players tend to rush under high-pressure situations. And rush isn't always about rushing the shot or the shot motion. Sometimes, they rush things that come before the attempt even happens. In this case, Paige actually does that.
http://i.giphy.com/3oGRFLwMLaWaOBavdu.gif
He takes off from the left side before Brice Johnson, who sets the off-ball screen to try opening Paige up, is all the way down the court and in a position to set a proper pick. Because of that, he can't brush hips with him, as Paige is supposed to do to get his defender, Ryan Arcidiacono, off his hip. Because of that, both Arcidiacono and Daniel Ochefu follow him out to the perimeter before Arcidiacono recovers back onto the screener.
It's actually perfectly executed defense to that point, but once Ochefu's gamble for the steal doesn't pay off, Paige actually opens up a look for himself. It's hardly an easy one, considering NOVA defense's immediate recognition of where the ball is, but at least he's able to get a shot off.
At that point, all he had to do was sink one of the craziest makes in NCAA history.
No problem.
The Kris Jenkins Shot
This one's a little less based on randomness.
The public seems to be pinning North Carolina's defensive breakdown on one of two people: Williams or Johnson. But the general theme here, whether that's the fault of the coaching staff or the defenders, is that UNC simply gave the Villanova players too much room to shoot.
When you hear fans or coaches or anyone else talk about a "lack of urgency," you may want to refer them to this play as an example, because UNC essentially sets up its defense as if this is a normal halfcourt possession, not like there are only 4.7 seconds remaining in a tie game.
Sure, no one picked up Jenkins, and you could see the trailer coming, but that wasn't only because UNC didn't have anyone guarding the inbounds pass. It was also because NOVA's Patrick Farrell laid an effective enough ball-screen for Arcidiacono right before the halfcourt line to supply a bit of confusion to the North Carolina D. Both UNC defenders, Paige and Isaiah Hicks, followed the ball, even though Farrell doesn't continue down the floor and the inbounder and eventual hero, Jenkins, follows as the obvious trail option.
http://i.giphy.com/xTiQyfnCDbQkjXEVgI.gif
That's as much of a lack of recognition as it is lack of proper strategy.
Jenkins wasn't Arcidiacono's only option on that play, though. He also had Phil Booth, who was hot all night, open in the right corner. And multiple options happened because of UNC's inability to realize time and situation.
Arcidiacono pitches to Jenkins with barely under two seconds on the clock. Yet, look how far the Carolina defenders are from their assignments:
Compare that to how closely NOVA defenders guarded Carolina shooters on the previous possession, the one that answered the Paige prayer:
No, NOVA didn't need a three like UNC did, but considering the situation, any Wildcat would've been fielding a pass with under two seconds — maybe one second — to go. In a situation like that, you can get closer to your defender, at least near enough to close out on a potential catch-and-shoot.
Oh well, hindsight is 20/20 and these are college student in the most pressure-packed few seconds of their lives, after all. Adults struggle in far less stressful situations, so a lapse in judgement — especially a tiny one like not getting up on NOVA outside the three-point arc — isn't something UNC players should beat themselves up about. Telling them that, and actually doing it, are two separate things, though.