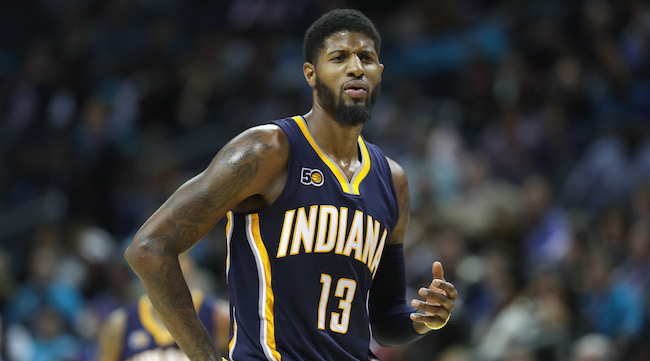 The Indiana Pacers are 29-28, currently good enough for sixth in the Eastern Conference, but the front office led by Larry Bird is feeling the pressure to make moves to bolster their roster and become contenders again soon.
Pacers star small forward Paul George will become a free agent in 2018 and he will be very enticed by the idea of going back to California where he grew up and playing for his favorite team growing up, the Los Angeles Lakers. According to Sam Amick of USA Today, George wants to stay in Indiana if he feels they have a chance to win, but if not, he would be very open to considering other teams in free agency, with the Lakers as the heavy favorite to land him in the summer of 2018.
That has place significant pressure on Bird to land another piece before Thursday's trade deadline. The Pacers have been linked to rumors with Sixers center Jahlil Okafor, and Amick also notes they've discussed deals for Portland's Allen Crabbe and Sacramento's Aaron Afflalo. If none of those potential deals can come through, Bird will have to seriously consider moving his star and try to land draft picks and young assets to shift towards a rebuild around budding star Myles Turner.

The Lakers, who would have no trouble re-signing George in 2018, are reportedly involved in the mix, according to Amick, which means there are trade talks happening between Magic Johnson (George's childhood idol) and Larry Bird, which is fascinating in and of itself. However, because the Lakers will feel like the frontrunners for George come free agency, they will probably not want to give up too many of their own young assets (which Magic Johnson has said are the priority) to get a player that could be theirs in a year-and-a-half anyways (like the Knicks should have done with Carmelo Anthony).
The Vertical's Adrian Wojnarowski also reports that Bird is struggling with these deadline decisions, and reports the Celtics, who have been tied to rumors involving Bulls swingman Jimmy Butler, could also pursue George as they have the picks and assets necessary to make an enticing offer. However, with the possibility of George leaving for Los Angeles in 2018 anyways, the Celtics and other teams will not be too keen on giving up the farm for the star small forward.
The trade deadline will hit Thursday at 3 p.m. ET, and it looks like most of the major deals involving big players like George or Butler will come down to the wire. The Celtics are expected to be the big players at this deadline because they are the rare team on the verge of being a title contender that also has tons of intriguing draft assets (shoutout to the Nets) in the next three years.
If the Pacers can land one of their trade targets prior to 3 p.m. Thursday, it may push the Celtics into making the Butler deal quicker. If not, this could drag out until right at the deadline, holding four fanbases in limbo.