You know this story already; you've heard it before. Someone works their butt off and makes themselves incredibly valuable to their employer. But their company is growing and trying to become more successful in an incredibly competitive environment, so this over-achieving employee agrees to a salary that is far below the value commensurate with their worth. They bring a ton of stuff to the table, but they're never properly rewarded for all that they do. Except, the star employee doesn't really care because they've been assured they'll be compensated properly when the time is right.
When the time is right, the employee has given so much of themselves to the company, they're no longer as valuable to them as before, and the employer uses this advantage as an excuse to continue paying the employee below what they've earned, ignoring the back pay they were owed by taking the discount earlier in their career when they could have left to go elsewhere for a lot more money. The employer can get away with this because their star employee has already lowered their market value by performing the back-breaking work — at a substantial bargain — for the employer.
So, because this person was and is loyal, almost to a fault, they're taken advantage of. It happens all the time in business, where the phrase "It's just good business," is just a catchall for screwing someone out of money they deserve based off the work they've done.
That's what happened with Dwyane Wade and the Miami Heat, and it should be sickening to behold if you're a Heat fan. The single biggest name in franchise history informed the Heat on Wednesday night that he would be accepting a two-year, $47.5 million offer to go play for his hometown Chicago Bulls.
Some Bulls fans are already maligning the move and talking about how their new backcourt of Rajon Rondo and Dwyane Wade can't hit three-pointers, a key component of coach Fred Hoiberg's space-and-pace offense. But that's not important for the purposes of this piece. We're talking about Heat president and general manager, Pat Riley, and what he did to his former employee, one Dwyane Tyrone Wade Jr.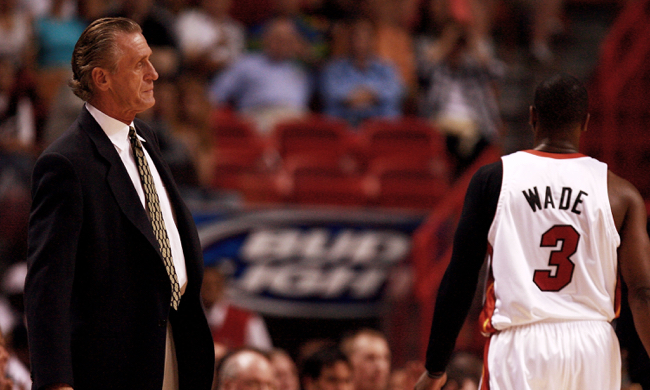 Wade might not be the godsend the Bulls need, but that's because he already gave most of his effort and certainly all of the cartilage in his knees to the Miami Heat as he helped lead them to their first title in franchise history (2006), and — combined with LeBron James and Chris Bosh, who he also helped recruit to Miami — four-consecutive runs through the East to the NBA Finals, and two more titles in 2012 and 2013 for Riley to drop down on the table as he's recruiting potential future free agents.
And how did the Heat repay him? By renouncing his Bird Rights to get Hassan Whiteside signed, then offering him a fraction of his market value AGAIN. This was the second-straight summer Wade has heard offers from other teams in response to being lowballed, and that's because LeBron James left in the summer of 2014 and the Heat are no longer contenders for the Eastern Conference crown. Riley is trying to take his team back to title time, and so he was once more trying to squeeze the highest possible return on investment from his star shooting guard's overworked body.
And it finally backfired; we're just surprised it took this long.
A few things to note that Riley could have done differently this summer:
Wade's wife, Gabrielle Union mentioned that the Heat hadn't even reached out to Wade before the start of free agency, despite the fact he was going to opt out and teams would be handing him contracts.
Not only that, but when they did offer Wade a deal, it was for half of what he made last season, and this is after hearing about the astronomical deals being agreed to after the salary cap spiked by $24 million from 2015-16 to 2016-17.
As mentioned, in order to sign Whiteside to a max deal, something Wade has never gotten in his 13 years with the team, the Heat had to renounce Wade's Bird Rights, which would have allowed them to match or exceed any offer from a potential suitor. But they didn't because they just had to have the young center.
Wade's never once been the highest paid player on the team during his 13 seasons in Miami. Not once. Think about that.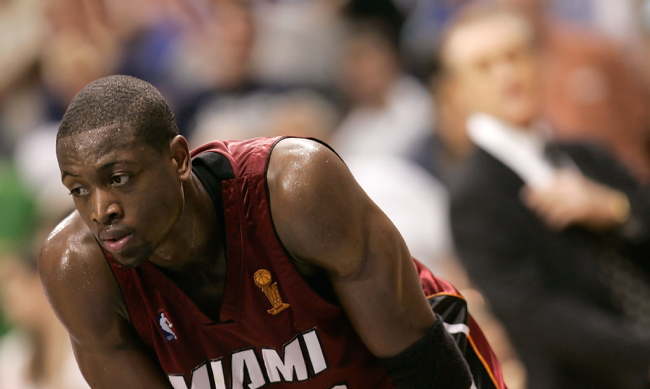 Wade deserved to end his career in Miami, and Riley owed it to the Heat fans to make that happen — despite whatever the monetary cost might be for the franchise. There's no amount of money that will right the wrong we witnessed Wednesday night, and Riley should have known that.
After the season concluded, the former Lakers, Knicks and Heat coach seemed to have the situation figured out. Before free agency started this summer, here's what Riley told reporters about re-signing Wade:
"Compensation to a player is not just a way to paid and to live your life. Compensation to a player is about recognition and respect and place. We know here he [Wade] belongs…He's a life. What he's done in this city over the last 13 years is irreplaceable, and we're going to do the right thing. There's no doubt."
Except, the Heat didn't do the right thing. They did the opposite.
And, to add insult to injury, after Wade agreed to terms with the Bulls and let the Heat know, Riley had the temerity to send Miami Herald columnist Dan Le Batard a pity party response talking about how "saddddd" he was.
Except, Riley doesn't get to play that card. No, not when he didn't do anything to bring the marquee player in franchise history back into the fold. He didn't even call him, for christ's sake.
Update: ESPN's Dan Le Batard refuted this information on his radio show Thursday evening, claiming that Wade refused to get on the phone with Riley himself and left all communication with the Heat's president to his agent.
Previously: Shame on you, Pat Riley. You used up the best player in franchise history, and now he'll finish his career in his hometown of Chicago. We just hope Wade makes Riley grovel and apologize before being inducted into the Basketball Hall of Fame rocking a Bulls jersey.