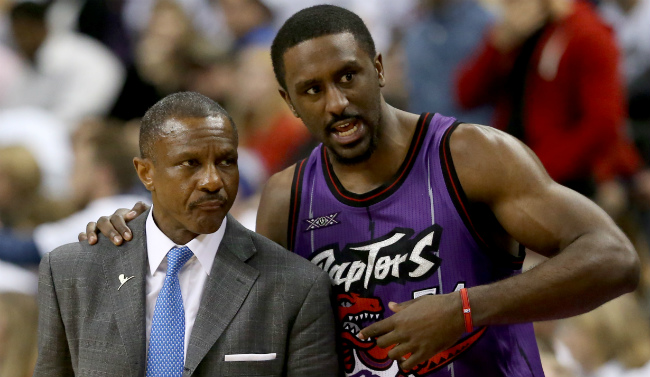 Despite the fact it had been reported that the Toronto Raptors were leaning towards firing head coach Dwane Casey, it was still something of a surprise when the team made the decision official on Friday morning. Casey getting fired felt like Toronto was looking to change anything after getting eliminated by LeBron James and the Cleveland Cavaliers in the playoffs for the third year in a row, even if that ended up being the coach that led them to nearly 60 wins this season.
A far less wordy way of saying that came from Oklahoma City Thunder forward Patrick Patterson, who spent three and a half years in Toronto, all under Casey's tutelage. Patterson tweeted out his disapproval of the move right after it happened, saying that Casey not only didn't deserve to get canned, but that he was scapegoated by the franchise.
Patterson took things one step further in his next tweet on the subject, going as far as to call Casey the "sacrificial lamb" in Toronto.

Another ex-Raptor, Magic center Bismack Biyombo, seems just as surprised as his former teammate.
The NBA is a cutthroat league, and a failure to reach a specific goal means the risk of losing your job runs high. Still, a coach of Casey's caliber getting to boot is an eyebrow-raising move to many, and Patterson thinks he knows why it happened.