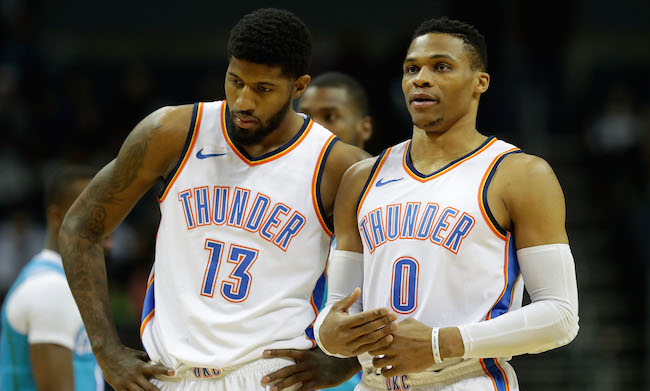 Paul George will be one of the NBA's most highly sought after free agents this summer when he hits the market on July 1. Where George goes could have a trickle down effect on other free agents and have a major impact on shifting power in the Western Conference, so it's understandable why that decision is a constant topic he's asked about.
To this point, George has been diplomatic about questions regarding his future, but he's hinted at times that his current position with the Thunder could very well be where he wants to stay in the long term. After Russell Westbrook signed his max extension, just prior to the season starting, George said the reigning MVP staying around would make his decision "easier."
More than halfway through the 2017-18 season, George still seems impressed by his superstar teammate and this week only further solidified to him how great it is to be on the same side as Russ. Westbrook was not shy about voicing his displeasure with George's All-Star snub on Tuesday and the fact that Westbrook had his back and insisted on making a point to note George should've been an All-Star apparently impressed the free agent to be.

George spoke with ESPN's Rachel Nichols on Wednesday and the topic of his impending free agency naturally came up and the star forward once again echoed that early season sentiment about Russ' presence making his decision "even more easier to make."
"Russ is the reason why this decision is becoming even more easier to make, is the character Russ [has]," George said on Wednesday. "A stand-up guy, and he has his teammate's back.

"We were actually joking before he went up there, and I'm like, 'Nah, Russ, man, just let it go, let it go Russ. It is what it is, I wasn't picked,' and he was like, 'Nah, man, P, that's messed up. I'm gonna tell them something about that,'" George said. "It was awesome for a teammate to have your back and to stand up," he said. "And to be honest, he should be a starter. He's been the MVP, been the best player at his position. He should've been a starter. But that's another story. But the fact Russ had my back, that's my guy forever, and it's more apparent what this decision needs to be made when it comes down to it."
For any concern about the Thunder's slow start to the season would have an adverse effect on George's feelings towards Westbrook and the organization this quote should put any nerves from Thunder fans at ease. Even in the midst of the worst of the Thunder's struggles, their top stars never seemed to be at odds with each other, a far cry from some other teams around the Association that have scuffled compared to lofty expectations.
Considering Westbrook's reputation, George's appreciation of him as a teammate may come as a surprise. Westbrook's often bristly personality on camera and in interviews, along with his aggressive style of play that has been characterized as selfish by some, wouldn't appear to necessarily make him the ideal teammate especially for another player accustomed to being a high usage player. However, the Westbrook that interacts with George regularly isn't the same guy the media deals with and that's apparent through this quote.
Of all people, Thunder fans understand not to get themselves too overly excited over a potential free agent saying the right thing during the season, but there's no other way to view this than being a positive for Oklahoma City's chances of retaining George this summer. As for the other teams hoping to land the swingman, namely the Lakers, it's clear that the sales pitch will have to be impressive to lure George away from the Thunder and his budding friendship with Westbrook.