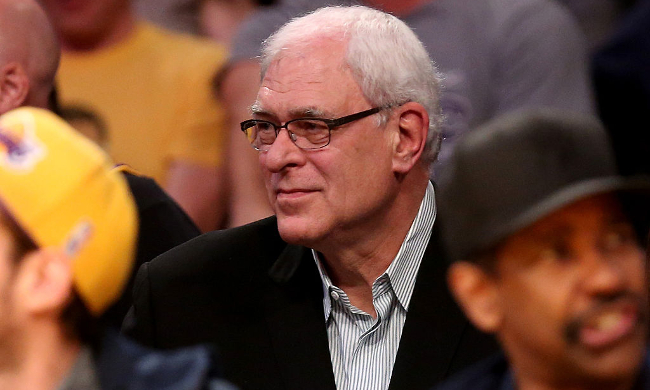 The Knicks aren't the Knicks unless they're making headlines for all the wrong reasons, and team president Phil Jackson has certainly provided the media with enough material to get us to NBA All-Star Weekend. Jackson's really bad season began last week when LeBron James' longtime friend and business partner Maverick Carter took exception to the Zen Master referring to James' associates as a "posse." The same day, James responded with a critical blow, saying he "had nothing but respect for him as a coach." Had? "Yeah." Ouch.
Making matters worse, while the hot takes poured in, Jackson's star player, Carmelo Anthony, openly supported James: "I don't think you would have to be a rocket scientist or an educated person to understand what that means to us." In recent days, other NBA stars have expressed support for James, as James Harden told reporters on Sunday:
"I'm standing with LeBron. His friends or his business partners are not a posse. They work extremely hard for what they have; my friends as well. He stands up for what he believes in, and I'm in the same situation."

"I don't know what he meant, but that word wasn't the right word," Harden said. "So obviously you have friends who work extremely hard to run their business and be businessmen. That's what they are, they're businessmen." (Via ESPN)
Warriors star Kevin Durant also understands why James and his friends are so upset, but like others, including Carter, he doesn't think Jackson is racist:
"I see why LeBron took offense to it," Durant told ESPN. "He doesn't just work on the basketball court; he puts his work in [off of it, as well]. He's trying to set himself, his kids, his kid's kids up forever. So doing it for 10-plus years, to not associate what he's done with being an empire, I understand why he took offense to it."

"I don't think Phil is racist," Durant said to ESPN. "I think he just used a bad word; and he shouldn't be talking about other players, anyway, on another team. But I don't think Phil — I don't think he meant it in a bad way, but it sounds like a downgrade to what they really are. I understand why [LeBron] was upset." (ESPN)
Even Detroit Pistons coach Stan Van Gundy weighed in, as he never holds his opinions back, and he's apologizing for that thing he said that nobody ever heard him say:
"I've never used that word publicly with anybody, but I have used it just in talking to people I know and things like that," Van Gundy said. "And it has never been in conjunction with a white player. And I think, at the time where you're going to call out other people on attitudes, I think you need to be willing to look in the mirror and call yourself out." (Via the Detroit Free Press)
Interestingly, as sports columnists (and even Woj) pile on with criticism of how he's handling (or mishandling) the Knicks, Jackson has yet to openly address Posse-Gate. In fact, he may not have even addressed it behind-the scenes, with his team. On Sunday, after they beat the Hawks 104-94 to improve to 6-7, the Knicks held a team meeting to discuss their collective mentality, as Anthony told ESPN:
"I thought the players did a great job of just kind of voicing their opinion on kind of where we want to be, what type of team we want to be, where we want to go and things that we want to see change," he said.
Jackson was there, too, but he didn't speak. "Which is good," Anthony reportedly said, proving that his subtle shade is already in midseason form.