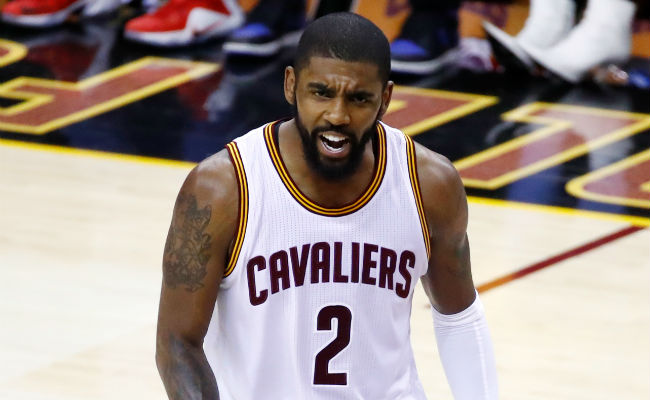 Kyrie Irving is still on the trading block for the Cleveland Cavaliers, and though the Phoenix Suns may have emerged as a likely trade partner for the point guard, one ESPN reporter seems to think the Miami Heat could be a dark horse candidate to land Irving.
Ramona Shelburne joined the B/R Mag Show from Bleacher Report and spoke to Dave Schiling about the NBA offseason. They almost immediately broached the topic of Kyrie Irving and his trade request out of Cleveland. And while Shelburne would "love" to see him end up with the New York Knicks and thinks the "best" place for Irving would be Minnesota, she suggested that the Miami Heat might be the inevitable destination for the point guard.
"The team that I just keep thinking ends up with him is Miami because one — I know Pat Reilly is itching to get another star down there," Shelburne said. "I don't know how else to put it. It's an informed take."
"Pat's not sitting around waiting. He's not sitting around to rebuild. Pat's not trying to do things at a certain speed. Pat's: let's go. And they have the pieces. They have the creativity, but I think the most important part is that they have the willingness and the drive to do it."
Miami missed out on its big target this summer when the Boston Celtics signed Gordon Hayward in free agency. They seem ready to move on with Justise Winslow as the face of the franchise and see what they can do with young talent. But it's not like they haven't come up in trade rumors before.
Shelburne also noted how strange the Irving trade drama has been because Irving went directly to the Cavs to ask for a trade. Unlike the prolonged drama with other NBA stars, this happened quickly because what Irving did was so unusual.
"That's what I think is amazing about all this. The modern NBA player doesn't do that. How long have we been going through this with Carmelo Anthony? Carmelo do you want to be in New York or not? What's your deal, where do you stand? And he's like, 'I don't know you didn't hear it from me.' I mean, Kyrie just flat out said it. He flat out did it. This hasn't happened in quite some time and came out publicly, for a star player of that magnitude on a team of that magnitude."
One of the important connections she made with Irving is that he idolizes Kobe Bryant, which is why it's fitting that this situation mirrors when Shaq and Kobe Bryant had a falling out in Los Angeles. The difference here, according to the veteran ESPN reporter, is that Kobe was clearly ready to lead a team on his own.
"What it really was was that Kobe inside believed that was capable of winning on his own and he hated the insinuation that he needed Shaq to win," she said. "He knew he could win on his own."
"And Kyrie is just this disciple of the Kobe school of basketball. I don't know that he's the kind of player that Kobe is, though. Here's the thing: Kobe was right. He could win on his own. He was right, he won two more. He went to three more Finals. He had that inside him. I haven't seen that from Kyrie yet. I know he's good. I don't know how good yet.

And that's what the rest of the league is going to find out. Somebody out there might believe that he's good enough to carry a franchise on his own. But I don't see it yet."
It's also a great interview that touches on a lot of media questions because Shelburne wears so many hats in the media world. Whether Irving does wind up in Miami is hard to say at this point, but it's certainly something new we can talk about while we want for the Cavs to figure out where to go with him.