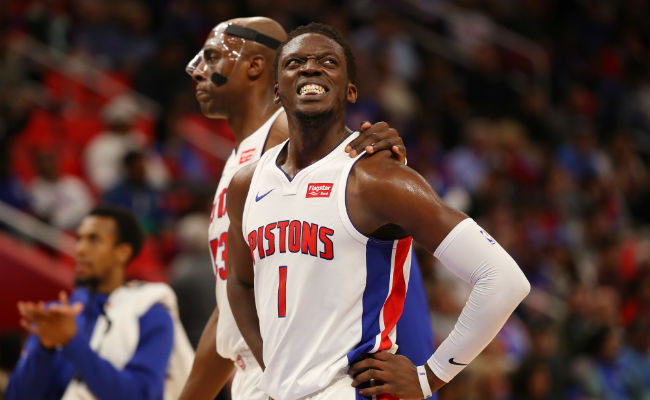 Reggie Jackson has missed the last 31 games with a sprained right ankle, and based on reports out of Pistons practice on Tuesday, don't expect him back in the lineup for Detroit anytime soon.
The Detroit Pistons guard has been sidelined since December, and it's been a long road to recovery for his severely sprained ankle. Jackson was back on the court Tuesday as the Pistons prepared to play the Cleveland Cavaliers on the road, but as Vince Ellis of the Detroit Free Press writes, he's still got a long way to go to getting back into an NBA game.
Jackson was back to playing basketball, but it wasn't 5-on-5 or even 3-on-3. He was playing 1-on-1 it wasn't even getting runs in with anyone on the Pistons roster. It was against the team's video coordinator, Jordan Brink, and he was having some difficulty getting much burst due to that ankle.

While Ellis notes that Brink did play some college hoops at Calvin College, it was not an encouraging sign that Jackson was struggling to get by him on his healing ankle and Stan Van Gundy echoed that sentiment, saying there's still a lot Jackson has to show before he returns.
Jackson struggled getting around Brink so it appears he's not close to a return from his severely sprained right ankle.

"No knock on Jordan Brink, but that's not really close to an NBA game," Van Gundy said. "Jordan's a good player, but he's not the same guy that Reggie would have to face and it's only one-on-one.

"There's nothing imminent with him. He's doing his rehab."
That's not an especially positive update, but sprained ankles are different for everyone. With the Pistons struggling at the moment it would be nice if they could expect a boost from Jackson's return, but right now it sounds like he can't help anyone get better. Hopefully he can continue progressing and get back for Detroit, but they will not rush him back before he's ready to contribute.