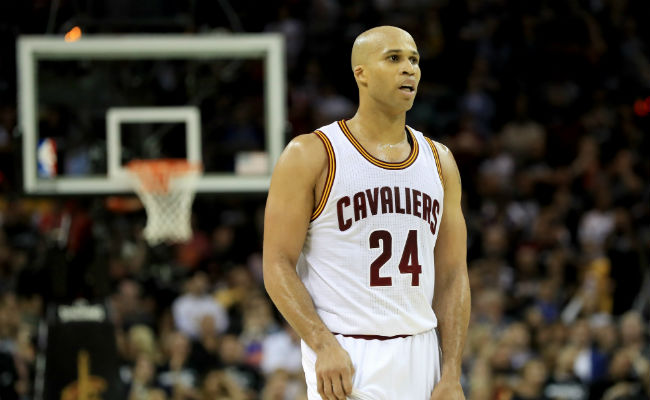 Richard Jefferson was traded to the Atlanta Hawks on Friday, but if former Cleveland Cavaliers general manager David Griffin had his way last summer, he would have been off the team a lot sooner.
Lost in an ESPN story about Jefferson's final days with the Cavaliers that dropped on Saturday was an anecdote about how a bit of social media spoilery nearly cost Jefferson his roster spot prior to last season.
Jefferson famously leaked the Cavs championship ring design on Snapchat last year, spoiling the team's chance to make a formal showing of its first championship ring with LeBron James and company. To say David Griffin was upset about Jefferson leaking the ring design would be an understatement.

Griffin was furious about the leak because the team wasn't ready to show off the design to the public. Jefferson had to issue an apology to get him to calm down.
The fact that Jefferson made it as long as he did with Cleveland was improbable, anyway. First, he retired after that Game 7 win against the Warriors and had to be convinced to come back. Then, he was nearly traded the summer after the championship because he revealed what the Cavs' rings looked like on his Snapchat account before the team was ready to release them to the public. Then-GM David Griffin was so ticked that he was ready to ship him out of town, sources told ESPN, before eventually calming down and accepting Jefferson's apology.
It sounds like it was quite tense between Jefferson and Griffin, though they obviously made up and it wasn't a big deal. Griffin left the team on his own over the summer, months before Jefferson's trade went down on Friday. Still, few people had any idea just how big of a deal leaking that ring design was. It's clear Jefferson didn't know when he posted those snaps, either.