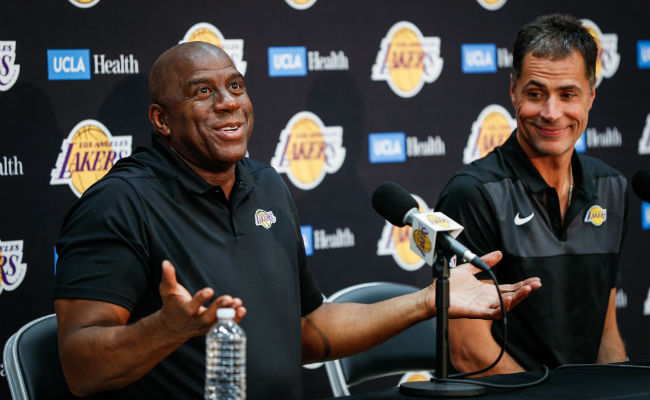 For the second time in as many months on Monday, Magic Johnson preempted a scheduled Los Angeles Lakers event to break some news of his own. His sudden departure from the team was announced without the Lakers' knowledge at an impromptu press conference before the team's home finale this season, shocking everyone and leaving many, including LeBron James, wondering why it happened so suddenly and without warning.
Johnson followed that up with an appearance on ESPN's First Take on Monday morning, on which he accused the Lakers of infighting, claiming that rumors about Johnson's job performance were coming from Lakers GM Rob Pelinka. That accusation, according to Johnson, is part of why he stepped down from his role before the end of the regular season.
Hours later, the Lakers held a press conference to formally introduce new coach Frank Vogel. The former Pacers and Magic coach was not their first choice, as that job search was part of what's become a bit of a circus for the Lakers this offseason. Pelinka was inevitably asked about Johnson's claims, and he seemed disappointed while denying what Johnson said earlier in the day.

"The two years of getting to work side-by-side with Earvin are some the greatest memories I have in sports and work," Pelinka said. "He's an unbelievable person to work with, he fills the room with joy and vision. And truly it's saddening and disheartening to think he believes things are a misperception."
Pelinka categorically denied he backstabbed or "betrayed" Johnson, as the question posited. And perhaps most curiously, Pelinka said the two had talked recently and he thought everything was OK with the two.
"I've talked to him several times since he decided to step away. We've had many joy-filled conversations," Pelinka said. "In fact, two days ago we were reliving the combine and the fourth pick and talking about the great future of the franchise."
Pelinka added that he wants to talk to Johnson again to figure out what his beef is, and considering how different the two sounded on Monday it seems like they have a lot to discuss.
"These things are surprising to hear and disheartening, but I look forward to the opportunity to talk with him, sit down with him and work through them," the Lakers GM said. "Just like in any relationship, because they're simply not true."
It's worth noting that the Lakers will not fill Johnson's role as team president, meaning Pelinka will report directly to ownership moving forward. And he made it clear how the hiring of Vogel went down once all the Johnson drama was out of the way.
Vogel himself said the perception of the Lakers around the league is not one of chaos.
But if Johnson truly wants to help the Lakers from afar, he's certainly not doing that by claiming the team is dysfunctional on national television hours before the Lakers introduce a new coach. And the difference in opinion about the relationship between Pelinka and Johnson perhaps says more about how the team functioned than the words either of them actually said on Monday.