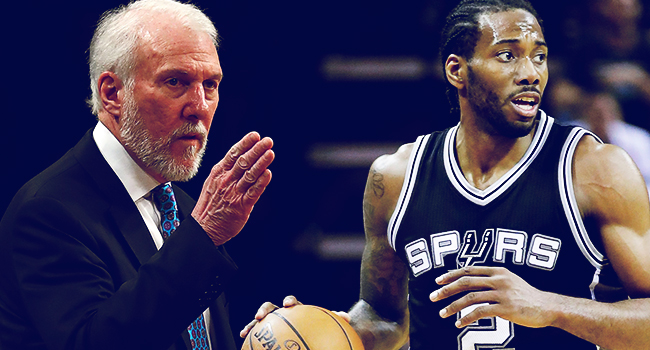 People fall victim to explaining the next thing that is going to happen on a linear timeline is "the biggest" or "the most important." This is because it's the one that has to be addressed now, and even if it's not as big of a deal as something that has happened in the past, this is the one that is in the immediate future and cannot be messed up. Therefore, it's the biggest.
But when it comes to the San Antonio Spurs under Gregg Popovich, the team is legitimately on the verge of facing the biggest offseason it has had. As we saw over the course of the season and the team's 4-1 series loss to a Golden State side that was missing Steph Curry, there are times when the Spurs don't look like the Spurs, the organization that has been the standard bearer for the NBA throughout the last 20 or so years.
San Antonio is revered for its system. Within that system, the Spurs have managed to succeed when individuals accept their myriad of roles, as players are more pieces to a puzzle (some bigger pieces than other) than part of a hierarchical organization where some guys have to get theirs. There were times this year when that worked out great — while the team's 50-win streak ended, a 47-35 mark in the Western Conference is nothing to scoff at, especially because they (as the 7-seed) were a mere two games behind the 3-seed.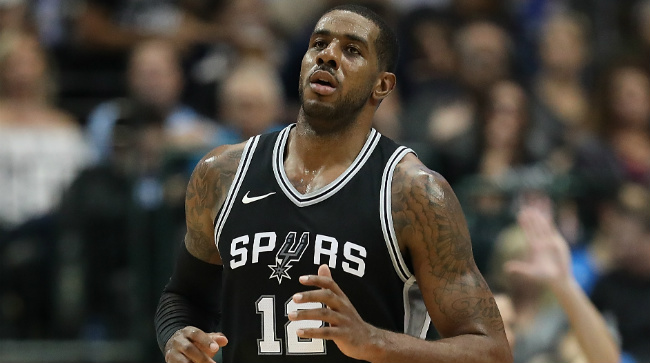 LaMarcus Aldridge was an All-Star. They were fourth in defensive efficiency despite the older players who struggle at that end playing major minutes (Pau Gasol, Tony Parker, etc.). Role players did their jobs a little better than usual — Rudy Gay had the second-highest effective field goal percentage of his career, Kyle Anderson and Patty Mills set career marks in a whole bunch of stuff, those sorts of things. Manu Ginobili was awesome. Manu By God Ginobili is 40 years old and still gave the Spurs 20 minutes and nine points per game with delightful playmaking off the bench, because he is capable of doing that until the sun explodes and consumes the entire solar system, even if he ends up retiring by the time I finish this sentence. (Please don't retire Manu.)
All of this is to say that none of that seems sustainable. Who knows what the future holds — there have been (conservative estimate incoming) 65,000,000 things written over the last however many years saying the Spurs dynasty is over. For the first time since those things started popping up, though, we saw that there appeared to be legitimate cracks in the foundation.
What if they're finally too old? What if their role players are too role player-y and can't tie things together forever within this system? What if Aldridge's game starts to taper off now that he's a big man who will be 33 years old with more than 30,000 career regular season minutes on his odometer and he can no longer shoulder the load?
You're probably like me and, upon reading that, went "they're the Spurs, they'll figure it out." This is everyone's built in reaction, because Popovich and R.C. Buford have earned the benefit of the doubt about a billion times over. And when you think about it, if San Antonio was ever going to slip up, it was going to be this season. It won 47 games and made the postseason.
Of course, every concern can be all for naught or completely justified based on what happens with the elephant in the room. The immediate future of the San Antonio Spurs rests in the comically large hands of Kawhi Leonard, who at last check, may or may not have a good or bad relationship with teammates or coaches or the front office or team doctors. The ambiguity is what makes this so weird, because the Spurs do not exist in unknowns, they exist in a realm where continuity is the rock upon which the franchise has been built.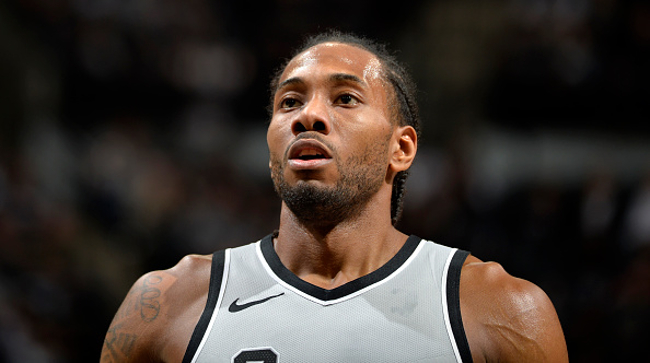 The team reportedly has an all-hands-on-deck meeting in the cards with their star. He's got one more year left on his deal and is eligible for a $219 million supermax extension, and while there are some questions about whether Spurs ownership will make that call amid some personal turmoil, Leonard is the kind of player who is absolutely worth that kind of money. There aren't many two-way players who can get you 25 points a night and absolutely smother the opposing team's best player on defense. Leonard is one of them.
But let's say the Spurs want to offer this, and let's say the pitch to Leonard goes as well as it possibly can, and San Antonio does everything it can to convince him to return. If he signs on the dotted line, all the concerns (at least in the short-term) for the franchise are for naught.
If he doesn't, and the relationship between the two sides is more acrimonious than previously thought to the point that Leonard says "you have to trade me"? That's where things get complicated and the future becomes way more bleak. San Antonio will absolutely get a haul in return for Leonard — the Clippers, for example, might consider two first-round picks and a player — but offsetting the loss of a top-10 player via a trade, at least right away, is going to be really, really hard.
This is what makes this offseason of so crucial in San Antonio. The organization, at least during Popovich's tenure, has always had one face of the franchise who has always viewed themselves as part of a whole. It was David Robinson for a year or two, then it was Tim Duncan, and now, it's Leonard. The team's ecosystem was threatened when Duncan considered going to the Orlando Magic in free agency in 2000, but that storm was weathered, and he went onto become the best power forward ever. There's a chance another storm might be on the horizon with Leonard, and this one might be trickier to navigate.
Although let's face it: They're the San Antonio Spurs. They'll be fine … right?