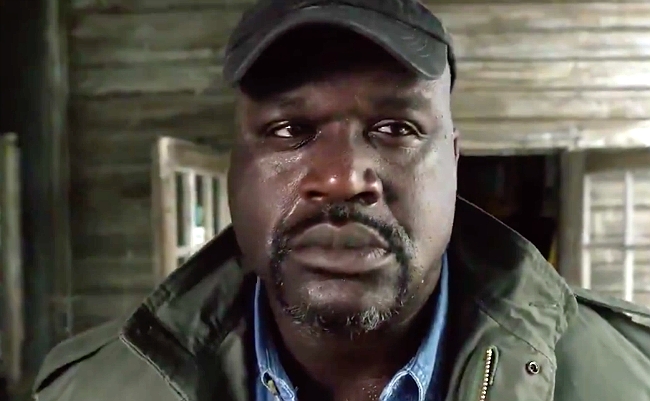 Shark Week is getting a big dose of Shaquille O'Neal this year. The annual Discovery Channel programming block is bringing the NBA Hall of Famer into the fold to host its week-long event.
The last time the sports world got involved in Shark Week it was a Michael Phelps-sized disappointment, as the best swimmer in Olympic history "raced" a shark in what turned out to be a purely hypothetical sense.
This time, though, Shaq is bringing his best to the table. Discovery Channel's official Shark Week Twitter account dropped a video previewing the festivities, and it looks like Shaq is going to get right into the action.
"Full disclosure: I thought I was hosting 'Shaq Week' but that doesn't exist," he says.
The video features Shaq making some nervous faces, hanging out with sea creatures and also apparently comedian Rob Riggle. Shaq Does Shark Week, which airs on July 22 to kick off the week, will help him face his fear of sharks. Here's the plot, according to a Discovery Channel release.
In the hopes of securing the ultimate symbol of fame and fortune – your very own week – Shaquille O'Neal inadvertently signed himself up to be thrust into the teeth of the 30th Anniversary of Shark Week. There's only one problem. Shaq doesn't do Sharks. To overcome his fear of sharks, he's going to need some help – enter Ex-Marine and comedian Rob Riggle who will help train him at Atlantis, Paradise Island in The Bahamas for the big plunge.
Other sports celebrities will take over the rest of shark week. In Bear vs. Shark, Bear Grylls does various survival events in the ocean. Ronda Rousey gets survival training in an encounter with a mako shark in Ronda Rousey Uncaged, while Rob Gronkowski, Aaron Rodgers and Lindsey Vonn help draw attention to endangered shark populations in Monster Tag.
Mark Cuban is also expected to make an appearance in a Shark Tank Meets Shark Week episode, presumably where sharks will present their best ideas for products tailored to help improve marine life. Oh, and Guy Fieri will be there, too.
It sounds like it will be quite the week. And we know at least one very powerful man will be obsessively watching.