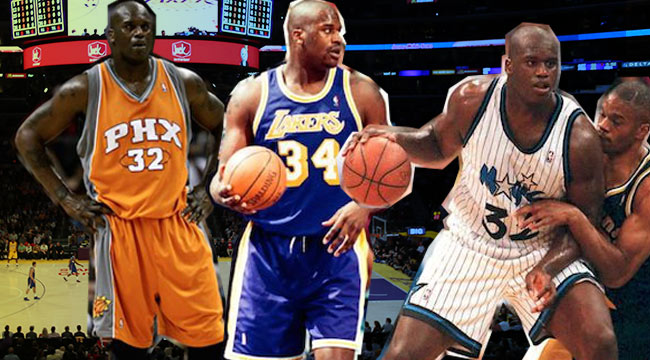 It's hard to believe it's been five years since Shaquille O'Neal last played an NBA game, especially considering he's still very active in the basketball world as an analyst for TNT.
The former MVP and four-time champion is getting ready to celebrate his 44th birthday this weekend and, as is becoming tradition around these parts, we're honoring the man with a complete jersey rankings of the uniforms he wore as a pro.
Shaq became somewhat of a journeyman after his ugly split with Kobe Bryant and the Los Angeles Lakers, so there's quite a lot of threads to work with in this list. In fact, Shaq almost had as many uniforms as he did nicknames during his playing days. So, without further ado, here are the best (and worst) jerseys worn by The Big DieselShaqFuDaddyAristotleShaqtusShamrock.
Please note: This list only consists of Shaq's NBA uniforms. You won't find his LSU, All-Star or Olympic jerseys on the list. That being said, these Blue Chips uniforms are a pretty dope honorable mention.
12. Phoenix Suns (2008-2009 Alternate)
Phoenix was the first stop on Shaq's run of one-year residencies towards the tail end of his career, so we can't blame you if you forgot he even played alongside Steve Nash in the desert. We especially can't blame you if you blacked it out to avoid these tang-flavored atrocities that made him look like The Big Citrus.
Don't get me wrong, I'm not saying all orange jerseys are bad. They can be done right — look at the Knicks' alternates or several teams at the college level (Syracuse, Tennesee, Illinois, etc.) — but pairing orange with gray isn't a great idea, especially when your base uniform is pretty lame to begin with. Also, using a city's abbreviation on the front of your jersey is dumb unless you're D.C.
11. Phoenix Suns (2008-2009)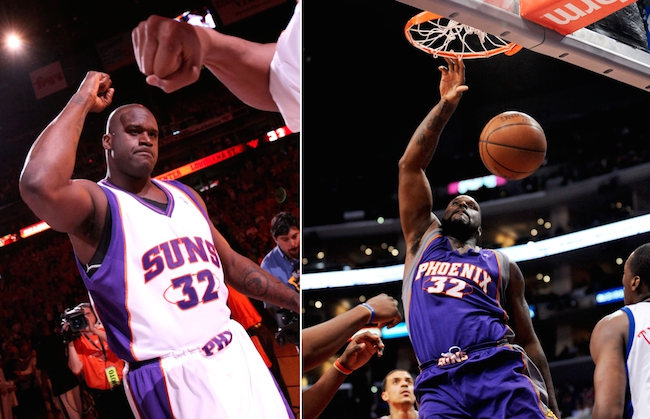 Like I was saying, the Suns' Nash-era base jersey wasn't good to begin with, but these certainly worked a little better than the orange alternate. Still not good, but better. Can you imagine if Shaq got to wear the '90s Charles Barkley-era Sunkist jersey? Then we'd be in business.
10. Miami Heat (2004-2008)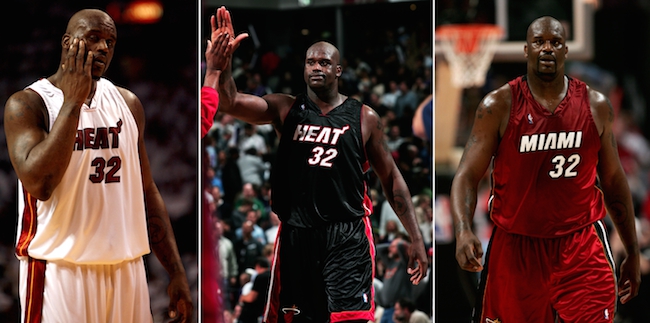 As a person who obsesses way too much over jerseys (clearly), the Heat have long been a frustrating franchise to me. They've got a very basic and very boring look in their primaries, which is especially disappointing considering they've had some beauties throughout their history. They did try to get a little funky with a faux-Floridian throwback during Shaq's days, and credit them for trying, but the execution wasn't great. A much better effort came when the Heat introduced a new throwback alternate for select games during the Big 3 days.

9. Cleveland Cavaliers (2009-2010)
The Cavaliers were the second stop on Shaq's one-off circuit, and he arrived during LeBron James' initial stint in Cleveland. That meant he donned the revamped Cavs look that came immediately after the team won the LeBron sweepstakes, which included a bunch of alternate looks (when you've got a star like LeBron, more jerseys = more $$$). While the primary look wasn't awful, they didn't really pop and most of the alternate looks were better. More on those below.
8. Cleveland Cavaliers (2009-2010 Alternate)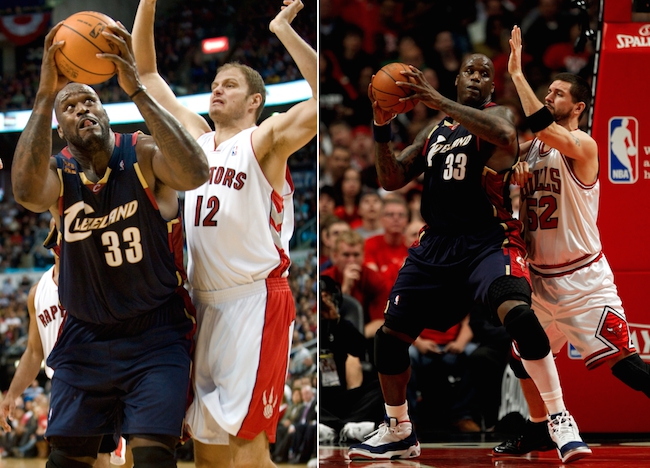 This alternate followed the baseline of the primary, but the segmented colors on the uniform's piping was a cool touch that gave the look a lot more personality.
7. Los Angeles Lakers (L.A. Script Throwback)
This is where we start getting into the "hey, these are actually really good jerseys!" portion of the list. The L.A. Script throwback is a really nice look; the only issue is that it's such a drastic deviation from the Lakers' gold and purple — an iconic staple of the franchise — that it's almost hard to believe it's the same team.

6. Boston Celtics (2010-2011)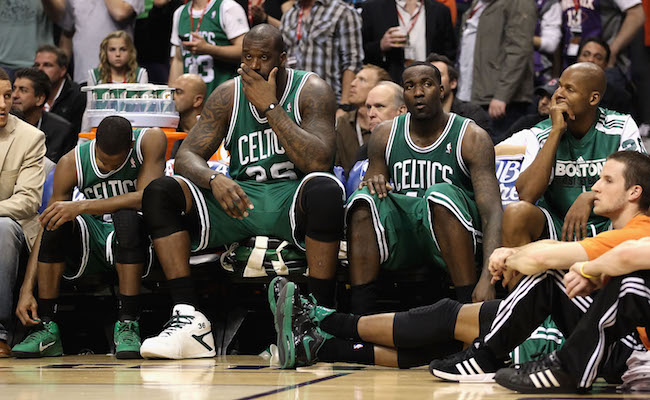 Boston was the final stop in his NBA career, and also probably the most unlikely, given his legacy with the Lakers. The promise of an older (but still effective) Shaq joining forces with Paul Pierce, Kevin Garnett and Ray Allen in Boston was hindered by an injury-plagued season by the big man, but he at least looked pretty great in the Celtics classic look. We'll just ignore the green & black alternates.
5. Cleveland Cavaliers (2009-2010 Throwback Alternate)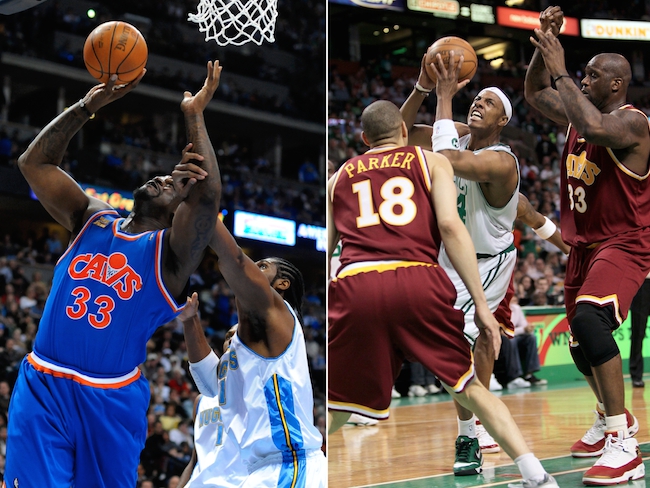 As forgettable as Shaq's tenure in Cleveland was, it's hard to deny how great the Cavs' hoop logo throwbacks were. The blue and orange version is clearly superior given how vibrant they are, but the maroon and gold also came together pretty well with the classic look. Honestly, I'm not sure any color combination would look bad on these unis…even the orange and gray.
4. Los Angeles Lakers (1999-2004)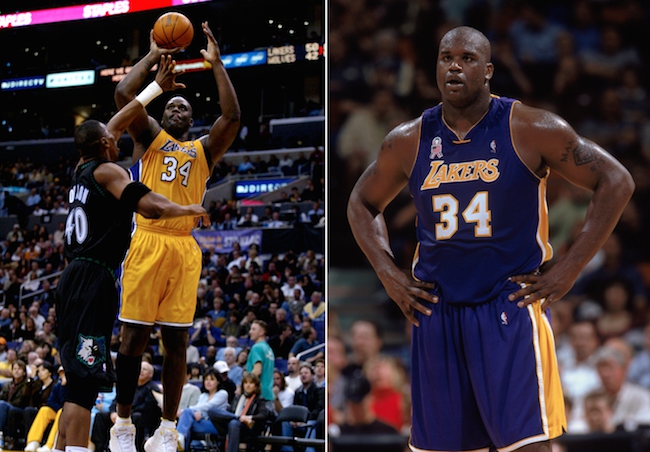 This will go down as Shaq's most memorable and iconic jersey. It's the uniform he won three of his four NBA championships in, and it's the version that was raised to the Staples Center rafters, at least in flawed form. This look will forever be synonymous with Shaq and Kobe Bryant — one of the fiercest duos to ever suit up together — and it's a pretty great one.
It's also worth noting that the white alternate version of this uniform is also fantastic. If yellow at home wasn't such a unique and storied part of the Lakers' franchise, I'd say they should wear these full-time in their own building, but they're certainly a very awesome alternate option at least.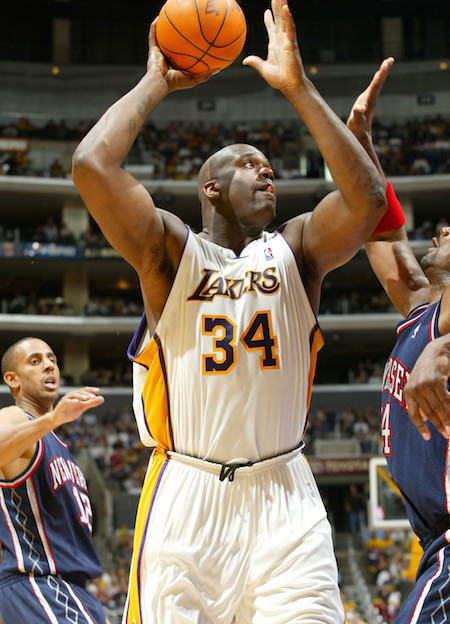 3. Orlando Magic (1992-1996)
These uniforms. Oh man, these uniforms. They were so '90s and so perfect, which is why it's fitting that one of the game's all-time best big men announced his arrival while wearing them.
Orlando has tried their best to recreate the, ahem, magic of these beauties in recent years, but they're just not the same. I'm a sucker for pinstriped basketball jerseys, and the Magic pulled them off in fantastic fashion right from the start. But wait, there's more!
2. Orlando Magic (1994-1996)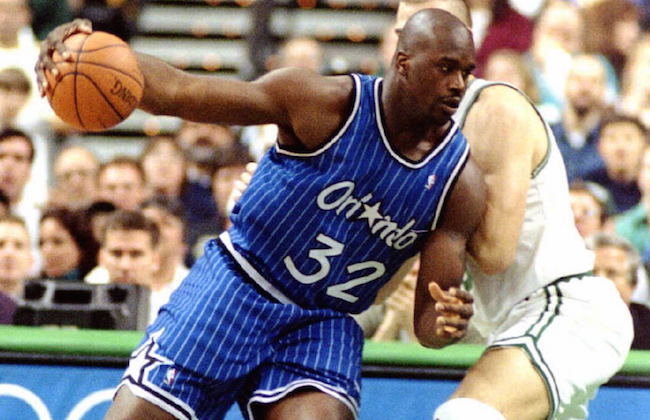 The black pinstriped road jersey was definitely the superior look in the initial batch and, as great as they were, the blue version that the Magic introduced in 1994 was even better. Orlando is crazy for ever having strayed from this look. The three jersey set (white, black and blue) may be one of the better rotations the NBA has ever seen.
1. Los Angeles Lakers (1996-1999)
Speaking of one of the best looks the NBA has ever seen, these Lakers threads are definitely an all-timer. Though both were great, the yellow and gold jerseys that Los Angeles wore in the first few years after Shaq arrived via free agency were superior to the more modern look they later switched to. The striping and three-dimensional numbers helped create a beautiful jersey and was a big part of the Lakers' classic look.