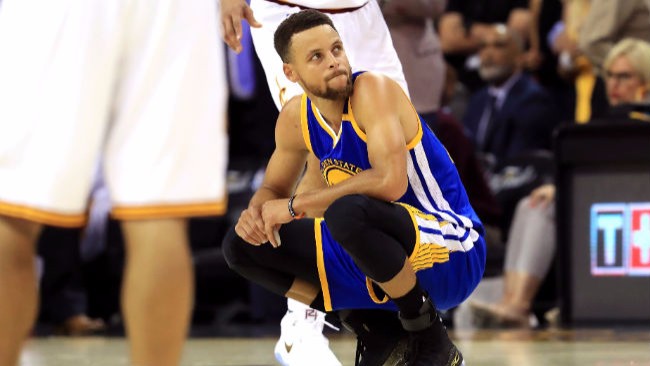 The Warriors received positive news on Tuesday regarding star Steph Curry's sprained ankle that he suffered on Monday night in Golden State's win over the Pelicans.
Curry underwent an MRI on Tuesday and the results came back negative for any structural damage to his ankle, per The Vertical's Shams Charania.

Charania notes Curry's ankle still had significant swelling and there would be no official timetable for his return just yet, but that he could be out "a while." Curry is listed officially as "doubtful" for Wednesday night's game against Charlotte, but ESPN's Chris Haynes reported earlier on Tuesday that Curry would be held out of that game, no matter the results of the MRI.
The Warriors confirmed Charania's report and noted he would miss at least two weeks before being re-evaluated.

Considering Curry's history of ankle issues, which led him to taking a smaller second contract and unwittingly set in motion the Warriors ability to build a superteam, this qualifies as very good news for Curry and the Warriors. Because of their incredible roster of stars, Golden State can afford to be cautious with the two-time MVP as he works his way back from the ankle sprain.
Also helping the Warriors is their schedule, which is spaced out nicely for them with only five games over the next two weeks. Curry can sit that entire time, and with games against the Hornets, Pistons, Blazers, Mavericks, and Lakers between now and Dec. 19 (two Tuesdays from today) the Warriors could hold down the fort in his absence fairly comfortably. As with all injuries to stars on top teams, the focus is on having them fully healthy for the stretch run, so don't expect Golden State to take many chances in rushing him back.