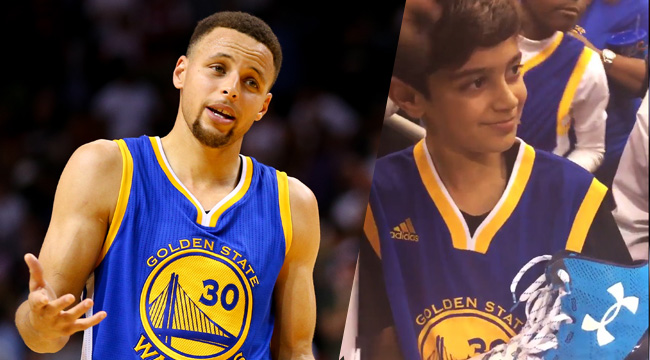 Stephen Curry continues to treat the NBA like a videogame with the settings turned down to easy. On Thursday night, he went off for 51 points against the Orlando Magic like it was nothing, and made one Warriors fan's night when he was done. This kid got Steph's shoes (signed, of course) after the game as one hell of a birthday present.
The kid came to Orlando's Amway Center armed with giant signs asking for Steph's shoes as a birthday present, and Steph delivered big time. The youngster's reaction was pretty great, too.s
https://twitter.com/ADiverseCollect/status/703050613513428992/video/1
In case you can't make out the audio, the boy apparently saved $400 of his own money to make it to the game on Thursday — hey, even in Orlando the Dubs are a hot ticket — and it's safe to say he went home happy. Moments like this are part of Curry's aura that makes him so difficult to hate, even as he showboats in ways that would otherwise tick off a lot of fans.
Like Cam Newton in the NFL, Steph is a new class of star athlete whose joy is palpable in the way he carries himself on the court. He hasn't experienced the (insane, racially tinged) backlash that Cam has due to the differences in each sport's fanbase, but even that might come eventually. Both players stunt when they're feeling themselves, but remind us why they're so beloved with gestures like the one Steph made on Thursday night.