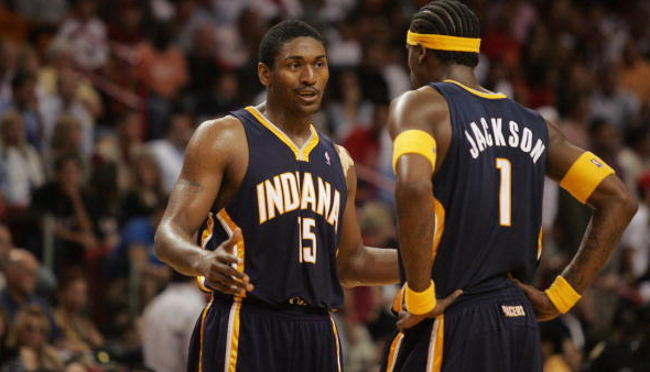 It's been 12 years since the NBA was turned upside by the infamous Malice at the Palace, but it's the gift that keeps on giving. Former Pacer Stephen Jackson has told some great stories about that notorious night in 2004, but there's one particular nugget that stands head and shoulders above the rest.
On Friday, the 17-year pro took a stroll down memory lane on the Rich Eisen Show, laying out how the whole ordeal unfolded in the waning moments of an otherwise meaningless regular-season game. Here's what you already know: then-Ron-Artest committed a hard and totally unnecessary foul on Ben Wallace.
What you may not have known was that it apparently was retaliation for a foul that Big Ben committed on him the previous postseason. That's right. Artest believed that revenge was a dish best served at frozen tundra temperature. Jackson then goes on to speculate that Wallace may have been overly testy because his mother had passed away recently.
But none of that is even the best part. We'll just let Captain Jack take it from here. You can skip ahead to the 3:15 mark, but really, the whole segment is worth a watch.
As if we didn't already realize that the man now known as Metta World Peace wasn't exactly in his right mind at the time, this is all the confirmation we'll ever need. As Artest would soon find out, there were indeed consequences to be had. He was suspended for the remainder of the season and lost nearly $5 million in salary, while Jackson earned a 30-game suspension for his role in the melee.
Both men have come to terms with the experience, and World Peace has even claimed recently that he speaks daily with the man who threw the beer at him, which is truly astonishing in its own right. Regardless, SJax can regale us with these stories all day long if he wants to.