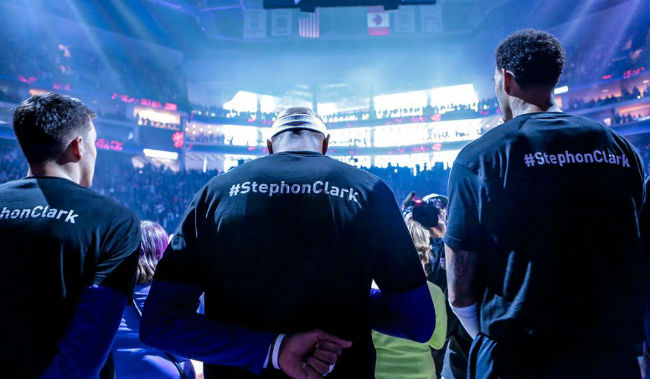 For the second time in a week, Sacramento residents protesting the shooting death of Stephon Clark at the hands of police interrupted entry to a Kings basketball game. The protestors took the streets once again Tuesday night in response to the shooting death of an unarmed 22-year-old African American who was shot 20 times by police in his grandmother's backyard.
CBS Sacramento reported on Tuesday that the protest started when Clark's brother interrupted a Sacramento City Council meeting, followed by a crowd chanting Clark's name. The station has a live stream of the council meeting and the moment it was interrupted.
The protesters then marched to Golden 1 Center, where a group of protesters linked arms and prevented fans from going inside the venue on Thursday night.
Sacramento Kings officials closed off entry to the building last Thursday, though they later told the small crowd allowed inside that they supported the protesters and understood why they acted on Thursday night. Refunds were then offered for fans who were not allowed to get inside the building.
On Tuesday, Kings staff once again closed off access to the building before their game against the Dallas Mavericks.

The game's status was in question briefly, but the Kings assured people that the game would happen on Tuesday night. Much like Thursday, the start time would be delayed. Later, though, the team assured fans the game would start on time.
The first Clark protest saw the Kings' social media accounts take a more cautious approach. This time, though, it seems everyone is more prepared for potential protests and is ready to let those grieving and demanding action after the tragedy let their voices be heard.