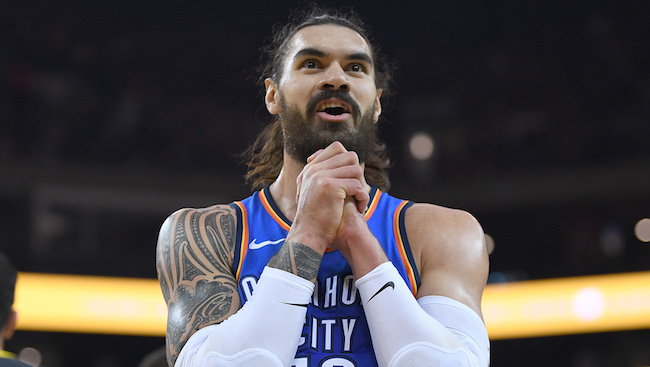 The Spurs and Thunder gave us arguably the game of the year on Thursday night when San Antonio won a double overtime thriller behind a career-high 56 points from LaMarcus Aldridge.
Both teams got major contributions from up and down their respective rosters with more than six players in double figures on each side. Russell Westbrook logged an absurd triple double, with 24 points, 24 assists, and 13 rebounds, while Paul George chipped in 30 points and eight boards.
But one of the highlights for OKC came late in the second OT with Steven Adams at the free-throw line and his team trailing by five with just over 12 seconds left.

Badly in need of another possession to keep the game alive, Adams did what he's done before and executed a perfect missed free throw to get the ball back and get another shot.
Unfortunately, his efforts were for naught as George missed the ensuing three that would've put the Thunder within two. If you'll recall, this isn't the first time Adams has pulled off this play. Back in 2017 during a game against the Rockets, he did the same thing, albeit with better results.
The Thunder didn't win that game either, but you couldn't have dreamed of better execution. It makes your head spin to think about the accuracy involved in missing the free throw off the rim perfectly, then relaying the pass out to Russ, who calmly drained the three.
You would've thought it was a once-in-a-lifetime thing if he hadn't have done it again Thursday night. Regardless of the outcome in either case, it's still a wildly impressive feat.